News: Suppliers
20 October 2020
Aledia chooses Veeco's Propel 300 HVM MOCVD platform for micro-LED displays
Epitaxial deposition and process equipment maker Veeco Instruments Inc of Plainview, NY, USA says that its Propel 300 HVM metal-organic chemical vapor deposition (MOCVD) system has been selected Aledia S.A of Echirolles, near Grenoble, France (a developer and manufacturer of 3D micro-LEDs for display applications based on its gallium nitride nanowires-on-silicon platform) for high-resolution micro-LED display applications. Featuring a SEMI-compliant equipment front-end module (EFEM) with cassette-to-cassette automation, the Propel system was chosen due to its highest productivity with the lowest defectivity compared to alternatives, according to Aledia.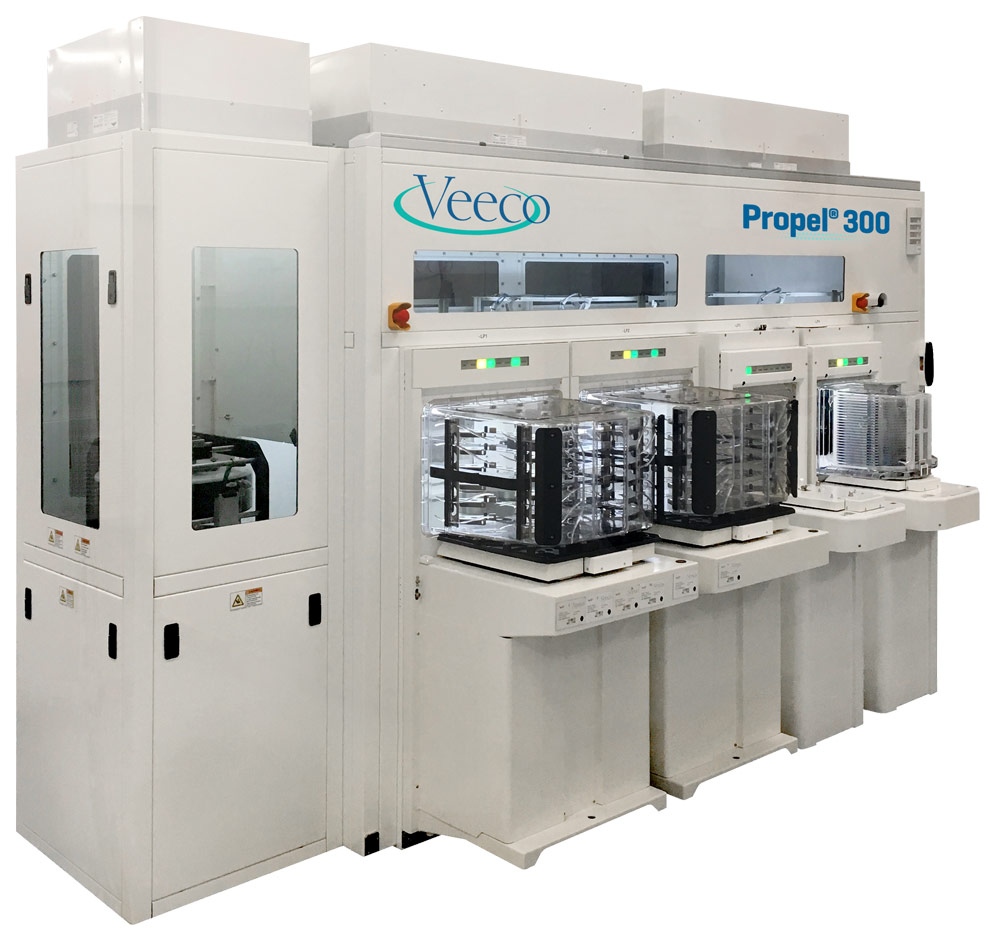 Picture: Veeco's Propel 300 HVM MOCVD system.
"Brightness, contrast, switching speed and power efficiency in display panels for smartwatches, mobile devices, AR/VR [augmented reality/virtual reality] applications and large televisions are driving increased demand for micro-LED solutions," notes Aledia's chief operating officer Francis Taroni. "As our process tool of record, we believe Veeco's Propel 300 HVM platform is uniquely positioned to deliver outstanding process yields while achieving the world's highest-volume production," he adds. "Their history of supporting our innovation was a driving force in our selection."
Micro-LEDs are emerging as a next-generation display technology due to the potential for higher resolution, brightness and reliability. Market research firm TrendForce expects micro-LED wafer production to increase from 74,000 wafers in 2021 to over 5 million wafers in 2024.
"We are proud to be selected again by Aledia, a true pioneer in advanced display technologies, to deliver the industry's first 300mm MOCVD tool to support their micro-LED production ramp," says Veeco's chief marketing officer Scott Kroeger. "Veeco's dedication to combining compound semiconductor expertise with semiconductor-scale manufacturing is evident in this EFEM-enabled, 300mm-wafer-capable platform," he adds. "It's embedded in our DNA to work closely with leading-edge companies like Aledia to develop the right solutions at production scale."
Veeco says that its single-wafer Propel 300 HVM GaN MOCVD system is designed as a unique, high-volume-manufacturing single-wafer-reactor cluster system for GaN-based advanced displays, power, RF and photonics devices. Featuring a single-wafer reactor platform, the system is capable of producing high-quality epitaxy film performance on 300mm wafers for optimal uniformity, repeatability and yield. The Propel 300 HVM is configurable with modular cluster chambers for maximum productivity and flexibility.
Aledia expands portfolio of Veeco equipment to develop and produce 3D micro-LEDs
Aledia chooses Veeco's Propel GaN MOCVD system for large-wafer 3D LED production
Visit: www.aledia.com
Visit: www.veeco.com