News: Microelectronics
8 September 2020
Kier appointed for CISM building project at Swansea University
A new facility at Swansea University that will bring together research with technology development in semiconductor science and engineering is one step closer with the execution of the main build contract with Kier for the Centre for Integrative Semiconductor Materials (CISM), which will be located in the engineering quarter on the Bay Campus.
Work has already started on the three-storey building, which will be 4320m2 in size, and will house a clean fabrication environment, research laboratories and office facilities. Kier will use sustainable, energy-efficient building techniques and renewable energy technology including solar photovoltaics (PV) and heat recovery on the project. Throughout the duration of the project, Kier will work with its local supply chain, of which about 20% will be from the surrounding Swansea area, to deliver the building.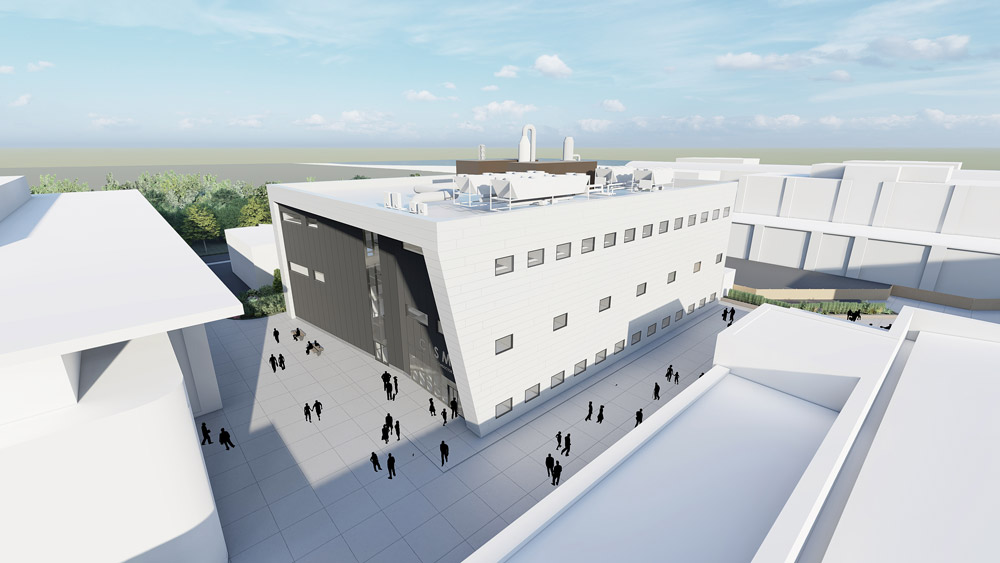 Picture: The CISM building design (credit: Stride Treglown).
In July 2019, the facility received £30m in funding from the UK Research Partnership Investment Fund (UKRPIF), which is administered by Research England in partnership with the Higher Education Funding Council for England (HEFCE).
Due for completion in 2022, CISM will provide research and innovation support for the CSConnected cluster, a growing network of regional semiconductor industry partners including IQE, SPTS Technologies, Microchip and Newport Wafer Fab. The cluster partners also include Swansea and Cardiff Universities, the Welsh Assembly Government and the Cardiff Capital Region City Deal in a coordinated effort to deliver critical mass and a competitive advantage for semiconductor manufacturing in the region.
It is reckoned that the facility will be uniquely placed to deliver economic and social benefits to the south Wales region, particularly in the post-Covid era, as its facilities and research will bring new opportunities that can be met by a skilled local population and which will anchor compound semiconductor businesses in the region.
CISM will "play a key part in putting Wales on the map as a major player in the rapidly growing UK semiconductor industry," reckons professor Paul Meredith, Ser Cymru National Research Chair and Swansea University CISM project lead. "When completed, the CISM building will be a hub for connecting research, innovation and manufacturing to drive economic growth in this region," he adds.
"The Centre for Integrative Semiconductor Materials is set to be a vital building in aiding the growth of the semiconductor industry in the UK," says Jason Taylor, operations director for Kier Regional Building Western & Wales. "This latest award builds on our relationship with Swansea University, having delivered the Impact building last year as well as a number of other refurbishment projects over the last five years. We will continue to work with our local supply chain to deliver this important project for the university," he adds.
"CISM is a welcome addition to the CSconnected family that will play a critical role within the cluster, complementing and greatly enhancing the technology offering from across our region," says Chris Meadows, director of CSconnected Ltd.
UKRPIF making £30m investment in new Centre for Integrative Semiconductor Materials at Swansea University
Tags: CSConnected
Visit: http://csconnected.com