News: LEDs
10 February 2021
Lumileds fills 2835 mid-power LED performance gap
LED maker Lumileds LLC of San Jose, CA, USA has launched the LUXEON 2835N, which fills in the performance gap between the LUXEON 2835C and the LUXEON 2835 HE.
The three variants are relatively close in performance at a drive current of 65mA – LUXEON 2835N delivers 204 lumens per Watt – but, as current increases, real differences in both light output and efficacy become clear. With its 300mA current capability and thermal characteristics, the LUXEON 2835N is reckoned to be an optimal 3V choice.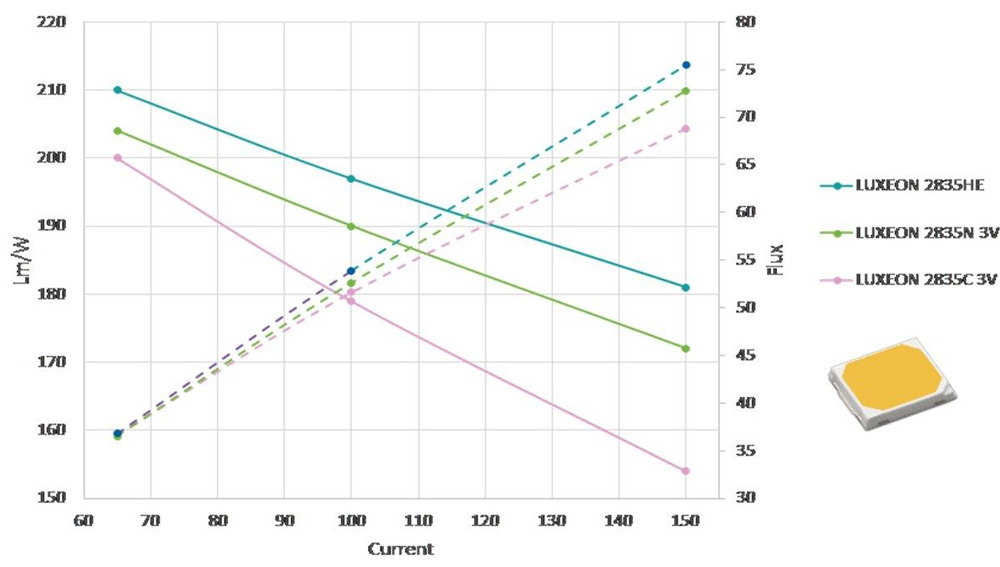 "The value of LUXEON 2835N really starts to show itself as luminaire manufacturers take advantage of its current and thermal capabilities," says product manager Ryan Dong. "At 100mA, we're delivering 190lm/W and at 150mA LUXEON 2835N is producing 72.8 lumens with an efficacy of 172lm/W."
LUXEON 2835N is available in a complete CCT/CRI portfolio. Both 80 and 90 CRI (color rendering index) are supported at CCTs (correlated color temperatures) from 1800K to 6500K. The reliable package has been proven with more than 12,000 hours of data for the LM80 report. 4-quadrant micro color bins and 0.1Vf bins complete an offering for luminaire manufacturers that gives them access to the exact parts needed.
Lumileds' new LUXEON 2835 HE LED drives efficacy over 200lm/W in 2835 package
Lumileds launches LUXEON 2835 line of LEDs for cost-effective retrofit lamps, downlights and troffers
Tags: Lumileds
Visit: www.lumileds.com