News: LEDs
7 April 2021
Luminus expands portfolio of IR LEDs
Luminus Devices Inc of Sunnyvale, CA, USA – which designs and makes LEDs and solid-state technology (SST) light sources for illumination markets – has expanded its portfolio of ultra-high-power infrared (IR) LEDs with a new product line that addresses the rapid expansion of life sciences, medical, machine-vision and industrial applications. The CBM-90-IRD LEDs come in three peak wavelengths – 780nm, 850nm and 940nm – and deliver what is claimed to be unmatched radiometric power in a compact package platform suited to fiber-coupled applications.
Based on dual-junction technology, the new IR products are specifically designed to compete against laser diode and vertical-cavity surface-emitting laser (VCSEL) technologies, with the advantages of being eye-safe, less expensive and easily integrated into an optical light engine. Depending on the drive condition and peak wavelength, the LEDs can deliver over 15W of radiometric power under CW (100% duty cycle) conditions or 40W under pulsed conditions.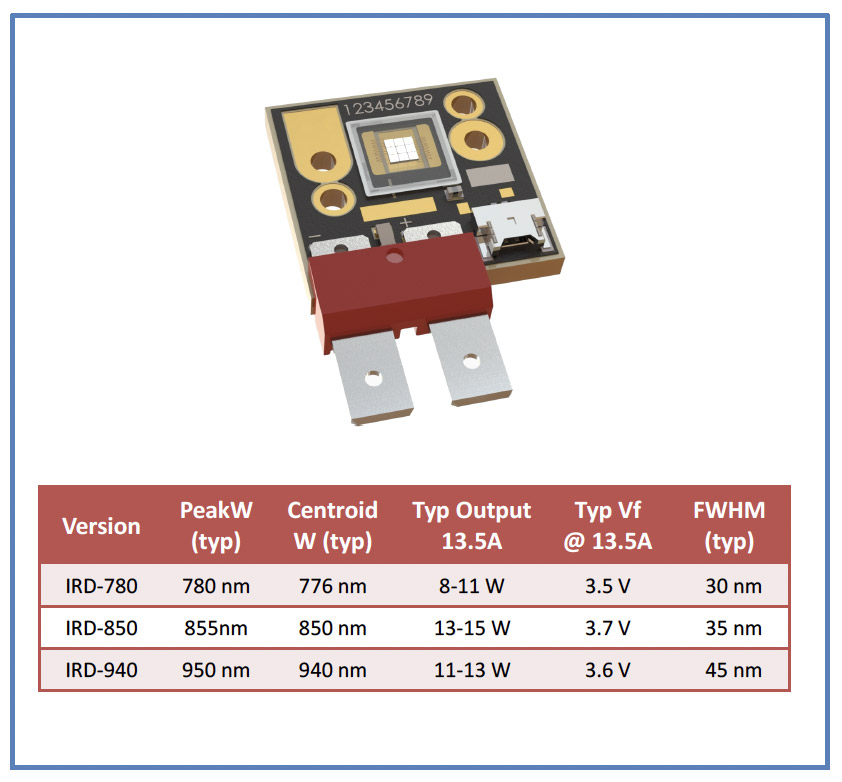 In addition to traditional industrial and machine-vision markets, the LEDs can also be used as light sources in medical and life-science applications. The 780nm version can be used to excite near-infrared (NIR) biomarkers such as Indocyanine Green (ICG), which are widely used in fluorescence imaging markets.
"Our CBM-90-IRD-780nm LED product delivers 10+W of radiometric power that can be efficiently coupled in 5-7mm optical fiber bundles used in endoscopy and infrared light engines," says Yves Bertic, senior director of global product marketing. "With the growing demand for light sources capable of exciting the new biomarkers that are continuously being developed, this product line is the perfect alternative to legacy laser-based light sources."
The CBM-90-IRD product line complements Luminus' extensive CBT/CFT-90 LED series that spans UV-A and visible ranges. The copper chip-on-board package includes high-precision optical alignment features, handles very high currents, and offers an extremely low thermal resistance.
The product line is available through distributors Digikey and Mouser.
Tags: Luminus Devices
Visit: www.luminus.com