News: Suppliers
6 December 2021
Beneq unveils ALD systems for 300mm and compound semiconductor device fabrication
Beneq of Espoo, Finland – which produces the Transform family of atomic layer deposition (ALD) cluster tools for More-than-Moore device makers – is now broadening its portfolio with two new products: the Transform 300 and the Prodigy, each created in response to specific technology requirements in the semiconductor manufacturing sector.
The Transform 300 is claimed to be the only 300mm ALD cluster tool that combines thermal ALD (batch) and plasma ALD (single wafer) technologies to provide a highly versatile platform for IDMs and foundries. It is designed to meet the growing demand of emerging semiconductor applications at 300mm for devices such as CMOS image sensors (CIS), power devices, micro-OLED/LED, advanced packaging and other More-than-Moore (MtM) applications, which call for a high degree of versatility. The Tranform 300 is hence a highly configurable platform that caters to multiple advanced thin-film applications ranging from gate dielectric including in high-aspect-ratio trenches, to anti-reflection coating, final passivation or encapsulation, chip-scale packaging and beyond.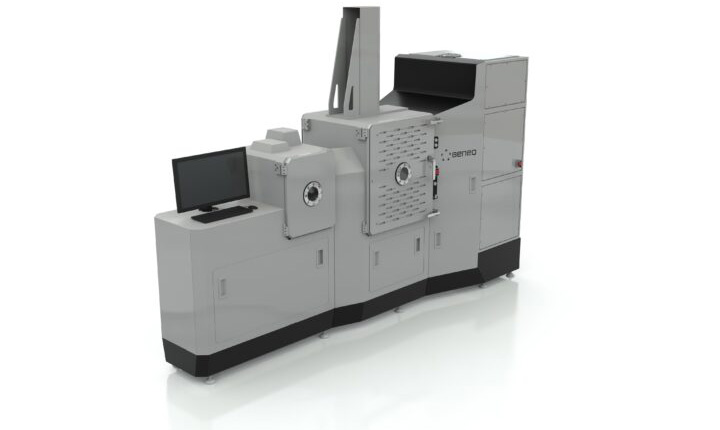 Picture: The new Beneq Prodigy ALD system.
The Prodigy is suitable for manufacturers of compound semiconductor devices including RF ICs (GaAs/GaN/InP), LEDs, vertical-cavity surface-emitting lasers (VCSELs), light detectors as well as for micro-electro-mechanical system (MEMS) manufacturers and foundries looking to enhance device performance and reliability through an affordable stand-alone ALD batch tool. The Prodigy provides what is claimed to be best-of-breed passivation and encapsulation films across multiple wafer types and sizes.
"We created Prodigy to address those market segments that need a simple solution supported by high-end technology," says Patrick Rabinzohn, VP, Semiconductor ALD. "It inherits the ALD design and processing know-how we at Beneq have developed over the last 15 years, packing advanced features in a simpler, targeted industrial form factor."
Tags: ALD
Visit: www.beneq.com