News: Suppliers
3 December 2021
CSconnected sponsors Wales regional session at UK CBI Annual Conference
The role of the world's first compound semiconductor cluster CSconnected (formed in 2017) in driving jobs growth, exports and economic prosperity was centre stage at the 2021 Annual Conference of the Confederation of British Industry (CBI), chaired by Lord Bilimoria, on 22-24 November.
At the Wales regional session of 'Seize the Moment', CSconnected director Chris Meadows was joined by professor Max Munday of Cardiff Business School and Steve Whitby of MicroLink Devices UK Ltd to outline the strength of the industry cluster in South Wales. Supporting UK Government's 'levelling up' agenda, the event was held at Swansea University's Bay Campus.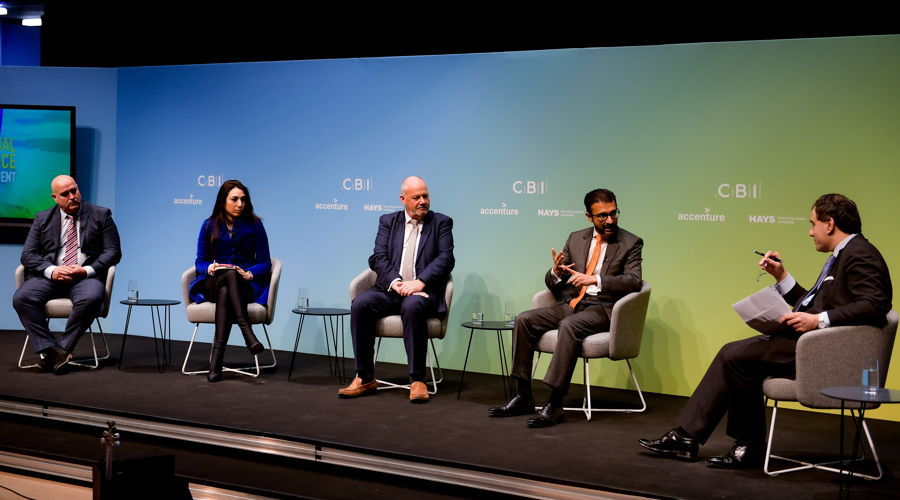 CSconnected is based on winning a £43m UKRI Strength in Places bid and brings together more than a dozen organizations under a collective brand for advanced semiconductor-related activities in Wales.
Munday, director of the Welsh Economic Research Unit, told delegates that the emerging CS cluster and its high-tech companies bucked the general economic trend in Wales by creating high-quality, well-paid jobs. "We have a long productivity tail in the Welsh economy, and our GVA [gross value added] is consistently below the UK average, which is difficult to change," he added.
"The CSconnected cluster companies employ around 1400 full-time employees on salaries which are much higher than the average in Wales. The industry spends money in Wales to support another 2000 jobs, contributing around £170m of gross value added for Wales," Munday continues. "It creates a different picture than the usual inward investment pattern in South Wales. Some of the main cluster companies are headquartered here, are R&D intensive and export levels are very high – in many cases over 90% of manufacturing output goes to North America and the Far East. Cluster members have strong links with universities in Wales too," he adds.
"In economic development terms, it is a sector of interest, creating a richness that we don't see in some other areas of inward investment. Output in the CS cluster sector has been maintained through Brexit, and through Covid-19."
Meadows told the conference that the cluster aimed to push job creation from 1500 to 5000 over the next five years by developing start-ups and through attracting inward investment. "If we could attract a design team from just one of the mega companies, like Facebook, Apple or Google, it would bring an enormous supply chain with it. The growth potential of CSconnected is certainly there."
Whitby said MicroLink's recently opened research facility in Baglan Bay Innovation Centre stood to benefit by working within the cluster. "We will manufacture in the UK with different toolsets which the cluster may provide. We aim to use robotics processes, and increase efficiencies in the coatings on cells, packaging for different markets. The cluster offers us huge potential to do those things here in Wales."
At the earlier UK CBI session, Lord Bilimoria, chancellor at the University of Birmingham, thanked CSconnected for sponsoring the Wales regional session and urged industry to continue to tap into university expertise. He noted that the UK produced 14% of the most highly cited academic research papers worldwide, and remained one of the most entrepreneurial countries in the world.
Cardiff University's Institute for Compound Semiconductors was a founding member of CSconnected. The partnership paved the way for the creation of the Compound Semiconductor Centre (CSC), a for-profit partnership with wafer supplier IQE plc of Cardiff, Wales, UK. The Institute will move to the Translational Research Hub and its adjacent ERDF-funded cleanroom in 2022 on Cardiff Innovation Campus.
CSconnected appoints development manager
Wales highlights new research and education opportunities in semiconductor technologies
First compound semiconductor cluster branded CS Connected
Tags: CSConnected
Visit: http://csconnected.com