News: Microelectronics
21 October 2021
Navitas begins trading on Nasdaq as NVTS debuts after seven years as start-up
Gallium nitride (GaN) power integrated circuit firm Navitas Semiconductor of El Segundo, CA, USA and Dublin, Ireland says that its common shares and warrants have begun trading on the Nasdaq Global Market (under the ticker symbols 'NVTS' and 'NVTSW'). CEO Gene Sheridan, accompanied by members of its leadership team, celebrated Navitas' first day of trading by ringing the bell at the Nasdaq MarketSite in New York.
Founded in 2014, Navitas introduced what it claimed to be the first commercial GaN power integrated circuits. Its proprietary GaNFast power ICs monolithically integrate GaN power field-effect transistors (FETs) and GaN drive plus control and protection circuits in a single SMT package. Since GaN is reckoned to run up to 20x faster than silicon, GaNFast power ICs are said to deliver up to 3x faster charging or 3x more power in half the size and weight, and with up to 40% energy savings compared with silicon chips. GaNFast power ICs are integrated in over 130 mobile chargers (more than all other GaN companies combined) and includes fast chargers from Xiaomi, Dell, Lenovo, LG, Amazon, OPPO, Anker, Belkin and dozens of other major OEMs. Over 30 million GaNFast power ICs have been shipped with zero reported field failures.
All of Navitas' co-founders are still with the company and celebrated at the Nasdaq podium, including CEO Gene Sheridan, COO/CTO Dan Kinzer, VP engineering Nick Fichtenbaum, and VP applications & technical marketing Jason Zhang. With over 130 patents issued or pending, and significant trade secrets including a proprietary process design kit (PDK), Navitas believes it has a multi-year lead in next-generation GaN power ICs, paving the way for expansion into consumer, solar, energy storage, data center and electric vehicle (EV) markets.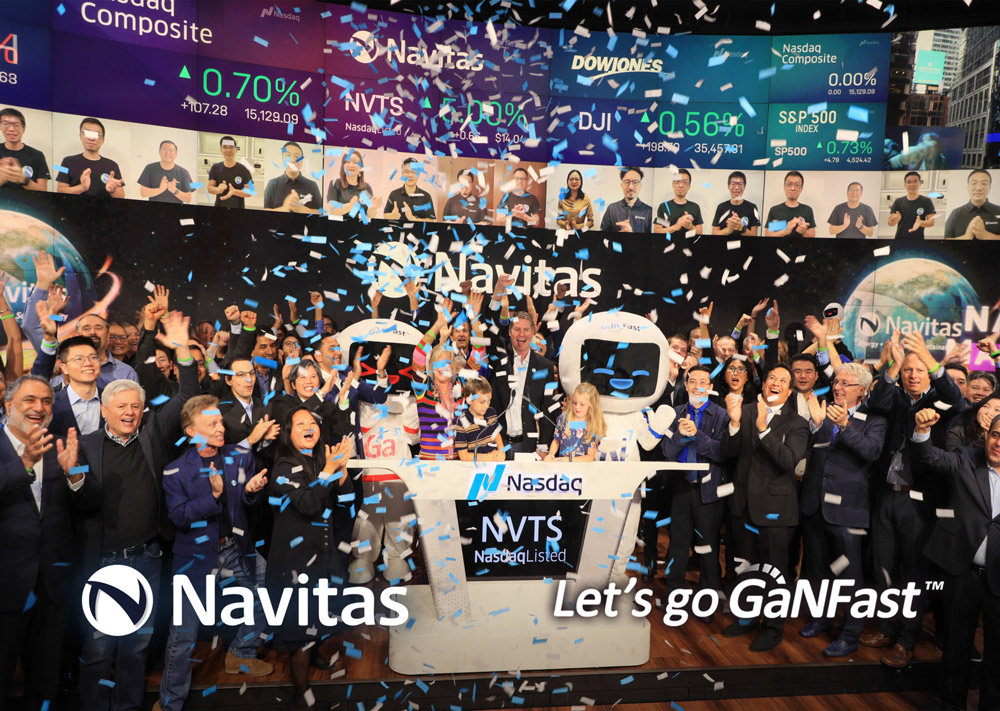 Picture: Navitas' CEO Gene Sheridan rings the Nasdaq opening bell as NVTS begins trading after only seven years as a start-up.
The opening bell ceremony was broadcast live by TV networks including Fox, CNBC and Bloomberg, and live-streamed via Facebook to the entire Navitas team and investors worldwide, with local parties in Los Angeles, Shanghai, Shenzhen, Taipei, Manila as well as other Navitas locations.
"The first seven years have seen extreme growth in Navitas IP, revenues, customers… and we're looking forward to the next seven years, as we look to accelerate the transition to EVs, save billions in data center electricity costs and lower CO2 emissions by up to 2.6Gtons/year by 2050," says Sheridan.
On 19 October, Navitas completed its business combination with Live Oak Acquisition Corp II (a blank-check company whose business purpose was to effect a merger, capital stock exchange, asset acquisition, stock purchase, reorganization or similar business combination with one or more businesses). Live Oak II raised $253m in December 2020 and, prior to 20 October, its units, Class A common stock and warrants were listed on the NYSE under the tickers 'LOKB.U', 'LOKB' and 'LOKB WS', respectively. "The Navitas team comprehensively and confidently educated investors on the next-gen technology, the diverse markets and the detailed business model that makes GaN power ICs a great long-term story," comments Rick Hendrix, formerly Live Oak II's CEO and now a Navitas board member. "We're confidently locked-in with the Navitas senior management team for several years, which shows our commitment to this game-changing technology and our long-term investors," he adds.
Navitas completes Live Oak II business combination; rings Nasdaq opening bell
Navitas to go public via Live Oak II
Tags: GaN Power electronics
Visit: www.navitassemi.com