News: Optoelectronics
21 September 2021
BluGlass appoints US-based ex-Soraa/nLIGHT/Coherent/JDSU veteran as president
BluGlass Ltd of Silverwater, Australia – which develops low-temperature, low-hydrogen remote-plasma chemical vapor deposition (RPCVD) technology for manufacturing devices such as laser diodes, next-generation LEDs and micro-LEDs – has appointed expert laser diode executive James (Jim) Haden as president. He will continue to be based in the USA.
Haden has three decades of laser industry expertise and a track record of transforming advanced technology businesses from R&D and early-stage product development to profitable, high-growth commercial entities, says BluGlass. He has held senior executive and advisory roles at several of BluGlass' prospective customers and competitors, including senior technical & operations adviser at Kyocera SLD, chief operating officer at nLight, director of operations & product line management at Coherent, and director of operations at JDS Uniphase.
Haden's appointment follows an extensive global executive search to lead BluGlass through its next growth phase. As president, Haden will oversee all aspects of the business and will be responsible for transitioning the firm from its R&D origins to a technology development and product manufacturing company.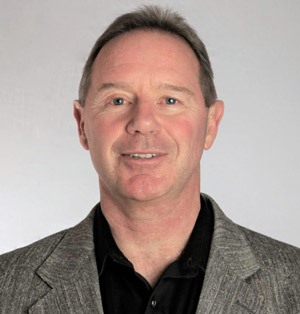 Picture: BluGlass' new president Jim Haden.
"Jim's unique synergy of deep technical, commercialization and leadership skills, along with his extensive customer and supply chain network, will be invaluable in solving our reliability challenges as we transition BluGlass to profitability and deliver a pipeline of next-generation laser products to market," comments executive chair James Walker.
"Our ability to attract an industry executive of Jim's calibre is a testament to the quality of our industry-leading technology, which addresses the growing demand for brighter and better-performing lasers. Jim has delivered significant revenue growth and built enviable market-leadership positions throughout his career and has hands-on experience optimizing operations and identifying strategic opportunities, including facilitating successful mergers and acquisitions," Walker adds.
"It is a very exciting time to be joining BluGlass, as we finalize product development and prepare to launch a range of in-demand products into high-growth markets," comments Haden.
In his most recent role at Soraa Laser Diode (now Kyocera-SLD), Haden was responsible for guiding operations and development teams to stabilize, improve and ramp high-power blue gallium nitride (GaN) lasers and associated packaging, which enhanced thermal, electrical and optical performance and greatly improved manufacturing yields. This product development delivered a leading automotive customer (BMW) and rapid revenue growth, assisting in the firm's acquisition by Kyocera in January.
Previously, Haden was chief operating officer at nLIGHT, helping to transform the business from early-stage revenue generation to its current market leadership position. During this time, he more than doubled revenue, delivered a four-fold increase in R&D return on investment, streamlined production management, and improved manufacturing yields and cost margins; ultimately assisting the business to attract expansion capital of US$25m.
Other senior roles include director of operations & product line management at Coherent Inc, director of operations South Bay Operations at JDS Uniphase, and director of operations at Spectra Diode Lasers (acquired by JDS Uniphase for US$41bn). Haden holds a Bachelor and Masters in Electronics Engineering from the University of Southern California.
Interim executive chair James Walker will remain in the role to ensure a seamless transition and support the business' financial and governance requirements as the firm nears commercialization.
BluGlass demos first RPCVD tunnel-junction laser diodes
BluGlass now funded through to first commercial orders
BluGlass' prototype lasers meet commercial power and wavelength specs
BluGlass demos working 405, 420 and 450nm laser designs
Visit: www.bluglass.com.au