News: Markets
8 September 2021
Increased demands on food safety to propel horticultural lighting LED revenue to $399m in 2021
Due to favorable policies by governments worldwide as well as massive adoption of horticultural LED lighting products in the medical and recreational marijuana markets in North America, horticultural lighting LED revenue grew 57% year-on-year to $301m in 2020, according to TrendForce's report '2021 Global LED Lighting Market Outlook - Light LED and LED Lighting Market Trend'. The market is expected to maintain its momentum throughout 2021, growing 33% year-on-year to $399m.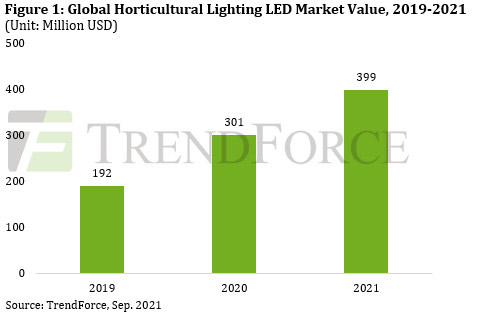 However, horticultural red light LED chips, especially high-end ones, will likely suffer a shortage in third-quarter 2021, as suppliers' production capacities for these chips are constrained by other products, including automotive and infrared LED products. At the same time, demand for horticultural LED lighting products cannot be fully met due to the ongoing shortage of power management integrated circuits (PMICs). Furthermore, delayed ocean freight schedules and North American governments' crackdown on illegal indoor marijuana cultivations have also impacted the shipment of these end-products, leading certain horticultural LED lighting suppliers to slow down their production plans and component procurement activities.
Even so, LED suppliers are still optimistic about the current market. Although changes in the global environment are expected to hinder market demand in the short run LED suppliers believe that such hindrance will likely be ameliorated by the end of third-quarter 2021.
TrendForce's report indicates that horticultural lighting LED package suppliers include ams-OSRAM, Samsung LED, Cree LED, Seoul Semiconductor, Lumileds, Everlight, LITEON, and lightning. On the other hand, horticultural LED chip suppliers include Epistar, San'an, HC Semitek, HPO, and Epileds. The vast majority of these companies were able to benefit from the horticultural lighting market and posted remarkable earnings performances in first-half 2021, notes TrendForce.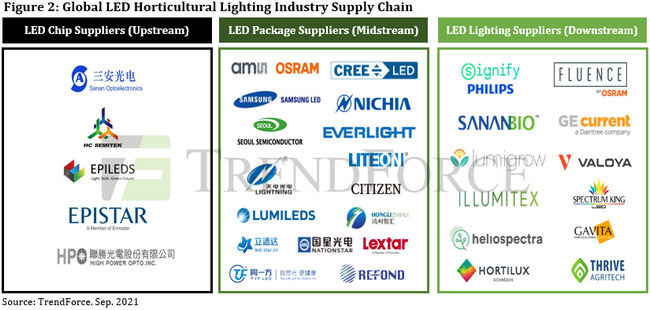 Looking ahead, the demands on food safety will bring about a shortened food supply chain through such developments as indoor farming and build-outs of vertical farms, with a corresponding rise in the global horticultural lighting LED market, reckons the market research firm. In addition, TrendForce believes that, as operators of greenhouses or emerging vertical farms continue to adopt LED lighting equipment in the long run, and LED lighting costs continue to decline, more and more indoor farmers will be convinced to replace their traditional lighting equipment with LED lighting equipment. The replacement demand from these operators will, in turn, become the key driver of the horticultural lighting LED market's future growth, forecasts TrendForce.
Horticultural LED revenue to grow nearly 40% in 2020
Tags: Lighting market
Visit: www.trendforce.com