News: Optoelectronics
5 April 2022
TRUMPF presents new generation of 940nm single-mode and multi-mode VCSELs
TRUMPF Photonic Components GmbH of Ulm, Germany (part of the TRUMPF Group) – which manufactures vertical-cavity surface-emitting lasers (VCSELs) and photodiodes for the consumer electronics, datacoms, industrial sensing, heating and automotive markets – is presenting new VCSEL solutions to expand its portfolio for 3D sensing in consumer and industrial applications.
The new-generation 940nm VCSEL arrays enable improvements in various functionalities combined with high reliability performance such as long product lifetime at a broad temperature range. The new VCSEL generation therefore leads to better results in optical applications such as proximity sensing, laser auto-focus applications or under organic light-emitting diode (OLED) display sensing.
TRUMPF also addresses the trend of all-screen-display in high-end consumer electronics, and the challenge of system designers to place advanced optical sensing technologies beneath the displays. Furthermore, the new generation is a suitable light source for advanced industrial and automotive time-of-flight (ToF) applications.
"It was back in 2015 when the first TRUMPF VCSEL, and the first VCSEL at all, was put into a smartphone for proximity sensing," says Ralph Gudde, VP marketing & sales. "Our innovation leadership is substantiated by over 1.6 billion VCSELs shipped out since then, to enable 3D sensing and illumination in smartphones."
Improvements in sensing and illumination quality
To enhance the quality in proximity sensing and laser auto-focus applications, the new single-mode 940nm VCSEL array consists of 12 quadratic emission zones to generate a high output power of 18mW. Optical application design becomes significantly easier thanks to the absolutely symmetrical and Gaussian-shaped beam profile, TRUMPF says. The device performance remains single-mode even when operated at nanosecond pulses, and stable output power performance over lifetime is ensured by the robust design.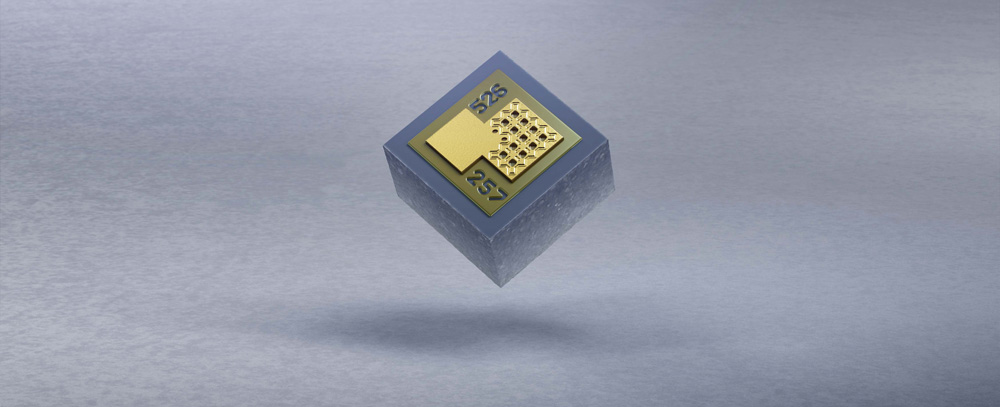 Picture: New generation of 940nm-emitting VCSEL array with 12 emitters for high optical output power to enhance the quality in proximity sensing and laser auto-focus applications.
A second new product (to be launched soon) is a multi-mode VCSEL that comes with controllable polarization. The feature of stable and advanced linear polarization improves the illumination quality and resolution in demanding 3D illumination applications such as optical sensing through OLED displays. This new multi-mode 940nm VCSEL comes with two emission zones that generate an optical power of 8mW. TRUMPF has developed the patented technology of VCSELs with stable polarization for high-volume applications. The polarization is locked by a surface grating etched directly into the gallium arsenide (GaAs). Due to the optimized grating design the new polarized VCSELs achieve almost 100% of the efficiency compared with standard non-polarized VCSELs.
"With our expanded portfolio of single- and multi-mode, high-power and polarization-controlled VCSEL products, we are well positioned to serve the demanding 3D sensing and illumination applications not only in smartphones but also in virtual-reality (VR) and augmented-reality (AR) as well as industrial and automotive applications," reckons Gudde.
TRUMPF Photonic Components is exhibiting in booth 341 (hall A6) at LASER World of Photonics 2022 in Munich, Germany (26-29 April).
TRUMPF presents controlled-polarized VCSEL at Photonics West
Visit: www.world-of-photonics.com