News: Microelectronics
26 April 2022
Wolfspeed opens Mohawk Valley 200mm silicon carbide fab
Wolfspeed Inc of Durham, NC, USA – which makes silicon carbide materials as well as silicon carbide (SiC) and gallium nitride (GaN) power-switching & RF semiconductor devices – has officially opened its Mohawk Valley silicon carbide fabrication plant in Marcy, NY with a ribbon-cutting ceremony featuring Federal and State officials. The 200mm wafer fab will help to lead the industry-wide transition from silicon to silicon carbide-based semiconductors, says the firm.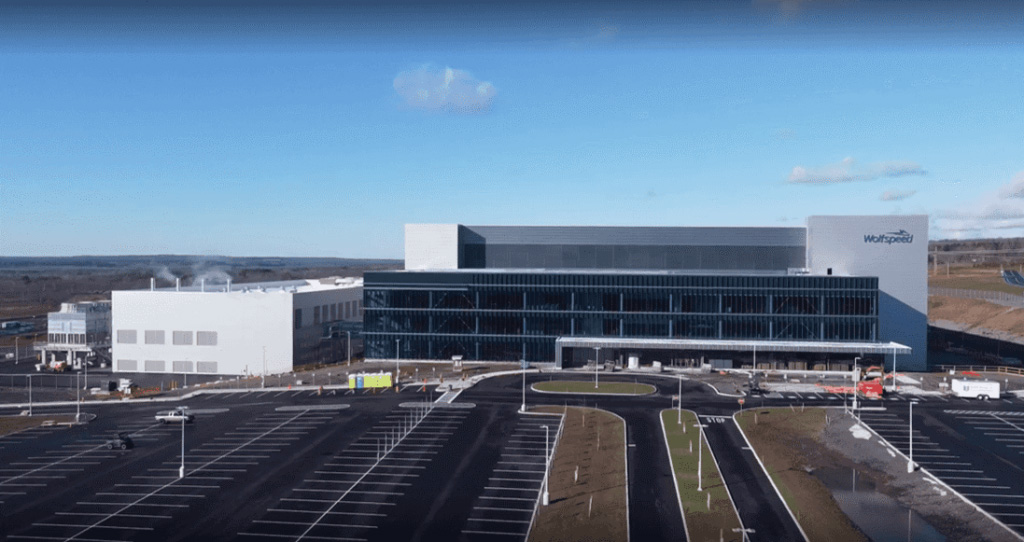 New York governor Kathy Hochul was on site to officially welcome Wolfspeed to Mohawk Valley, joined by Eric Bach, senior VP of product & chief engineer at automaker Lucid Motors, with whom Wolfspeed recently signed a multi-year agreement to supply silicon carbide devices. As a key partner, Lucid Motors had the honor of cutting the ribbon with its Lucid Air, named the 2022 MotorTrend Car of the Year. The Lucid Air Grand Touring features an official EPA-estimated 516 miles of range or 1050hp.
"We will be partnering with Wolfspeed to source the highest-quality silicon carbide components here in the State of New York, providing even more American jobs for the EV industry," says Bach.
"This fab will not only supply customers in 2022 but also support long-term American competitiveness," says Wolfspeed's president & CEO Gregg Lowe.
The automated Mohawk Valley facility is the world's first and largest 200mm silicon carbide fab. The devices developed there will be critical in feeding Wolfspeed's $20bn+ pipeline. The first silicon carbide lot was run at the facility earlier in April. More than 600 jobs should be created in Mohawk Valley by 2029.
Wolfspeed is also expanding its operations in North Carolina. with the creation of a materials factory in Durham, scheduled to be completed later this year. Together, these factories establish a national 'silicon carbide corridor' on the East Coast, combining Wolfspeed's 30+ year history of R&D in North Carolina with the technology base, manufacturing heritage, and talent in New York's Mohawk Valley.
"This site now holds incredible promise for our region, New York State, and especially our graduates who are well prepared for the types of leading-edge careers that will be available," comments Dr Tod A. Laursen, acting president of State University of New York Polytechnic Institute (SUNY Poly). "Our partnership with Wolfspeed is powering targeted, semiconductor-centered curricula and providing new high-tech equipment at SUNY Poly via the $250,000 Wolfspeed Curriculum Gift; uplifting traditionally underserved students through scholarship opportunities from Wolfspeed's $2,000,000 scholarship program over 10 years; and providing $1,500,000 in funding to establish the Dr John Edmond and Dr John Palmour SUNY Polytechnic Institute Endowed Faculty Chairs; all of which underpin the continued expansion of science, technology, engineering, and mathematics (STEM) opportunities for students at SUNY Poly," he adds.
"Twenty-seven months ago, Wolfspeed, State and Local partners announced plans by Wolfspeed to build the world's largest 200mm state-of-the-art silicon carbide semiconductor facility here in the Mohawk Valley," notes Mohawk Valley EDGE president & CEO Steven DiMeo. "We want to give special thanks to Gregg Lowe and the entire Wolfspeed team for their commitment and the tremendous community partner they have become with their financial commitments to SUNY Poly and Mohawk Valley Community College to produce the next generation of technology leaders."
Wolfspeed's silicon carbide power modules used in inverters of Lucid Air EV
Wolfspeed announces $250,000 gift to SUNY Poly Foundation
SUNY Poly students receive Cree | Wolfspeed Scholarships
Tags: Wolfspeed SiC substrates Power electronics
Visit: www.wolfspeed.com