30 December 2022
Latest issue of Semiconductor Today now available
For coverage of all the key business and technology developments in compound semiconductors and advanced silicon materials and devices over the last month, subscribe to Semiconductor Today magazine.
Published today and free of charge, Semiconductor Today's latest issue covers all that is new in gallium arsenide (GaAs), indium phosphide (InP), nitrides, silicon carbide (SiC), silicon germanium (SiGe) and other compound semiconductor materials. The magazine also covers the devices and applications that these materials enable.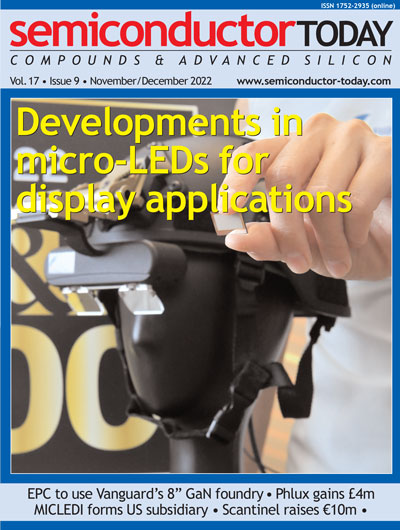 Click here or issue cover for direct access
Articles in this issue include:
Very-near-infrared InP QD laser diodes on silicon
Ultra-stable emission from green micro-LEDs on silicon
Multi-wavelength emission from 3D structured InGaN
Compound semi substrate market growing at 16% CAGR to $2.4bn by 2027
Imec introduces framework to model GaN HEMT and InP HBTRF devices for 5G & 6G
RF detection with InGaAs and GaN HEMTs
Plus, there's the news from organisations such as: Aehr Test Systems, Aixtron, Asahi Kasei, BluGlass, Cambridge GaN Devices, CrayoNano, CSA Catapult, Disco Corp., Emcore, EPC, Finwave Semiconductor, First Solar, Fraunhofer IAF, Gallium Semiconductor, Guerrilla RF, Hamamatsu Photonics, Indium Corp, IQE, ITRI, Kyocera, Lumileds, MICLEDI Microdisplays, Midsummer, Phlux Technology, Qorvo, ROHM, Semikron Danfoss, STMicroelectronics, Toshiba, Transphorm, UCSB, Vector Photonics, Wolfspeed, and much more.
See company profiles from Aixtron, EV Group, Goodfellow, k-Space, LayTec, Oxford Instruments, and Veeco.
If your company is a supplier of equipment, materials, or services for the manufacture of compound semiconductor wafers and devices, and you are involved in marketing those products, then please see Semiconductor Today's 2021 Media Kit.
Semiconductor Today is freely available to all. To learn more and to subscribe, visit: Subscribe for free.