News: Microelectronics
20 January 2022
CSA Catapult appoints Raj Gawera as non-executive director
The UK's not-for-profit Compound Semiconductor Applications (CSA) Catapult (based in South Wales) has expanded its board of directors and appointed Raj Gawera as a non-executive director.
Established by UK Government agency Innovate UK (which provides funding and support for business innovation as part of UK Research and Innovation), CSA Catapult is a not-for-profit organization (headquartered in South Wales) focused on accelerating the adoption of compound semiconductors and on bringing applications to life in four technology areas: power electronics, RF & microwave, advanced packaging and photonics. It works across the UK in a range of industry sectors from automotive to medical, and from digital communications to aerospace.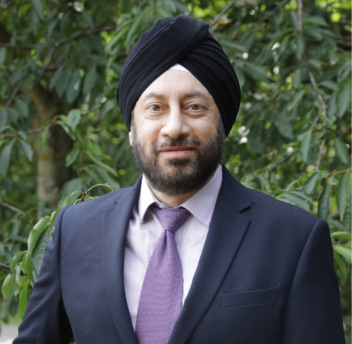 Picture: CSA Catapult's new non-executive director Raj Gawera.
Gawera has over 25 years of experience in short-range and wireless communications technology R&D, business development and marketing. He was part of the initial IEEE 802.11 team that defined the first WLAN standard in 1996, a technology which has now shipped over 5 billion units. He also helped pioneer the first 3G data transmissions, working with Motorola and others to demonstrate one of the first video calls at the 3GSM show in 1998, many years before 3G licences were awarded.
In 1999, Gawera was a founder member of start-up UbiNetics, which successfully exited in 2005 for over $120m. As part of that deal, he joined CSR and ultimately took the role of VP marketing, where (in 2009) he was part of the team that acquired SiRF Technologies for $136m to add GPS technology to CSR portfolio. In 2012, Gawera helped sell CSR's handset business to Samsung in a deal worth $310m for 310 staff. As part of that deal, he took up the role of VP marketing responsible for defining future wireless products.
In 2014, Gawera was promoted to head the SCSC subsidiary leading the silicon and software development for Samsung's connectivity solutions. He is now responsible for several European development centers delivering leading-edge technology into Samsung's semiconductor division. The technology from these development centers has now been in mass production in hundreds of millions of units across multiple global customers in mobile and Internet of Things (IoT) products.
"His wealth of experience and expertise within wireless comms technology is a fantastic addition to our non-executive team," comments CSA Catapult's CEO Martin McHugh. "We look forward to working with Raj in 2022, which is sure to be an exciting year for the Catapult."
Tags: CSA Catapult
Visit: www.csa.catapult.org.uk