News: Microelectronics
7 January 2022
GaN Systems and Axign unveil 500W heatsinkless Class-D audio amplifier at CES
GaN Systems Inc of Ottawa, Ontario, Canada (a fabless developer of gallium nitride-based power switching semiconductors for power conversion and control applications) and fabless semiconductor company Axign of Enschede, The Netherlands (which provides analog/mixed-signal technology and ICs for audio amplifier systems) have debuted a new GaN-based 500W Class-D audio amplifier. The reference design merges technologies including GaN Systems' GaN power transistors and Axign's Class-D controller, enabling companies to create unique audio systems that are said to be smaller, sleeker, more efficient, more powerful, and provide better audio quality than previous generations.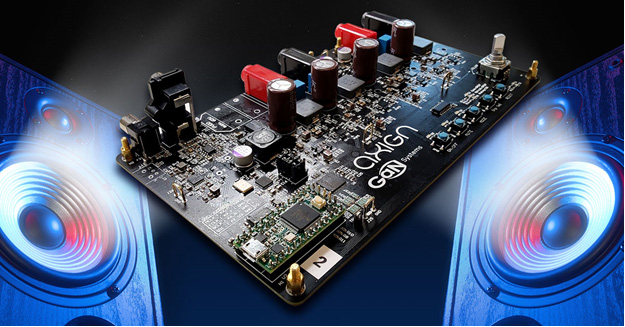 Both firms are showcasing the demo board at CES. Under Axign's theme of 'Listening to the Sound of Innovation', this solution signals the next leap in efficiency and sound quality performance as audio needs have evolved. The design is suitable for consumer and automotive audio applications, including active loudspeakers, television soundbars, audio entertainment solutions, and streaming audio amplifier solutions.
Key features of the 500W Class-D audio amplifier reference design include:
rated output power: 2x 250W in 4Ω BTL bridge-tied load (optionally 1x 500W in 2Ω parallel bridge-tied load PBTL);
frequency response: 20Hz–20kHz +/-0.1dB, DC–40kHz +/-3dB;
high dynamic range: 109dB-A in BTL (optionally 118dB-A in PBTL);
output noise voltage: 110μV A-weighted, 20kHz AES17 (optionally 41μV in PBTL);
very low and flat THD: <0.01%, 20Hz–20kHz;
damping factor: >4000.
In addition to the key features, the solution is hi-res audio compatible. The 500W Class-D audio amplifier reference design solves several technical challenges, especially heat generation in high-power audio amplifiers and efficiency. GaN Systems says that designers will be able to:
eliminate heatsinks;
increase efficiency, as GaN has lower switching and conduction losses and high-current capabilities;
enhance sound quality (or reach a Class-A sound quality) with a post-filter feedback Class-D controller with full control over the loudspeaker.
"GaN-based audio amplifiers and accompanying power supplies are becoming the standard in audio systems, expanding possibilities in design and performance," says Paul Wiener, GaN Systems' VP of strategic marketing. "This collaboration with Axign for the 500W Class-D audio amplifier encapsulates this evolution, allowing the delivery of smaller, lighter and better sounding audio systems," he adds.
"Getting amazing sound quality and full control over the loudspeaker are just one of the many benefits of our 500W heatsinkless Class-D audio amplifier with GaN Systems," comments Richard Langezaal, Axign's VP of business development.
At CES 2022, GaN Systems is demonstrating the latest designs and products in power supply, wireless power, audio and automotive solutions at Tech East, Renaissance Hospitality Suites (next to the Las Vegas Convention Center) at Suite 1232.
Tags: GaN Systems
Visit: www.ces.tech
Visit: www.gansystems.com