News: LEDs
1 June 2022
ams OSRAM launches OSLON Optimal LEDs for horticulture lighting
ams OSRAM GmbH of Premstätten, Austria and Munich, Germany has launched the OSLON Optimal family of LEDs, based on the firm's latest 1mm2 chip for horticulture lighting, which offer a combination of high efficiency, reliable performance and value.
The OSLON Optimal LEDs are available at launch in Hyper Red (660nm) and Far Red (730nm) colors. Deep Blue and Horti White versions are expected to be available in third-quarter 2022. The mix of colors and white provides fixture manufacturers with the flexibility to address the spectral requirements of any horticulture application.
Their 3.0mm x 3.0mm footprint makes the OSLON Optimal LEDs particularly well suited to the horticulture lighting fixtures used in vertical farms and high-density greenhouses, where tight clustering of LEDs is often necessary. In these applications, the chief requirement is to balance efficiency (photosynthetic photon flux per Watt, or PPF/W) with low cost of light (PPF/$).
The OSLON Optimal LEDs balance performance and cost with robustness, high reliability and lifetime, says the firm. The new products are based on the same indium gallium aluminium phosphide (InGaAlP) thin-film chip technology as used in the OSLON Square family of 2mm2 die high-performance horticulture LEDs. This technology enables the OSLON Optimal LEDs to handle high drive currents and high operating temperatures, while maintaining what are claimed to be excellent operating lifetimes with minimal drop in photon flux over time. The 3030 High Power ceramic package is highly resistant to corrosion even when operating in harsh horticultural environments.
In addition, the OSLON Optimal LEDs feature a new, larger spherical lens that produces a wide 120° viewing angle, providing an even distribution of light over crops without 'hot spots' of concentrated light.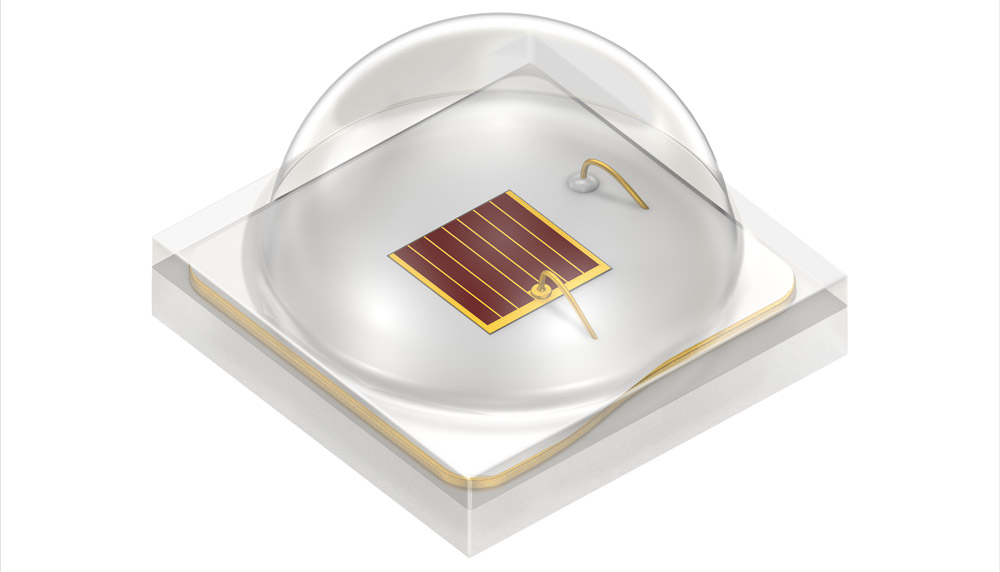 Picture: OSLON Optimal LED for horticulture lighting.
"The new OSLON Optimal products family of products based on our latest ams OSRAM's chip technology, achieve market-leading performance/price ratio in LEDs that are based on a 1mm2 die," claims Renil P. Singh, portfolio management director Horticulture at ams OSRAM. "They offer higher PPF/$ and PPF/W than the OSLON SSL horticulture LEDs, and are solder pad-compatible with the OSLON SSL and the OSLON Square LEDs," he adds. "Fixture manufacturers and growers can be assured that the new LEDs benefit from the same robustness, reliability and long life that they are used to in ams OSRAM LEDs."
Efficient spectral coverage
For horticulture lighting applications, the OSLON Optimal Hyper Red, Deep Blue (450nm) and Far Red LEDs have a tight tolerance of peak wavelength. The Horti White LED offers reduced output in the red spectrum compared with standard white LEDs for illumination applications. This allows growers to use more direct red emitters such as the Hyper Red OSLON Optimal LEDs to provide the red wavelengths needed for biomass growth, and to reduce the reliance on less efficient phosphor-converted white emitters to cover the red part of the spectrum. This enables growers to achieve higher overall efficiency in PPF/W.
Tags: Osram
Visit: www.ams-osram.com