News: Microelectronics
16 June 2022
Qorvo awarded Department of Defense advanced RF GaN program
Qorvo Inc of Greensboro, NC, USA (which provides core technologies and RF solutions for mobile, infrastructure and defense applications) has been selected by the US Department of Defense (DoD) to proceed with the program 'Advanced Integration Interconnection and Fabrication Growth for Domestic State of the Art (SOTA) Radio Frequency Gallium Nitride (GaN)', also known as STARRY NITE, as part of the Office of Undersecretary of Defense Research & Engineering's (OUSD R&E) microelectronics roadmap.
The STARRY NITE program seeks to develop and mature domestic, open SOTA RF GaN foundries in alignment with the DoD advanced packaging ecosystem. The Qorvo team will leverage over 30 years of technology development and a long record of establishing high-performance, reliable GaN manufacturing technology to achieve these primary goals:
To offer secure, domestic high-volume manufacturing of 90nm GaN foundry processes, along with advanced interconnect features that enable high-performing, innovative and compact solutions for next-generation military and commercial wireless communications systems.
Qorvo reckons it is well positioned to realize STARRY NITE's vision and ensure accessibility of 90nm RF GaN and 90nm GaN with advanced interconnects across the Defense Industrial Base (DIB), delivering manufacturing maturity with performance and advanced integration features such as copper bumps.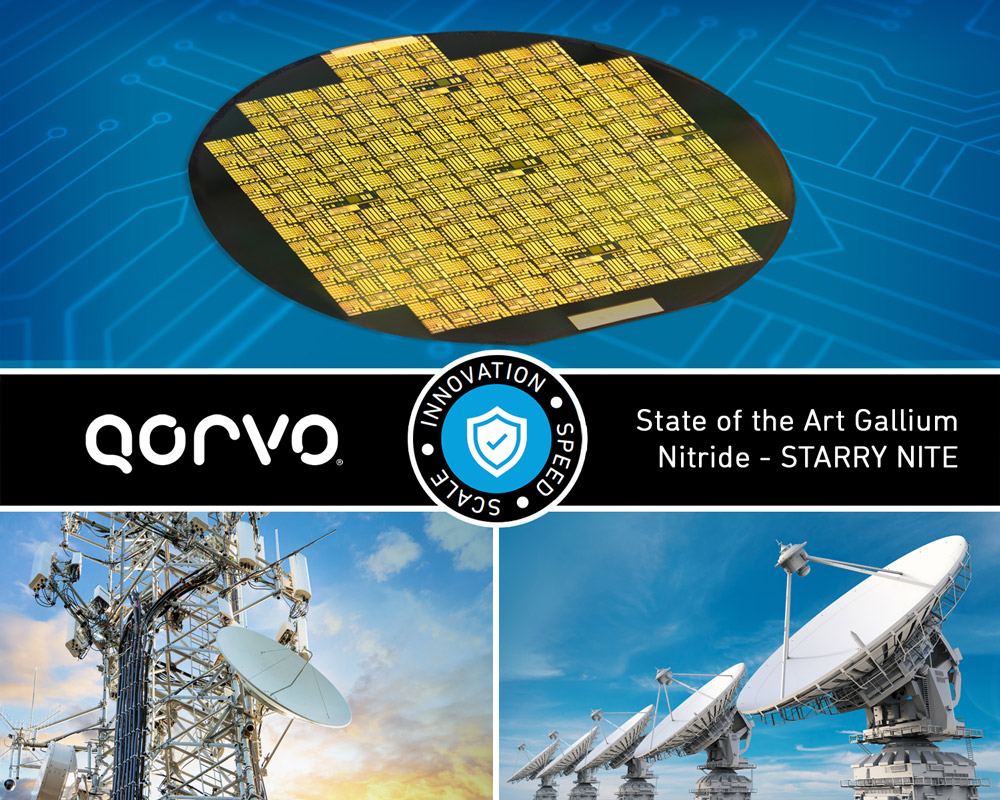 "Qorvo looks forward to providing best-in-class advanced GaN technology that will enable high-performing, reliable and compact RF solutions for future needs through the STARRY NITE prototype project," says Philip Chesley, president of Qorvo's Infrastructure and Defense Products.
Qorvo provides 5G and other commercial products that require an understanding of existing market requirements, as well as the advanced GaN nodes and interconnects needed to support/achieve those requirements. As a commercial provider for dual-use applications, the firm reckons that it is uniquely positioned to leverage wafer volumes to drive manufacturing process control, accelerate process and reliability maturation, and drive down costs for the entire DIB.
Qorvo supplies high-performance RF products and compound semiconductor foundry services to defense primes and other global defense and aerospace customers. Using the MRL concept developed by the US DoD, Qorvo has achieved Manufacturing Readiness Level 10 for its GaN technology.
Tags: Qorvo
Visit: www.qorvo.com/foundry