News: Optoelectronics
28 June 2022
TRUMPF presents VCSEL heating system for perforating separator foils in Li batteries for e-mobility
In booth A10 (Hall 10) at the Battery Show Europe in Stuttgart (28-30 June), TRUMPF Photonic Components GmbH of Ulm, Germany (part of the TRUMPF Group) – which manufactures vertical-cavity surface-emitting lasers (VCSELs) and photodiodes for the consumer electronics, datacoms, industrial sensing, heating and automotive markets – is presenting a new application field for its VCSEL heating systems in the manufacturing process of lithium ion (Li) batteries for e-mobility.
Li batteries benefit from an increase in safety, performance and reliability due to the high accuracy of the VCSEL heating systems to perforate separator foils (which are key components within Li batteries). The permeable membrane is placed between the anode and cathode to prevent electrical short-circuits and to allow the smooth transport of ionic charge carriers. With VCSEL heating systems, even very thin separator foils can be processed quickly and homogeneously. As a result, battery safety is increased because the process enables a good battery shutdown function when overheating.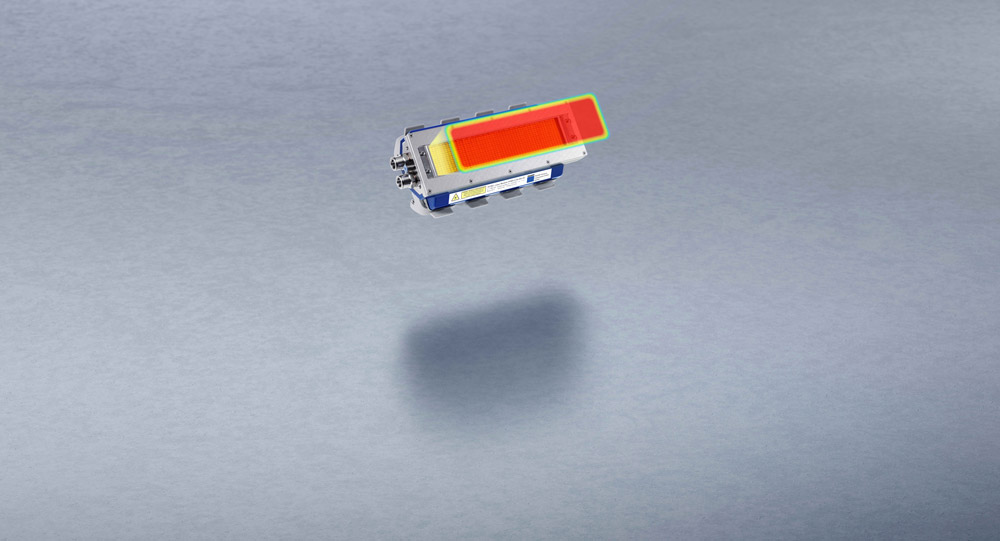 Picture: VCSEL heating system. Laser heat treatment with VCSEL-based systems offers highly accurate solutions for a number of process steps, such as perforating, drying, sealing and joining.
"Compared to other production methods, the VCSEL heating systems can be an enabler to reduce overall manufacturing costs and to improve battery charging times at the same time," says Ralph Gudde, VP marketing & sales. "We see high potential for our unique VCSEL heat treatment in various battery manufacturing steps, not only in precisely perforating separator foils and enabling higher hole-density levels but also, for example, in the drying of battery foils or in pouch cell sealing," he adds. The robust and compact laser modules can be integrated easily into industrial production processes.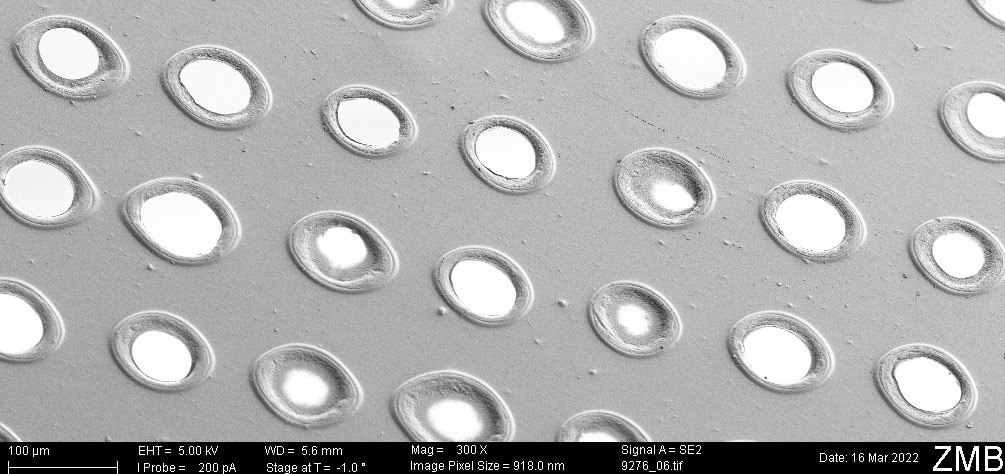 Picture: Processed separator foils with VCSEL heating systems. VCSEL heating systems are used to irradiate a printed micro-pattern on an electrode foil. The IR laser is absorbed only on the printed pattern and creates micro-holes with a diameter of 3–22μm through the substrate.
Swiss firm L-Europe is the first company that developed and patented a complete process and system for perforating battery separator foils, using TRUMPF VCSEL heating systems as key elements within their system. The optical power of the VCSEL heating systems can be regulated precisely. Using infrared radiation, printed micro-patterns on the electrode foil are heated and the separator foil is hence perforated. While the infrared laser of the VCSEL system is absorbed only on the printed patterns, micro-holes are created through the substrate.
"There are great process results with the VCSEL heating systems from TRUMPF. We have achieved a hole density of 5000 holes per square centimeter with a hole diameter of 3-22μm," says L-Europe's chief technology officer Thomas Kreimer. "Having TRUMPF as a supplier of the key element of our systems supports our promise in offering highly reliable systems for the battery process chain," he adds. VCSEL heating systems are well suited to treat the heat-resistant separator foils, TRUMPF reckons.
TRUMPF presents VCSEL heating systems for faster and better flip-chip assembly
TRUMPF VCSEL heating system accelerates sustainable Li-battery production