News: Suppliers
16 November 2022
Plasma-Therm's Grenoble site made EMEA HQ focused on power, wireless, memory, sensor and MEMS device development
Plasma-Therm LLC of St Petersburg, FL, USA (which makes plasma-process equipment for the semiconductor and compound semiconductor markets) says that its site in Grenoble, France will serve as regional headquarters to support customers in central Europe, Middle East and North Africa (EMEA) markets focused on developing power, wireless, memory, sensor and MEMS, and other advanced microelectronic devices. The firm's European facility, equipped with R&D, manufacturing and demonstration cleanrooms, is poised to support new application and product development with strategic customers and partners in the region.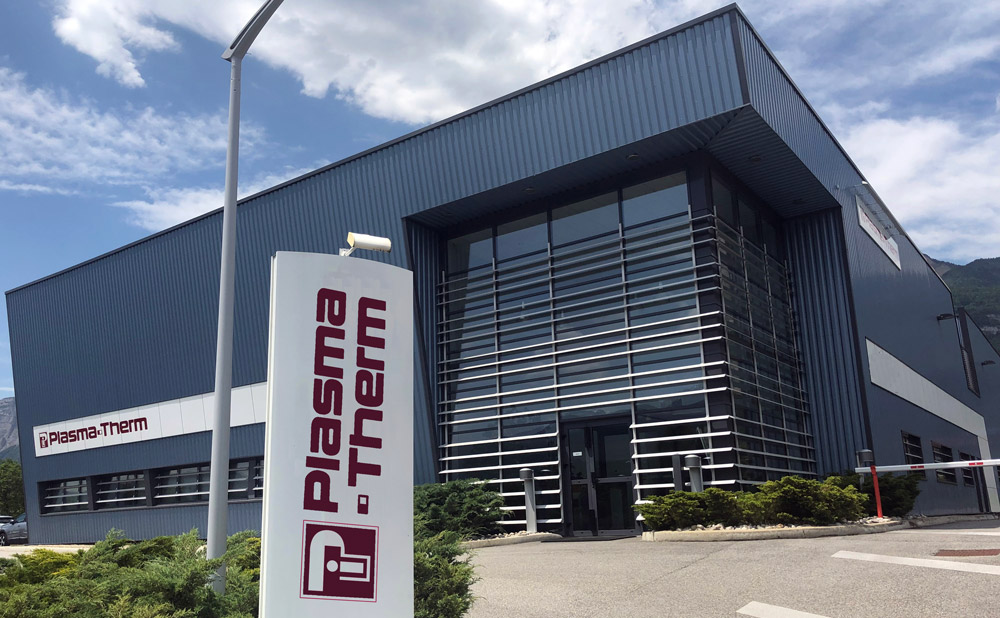 Picture: Plasma-Therm's European HQ.
Plasma-Therm says that its emphasis on process solutions and customer satisfaction has resulted in the recent award of multiple orders for its newly redesigned Heatpulse rapid thermal processing (RTP) platform (launched earlier this year), on target to ship to two major European customers in December. Heatpulse RTP was selected for its new control system software, upgraded robotics and ability to accommodate a variety of substrates up to 200mm, including silicon, gallium arsenide (GaAs), silicon carbide (SiC) and other compound materials. The new system design helps existing Heatpulse customers mitigate any supply chain and obsolescence issues with their existing systems, says Plasma-Therm. Remanufacturing options for legacy systems are also available.
"Increasing our presence in Europe is part of our long-term strategic growth plan to provide a premier client experience and customized technology processing solutions for customers in the region," says Jim Garstka, VP of sales & business development. "We anticipate EMEA will continue to be a high-growth market for us, driven by demand for advanced compound semiconductor and silicon devices used in automotive, wireless, IoT, AR/VR and other end-use applications," he adds.
"Being able to quickly deploy our highly specialized engineering, sales and support teams and offer flexible solutions helps our customers achieve faster time to market for their devices," says Yannick Pilloux, executive sales manager, EMEA. "We expect our new Heatpulse system will continue to see market traction with improved reliability and performance, as well as assurance of readily available spare parts and maximum tool uptime in the fab."
Plasma-Therm acquires OEM Group's PVD, RTP & etch business
Tags: Plasma-Therm
Visit: www.plasmatherm.com