News: Microelectronics
22 November 2022
ROHM, Mazda and Imasen to co-develop inverters for e-Axle using SiC power modules
Japan's ROHM has signed a joint development agreement with Mazda MotorCorp and Imasen Electric Industrial Co Ltd for inverters and silicon carbide (SiC) power modules to be used in the electric drive units of electric vehicles, including e-Axle.
As the 'heart of the EV', e-Axle integrates a motor, reduction gearbox and inverter into a single unit that plays a large part in determining the driving performance and power conversion efficiency of electric vehicles. SiC MOSFETs in particular are expected to improve efficiency even further.
ROHM will carry out joint inverter development for e-Axle by participating in a 'cooperative framework for the electric drive units development and production' with companies such as Imasen and led by Mazda. At the same time, ROHM will contribute to creating compact, high-efficiency electrical units by developing and supplying SiC power modules that provide improved performance.
Through this collaboration, ROHM aims to develop even more competitive SiC MOSFETs and modules by working backwards from the finished vehicle to understand the performance and optimal drive method required for power semiconductors.
Besides creating new value through mutual understanding between car and device makers, the three companies also aim to support technical innovation in the automotive field and contribute to a sustainable society by leveraging extensive knowledge, technologies and products garnered on a global basis.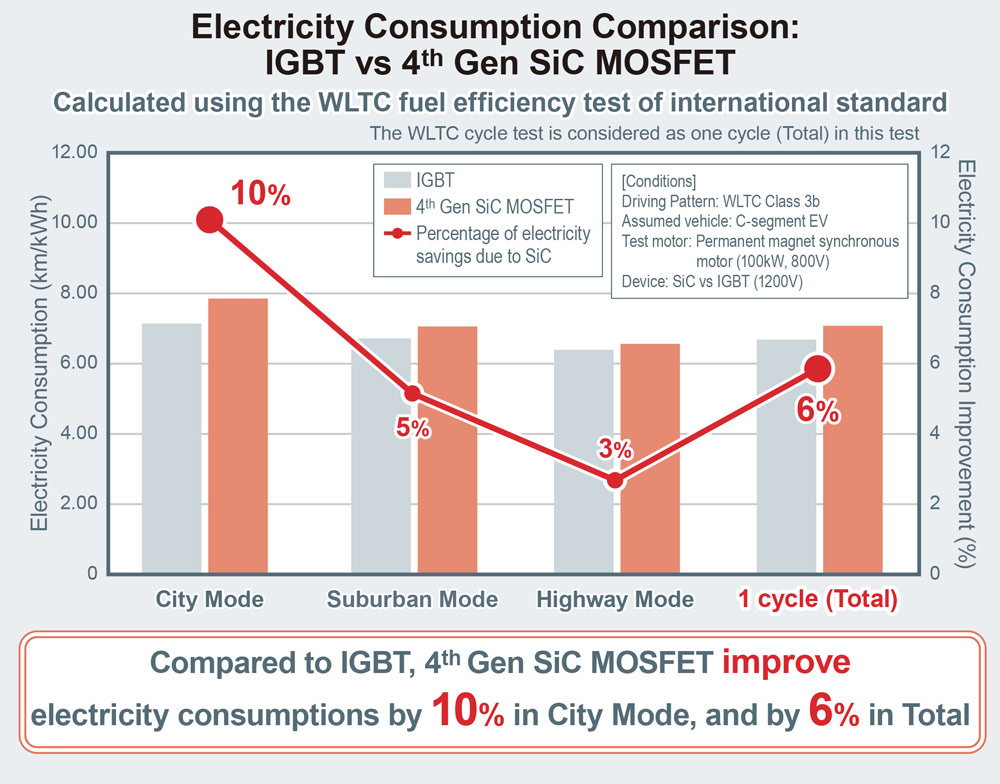 In 2020 ROHM completed development of its latest (4th Gen) SiC MOSFETs that deliver improved short-circuit withstand time along with what is claimed to be the industry's lowest ON-resistance, making it possible to extend the cruising range of electric vehicles by reducing power consumption by 6% compared with silicon-based IGBTs (as calculated by the international standard WLTC fuel efficiency test) when installed in the main inverter. In addition to bare chips, ROHM is currently developing products with discrete packages, and the new collaboration should allow it to develop and offer power modules equipped with the latest (4th Gen) SiC MOSFETs.
ROHM's fourth-generation SiC MOSFETs to be used in SEMIKRON's eMPack power modules for EVs
Tags: Rohm SiC power MOSFET