News: Suppliers
10 October 2022
IQE collaborating with SK siltron on GaN epi for Asian markets
Epiwafer and substrate maker IQE plc of Cardiff, Wales, UK has entered into a strategic collaboration agreement with silicon wafer supplier SK siltron of Gumi, South Korea (an affiliate company of Seoul-based SK Group, South Korea's third-largest conglomerate) for the development and commercialization of compound semiconductor products.
The agreement formalizes a strategic agreement to develop business in the Asia market, leveraging SK siltron's substrate expertise with IQE's epitaxy capabilities.
IQE and SK siltron will focus on developing and delivering epiwafers based upon gallium nitride (GaN) on silicon carbide (SiC) for radio frequency applications in the wireless communications market (e.g. high-performance 5G networks, including massive MiMo base stations) and GaN on silicon (Si) for power electronics applications across a range of markets (e.g. automotive, consumer and industrial). Combined, these markets represent a multi-billion-dollar opportunity for GaN devices and are forecast for strong growth in consumer, telecom and automotive applications.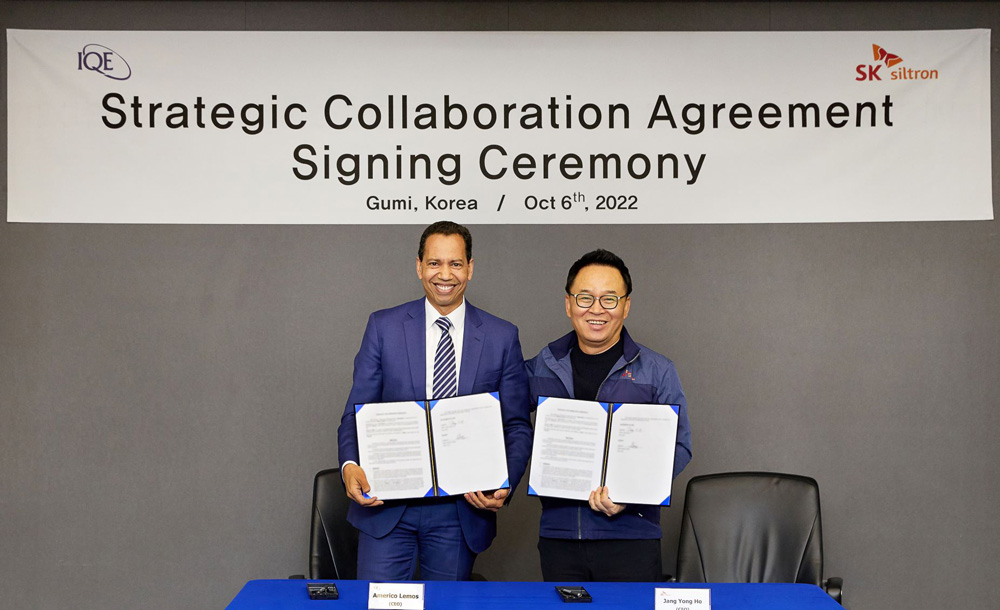 "There are tremendous synergies between IQE's GaN pedigree and SK siltron's substrate offerings, and we will leverage these to bring innovative solutions to market," says IQE's CEO Americo Lemos. "Expansion in Asia is a key focus for IQE and we are excited to be partnering with a globally recognised leader in advanced materials," he adds.
"Two world leaders in advanced materials are joining forces to jointly develop products for exciting growth markets related to GaN materials," says SK siltron's CEO Yongho Jang. "I am looking forward to building considerable success with IQE and developing the relationship to cover a broad range of semiconductor materials."
SK Siltron completes acquisition of DuPont's SiC wafer division
Tags: IQE
Visit: www.sksiltron.com
Visit: www.iqep.com