News: Microelectronics
28 April 2023
Infineon introduces HybridPACK Drive G2 automotive power module for EV traction inverters
Infineon Technologies AG of Munich, Germany has launched the HybridPACK Drive G2 automotive power module, which builds on the HybridPACK Drive G1 concept of an integrated B6 package, offering scalability within the same footprint and extending it to higher power and ease-of-use. The HybridPACK Drive G2 will be available with various current ratings, voltage levels (750V and 1200V) and Infineon's next-generation chip technologies EDT3 (silicon IGBT) and CoolSiC G2 MOSFET.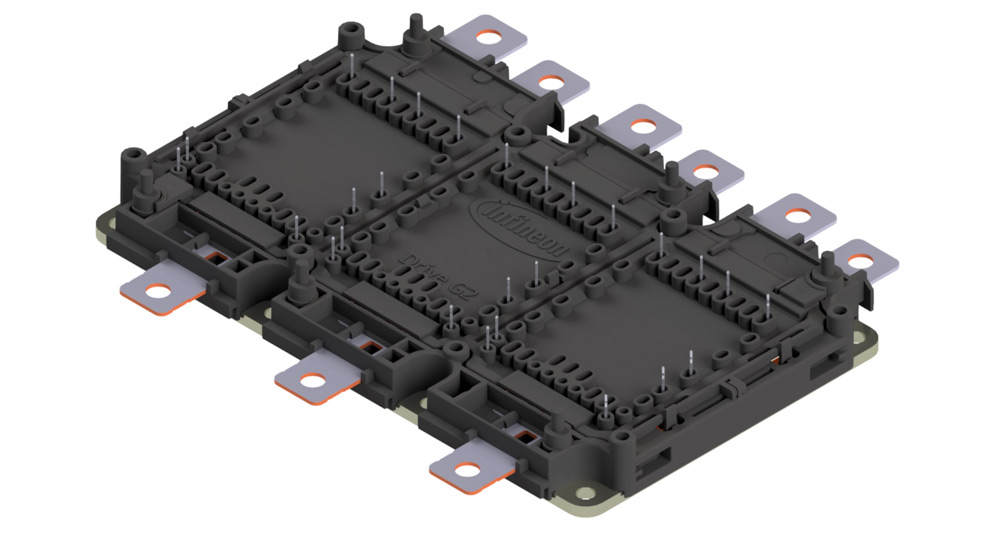 Picture: Infineon's new HybridPACK Drive G2 automotive power module.
With a power range of up to 300kW within the 750V and 1200V classes, the HybridPACK Drive G2 is said to provide high ease-of-use and new features, such as an integration option for a next-generation phase current sensor and on-chip temperature sensing, which enable system cost improvements. The power module achieves higher performance and power density through improved assembly and interconnect technology. The adoption of new interconnect technology (chip sintering) and of new materials (new black plastic housing) enables a higher temperature rating, resulting in higher performance and longer product life.
The first generation (G1) of HybridPACK Drive was introduced in 2017, using silicon EDT2 technology. It offers a power range of 100-180kW in the 750V class. In 2021, Infineon expanded its product family with the first generation of HybridPACK Drive Automotive CoolSiC MOSFETs, which allowed the inverter design to achieve higher power up to 250kW within the 1200V class, longer driving range, smaller battery size and optimized system size and cost. With a track record of nearly 3 million units sold in various global electric vehicle (EV) platforms, the HybridPACK Drive is now Infineon's market-leading power module.
The lead products (FS1150R08, FS01MR08, FS02MR12) of the new HybridPACK Drive G2 are in production and will be available from May, with additional product variants to follow in 2023 and 2024.
The product is being showcased at the Power, Control and Intelligent Motion (PCIM) Europe 2023 trade fair in Nuremberg, Germany (9–11 May); evalkits and design-in support are available to enable fast and easy evaluation for customers.
Tags: Infineon
Visit: www.mesago.de/en/PCIM/main.htm
Visit: www.infineon.com