News: LEDs
28 April 2023
McGill University grant to accelerate NS Nanotech's commercialization of nano-LED technologies
NS Nanotech Inc of Ann Arbor, MI, USA says that NS Nanotech Canada in Montréal, Québec (founded in November 2022) has received matching funding support from McGill University's Office of Innovation & Partnerships (I&P) to accelerate the commercialization of next-generation nano-LED technologies. The I&P Partnerships Program is supported by Québec's Ministère de l'Éducation and the Ministère de l'Enseignment Supérieur.
NS Nanotech Canada's recently established R&D center is leveraging exclusive licenses to a portfolio of patents owned by McGill University to develop what is said to be the first efficient submicron-scale nano-LEDs. Commercialization of the laboratory technologies should help to enable next-generation LEDs for TVs, mobile phones, smart watches, augmented-reality (AR) headset glasses, and other applications including disinfection with ultraviolet light.
"We appreciate the support of the Québec government and McGill University as we staff up our research and development centre in Montréal," says NS Nanotech's CEO & co-founder Seth Coe-Sullivan. "Our collaboration with McGill's world-class researchers will accelerate progress toward a new generation of nano-materials and semiconductor products with revolutionary capabilities," he adds.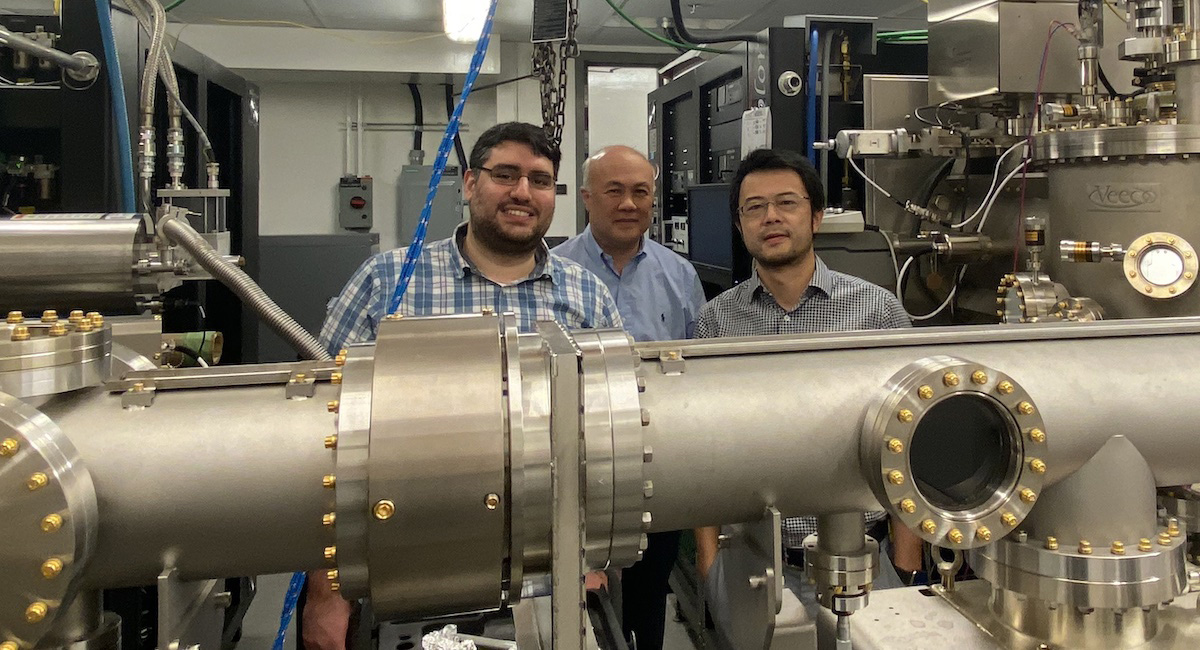 Picture: NS Nanotech Canada's senior scientist David Laleyan (left) and chief operating officer Derrick Wong (center) and McGill University professor Songrui Zhao (right) work with nano-LED fabrication equipment at Zhao's research laboratory.
"We welcome NS Nanotech's investment in a new center of excellence in Montréal, and we are pleased to support its collaborative research with McGill's research scientists," says Mark Weber, director, Innovation + Partnerships, at McGill University. "Their work will enhance the position of McGill University and the Québec region as a magnet for innovative organizations developing world-changing technologies."
Collaboration with nano-LED researchers
McGill University established the I+P Partnerships Program in 2019 to catalyze public–private partnerships supporting the transfer of academic research to the commercial sphere to generate economic and social benefits. The program provides matching funds to program participants who invest an equal amount in cash plus in-kind contributions.
NS Nanotech Canada has started working with nano-LED researchers at McGill including professor Songrui Zhao, who holds numerous patents and is advancing the state of the art in molecular beam epitaxy (MBE) and other foundational technologies designed to enable orders-of-magnitude improvements in costs and efficiency over existing LEDs.
"The I&P Partnerships Program will strengthen our collaboration with McGill," says David Laleyan, senior research scientist at NS Nanotech Canada. "We are already hard at work with professor Zhao, and this program helps accelerate the joint R&D efforts for submicron-scale nano-LEDs."
NS Nanotech opens Canadian R&D center in Montréal
Tags: microLED
Visit: www.nsnanotech.com
Visit: www.mcgill.ca/research/innovation/industry/partnership-program