News: Microelectronics
26 April 2023
onsemi and ZEEKR sign long-term supply agreement for silicon carbide power devices
Power semiconductor IC supplier onsemi of Phoenix, AZ, USA has announced a long-term supply agreement (LTSA) to provide its EliteSiC silicon carbide (SiC) power devices to increase the powertrain efficiency of smart electric vehicles (EVs) made by ZEEKR (the global premium electric mobility brand of China-based Geely Holding Group). Adoption of the devices should result in improved performance, faster charging speeds and extended driving range.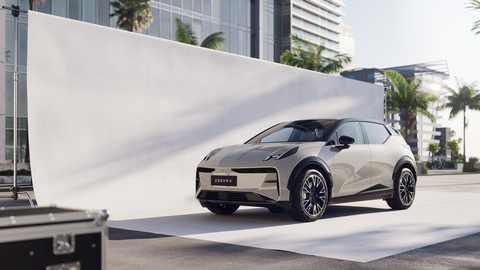 Picture: The ZEEKR X compact EV.
ZEEKR began delivering its first product, ZEEKR 001, in October 2021, followed by the ZEEKR 009 MPV in early 2023. In April, the 100,000th ZEEKR car rolled off its manufacturing base in Ningbo, China. ZEEKR plans to start delivering cars in Europe in fourth-quarter 2023.
To support its expanding portfolio of high-performance EVs, ZEEKR will adopt the M3E variant of onsemi's 1200V EliteSiC MOSFET, which has enhanced electrical and mechanical performance and reliability. The power devices deliver improved power and thermal efficiency, which should reduce the size and weight of the traction inverter and enhance the range of the automaker's EVs.
"ZEEKR will be able to offer electric vehicles with improved performance and even lower carbon emissions," says Andy An, CEO of ZEEKR Intelligent Technology. "As a brand committed to sustainability, ZEEKR will continue to explore different ways to accelerate the transition towards new energy vehicles." Utilizing Geely's Sustainable Experience Architecture (SEA), ZEEKR develops in-house battery technologies, battery management systems, electric motor technologies and electric vehicle supply chain support.
The new LTSA is expected to enable both firms to build a stronger supply chain relationship to support ZEEKR's growth over the next decade.
"A reliable supply chain is critical to business success and, after significant investments in our SiC end-to-end supply chain, onsemi can offer this strategic value to customers," says onsemi's president & CEO Hassane El-Khoury. "This agreement will help our continued ramp of SiC operations, enabling us to offer industry-leading power devices that help our customers deploy the most efficient and highest-performing EVs on the market."
onsemi's EliteSiC technology to be used in BMW's EV drivetrains
onsemi and VW collaborate on silicon carbide for next-gen EVs
Onsemi's silicon carbide power module selected for traction inverter in Kia's EV6 GT model
Onsemi showcasing EliteSiC family of devices at CES
EV car maker NIO selects onsemi's silicon carbide traction power modules
Tags: SiC
Visit: www.onsemi.com