News: Microelectronics
3 August 2023
Infineon expanding Kulim fab investment with €5bn second phase for Module Three
Infineon Technologies AG of Munich, Germany is to significantly expand its fab in Kulim, Malaysia – over and above the original investment announced in February 2022 – by building the world's largest 200mm-wafer silicon carbide (SiC) power fab. The planned expansion is backed by customer commitments covering about €5bn of new design wins in automotive and industrial applications as well as about €1bn in pre-payments.
Over the next five years Infineon will invest up to €5bn in Kulim during a second construction phase for Module Three. The investment will lead to an annual SiC revenue potential of about €7bn by the end of the decade, together with the planned 200mm SiC conversion of the existing fabs in Villach, Austria and Kulim. This manufacturing base will support Infineon's SiC market share target of 30% towards the end of the decade. Infineon says it is confident that its SiC revenue in the fiscal year 2025 will come in ahead of the target of €1bn.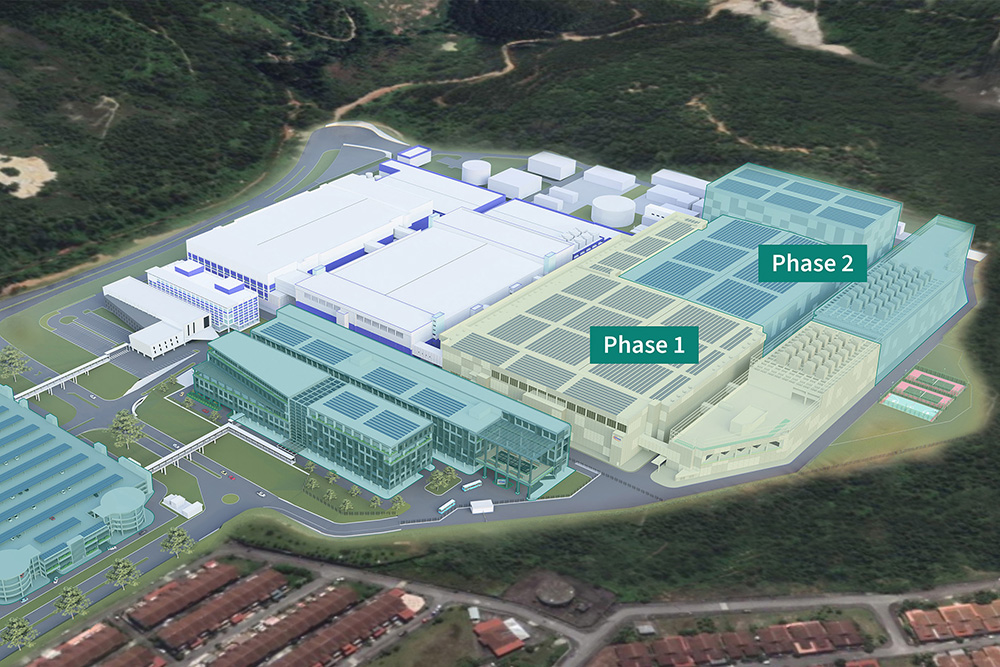 Picture: Rendering of Infineon's manufacturing site in Kulim, Malaysia

"The market for silicon carbide shows accelerating growth, not only in automotive but also in a broad range of industrial applications such as solar, energy storage and high-power electric vehicle (EV) charging," says CEO Jochen Hanebeck. "With the Kulim expansion, we will secure our leadership position in this market," he reckons. "With the industry's leading scale and a unique cost position, we are leveraging our competitive position of best-in-class SiC trench technology, the broadest package portfolio and unrivaled application understanding. These factors are the areas of differentiation and success in the industry."
Infineon has been awarded new design wins of about €5bn along with about €1bn in prepayments from existing and new customers. In the automotive sector this comprises six OEMs (including three from China). Among the customers are Ford, SAIC and Chery. In the area of renewable energies, customers include SolarEdge and three leading Chinese photovoltaic and energy storage systems companies. In addition, Infineon and Schneider Electric agreed on a capacity reservation including prepayments for power products based on silicon and silicon carbide. The prepayments will contribute positively to Infineon's cash flow in the coming years and shall be fully repaid in connection with the agreed sales volumes by 2030 at the latest.
"Malaysia is putting in maximum efforts to meet its national target to decarbonize its economy and achieve net zero by 2050," said Malaysia's Prime Minister The Right Honourable Dato' Seri Anwar bin Ibrahim, who expresses his appreciation for Infineon's commitment to creating a significant wide-bandgap hub in the country. "Infineon's vision on green technology and sustainability puts it right at home in Malaysia."
"Infineon's expansion of their world-class silicon carbide facility in Kulim marks a significant milestone in Malaysia's pursuit of developing advanced manufacturing capabilities, creating high-skilled employment opportunities and positioning the country at the forefront of enabling green technologies, which are crucial to achieving our global sustainable development goals," comments His Hon. Tengku Datuk Seri Utama Zafrul Aziz, the Minister of Investment, Trade and Industry (MITI). "The innovative power semiconductor technologies manufactured in the SiC power fab will also bolster Malaysia's position as a key player in the world's semiconductor ecosystem, with a growing role specifically in the sustainable technology supply chain," he adds. "I look forward to our long-term partnership for the further development of Malaysia's green technologies ecosystem."
Infineon notes that sustainability is also a key element in the planning, construction and operation of the fab, adding that the building is designed in a way that allows Infineon to make responsible use of resources such as electricity and water.
Germany's President visits Infineon's Kulim 3 fab site in Malaysia
Infineon lays foundation of third wafer fab module in Kulim, Malaysia
Infineon investing €2bn in third module at Malaysia front-end fab for wide-bandgap power semiconductors
Tags: Infineon Power electronics
Visit: www.infineon.com