News: Optoelectronics
30 August 2023
POET and JV partner SPX demonstrating 800G OSFP optical transceivers at CIOE
In booth #11C63at the 24th China International Optoelectronics Expo (CIOE 2023) in Shenzhen (6–8 September), POET Technologies Inc of Toronto, Ontario, Canada — designer and developer of the POET Optical Interposer, photonic integrated circuits (PICs) and light sources for the data-center, telecom and artificial intelligence (AI) markets — is giving live demonstrations of end-to-end optical solutions for 800G, 400G and 200G optical transceivers using its highly integrated optical engines.
Specifically, in cooperation with one of its lead customers Luxshare-ICT, POET — along with its joint venture partner Super Photonics Xiamen (SPX) — is showcasing a live demonstration of the performance of Luxshare's 800G OSFP transceiver that incorporates POET's 800G Rx optical engine. POET and SPX are presenting additional live demonstrations of optical engines for 800G, 400G and 200G transceivers operating over a wide temperature range and 2-10km of single-mode fiber transmission. The demonstrations of linked optical engines on both the transmit and receive ends of the fiber are said to highlight the end-to-end performance and product readiness of POET's optical engines and allow customers to experience the simplicity and compact design of the products.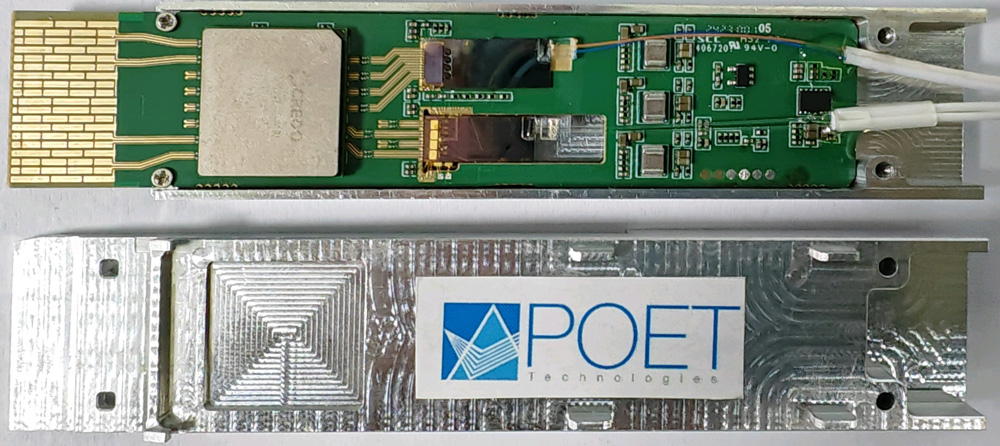 Picture: POET's prototype 400G transceiver module.
POET is also presenting a live demonstration of its own prototype 400G transceiver module in a QSFP-DD package, complete with a POET Infinity chiplet, a 400G Rx optical engine with integrated TIA, a digital signal processor (DSP), TEC controller, fiber attach and housing. Also on display are a mechanical sample of POET's own 800G transceiver module with two POET Infinity chiplets, an 800G Rx optical engine with integrated TIA, and an 800G DSP in a QSFP-DD package, scalable to 1.6T in an OSFP package.
"We are already seeing significant customer interest to test and use our engines in transceivers from 100G to 800G and even 1.6T speeds," says Dr Mo Jinyu, senior VP/general manager of POET Asia. "The live demos at CIOE will help further boost customer confidence in our one-of-a-kind approach to photonics integration, the superior, real-time performance of our optical engines and reliability of POET's products that are assembled and sold in China by SPX," he adds.
Mo is also be speaking about POET's products and innovations at the collocated ICCSZ Conference on 5 September.
POET receives first volume purchase order for optical engines
POET Infinity chiplet-based transmitter platform launched for 400G, 800G and 1.6T data-center solutions
Tags: POET
Visit: www.cioe.cn/en
Visit: www.poet-technologies.com