30 August 2023
Latest issue of Semiconductor Today now available
For coverage of all the key business and technology developments in compound semiconductors and advanced silicon materials and devices over the last month, subscribe to Semiconductor Today magazine.
Published today and free of charge, Semiconductor Today's latest issue covers all that is new in gallium arsenide (GaAs), indium phosphide (InP), nitrides, silicon carbide (SiC), silicon germanium (SiGe) and other compound semiconductor materials. The magazine also covers the devices and applications that these materials enable.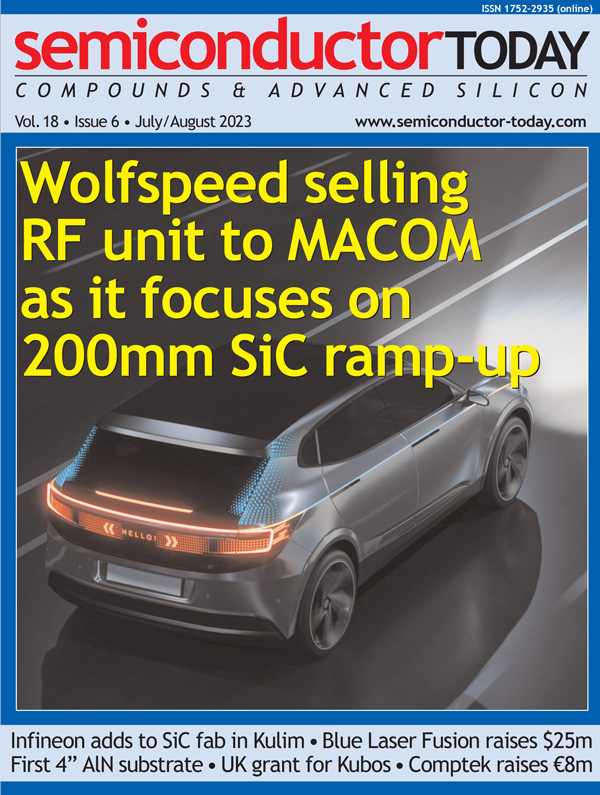 Click here or issue cover for direct access
Articles in this issue include:
Improving micron-scale AlGaInP red LED performance
Monolithic integration of III-V lasers & silicon photonics
Co-doping boost for quantum dot lasers on Si(001)
GeSn VCSE p-i-n diodes bonded on 200mm silicon wafers
AlScN ferroelectric FETs for monolithic 3D NVM integration
NTT achieves 300GHz-band high-speed data transmission with beamforming
Plus, there's the news from organisations such as: 5N Plus, Aixtron, ams Osram, Ares Strategic Mining, AXT, BluGlass, Comptek, CrayoNano, Cree, Crystal IS, CVD Equipment, First Solar, Fraunhofer IAF, GaN Systems, Indium Corp, Infineon, IQE, Kubos Semiconductors, Lumentum, Luminus, MACOM, Mitsubishi Electric, Navitas, Novel Crystal Technology, NUBURU, Odyssey Semiconductor, POET, Qorvo, Riber, ROHM, Sivers, Skyworks, Transphorm, Veeco, Wolfspeed, and much more.
See company profiles from Aixtron, EV Group, Goodfellow, k-Space, LayTec, Oxford Instruments, and Veeco.
If your company is a supplier of equipment, materials, or services for the manufacture of compound semiconductor wafers and devices, and you are involved in marketing those products, then please see Semiconductor Today's 2021 Media Kit.
Semiconductor Today is freely available to all. To learn more and to subscribe, visit: Subscribe for free.