28 February 2023
Latest issue of Semiconductor Today now available
For coverage of all the key business and technology developments in compound semiconductors and advanced silicon materials and devices over the last month, subscribe to Semiconductor Today magazine.
Published today and free of charge, Semiconductor Today's latest issue covers all that is new in gallium arsenide (GaAs), indium phosphide (InP), nitrides, silicon carbide (SiC), silicon germanium (SiGe) and other compound semiconductor materials. The magazine also covers the devices and applications that these materials enable.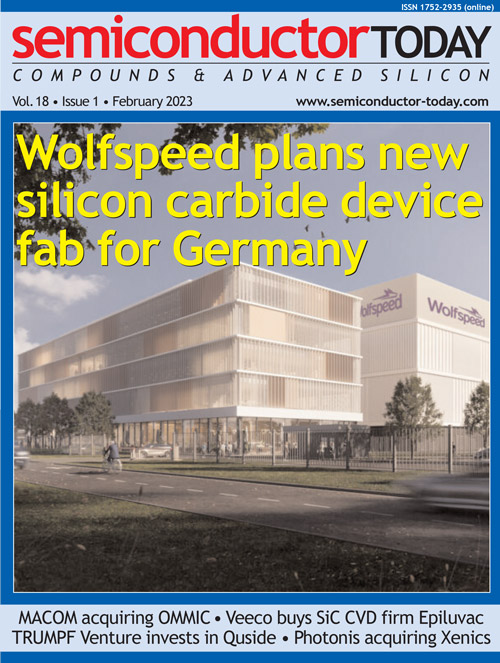 Click here or issue cover for direct access
Articles in this issue include:
Integrating nanowire lasers in hybrid polymer–SiN waveguides
Monolithic GaN optoelectronics on silicon
Continuous-wave InGaN microdisk laser diodes on (100)-oriented silicon
ams OSRAM to benefit from Apple adopting micro-LEDs
MIT-led team demonstrates full-color, vertically stacked RGB micro-LEDs
Cornell to lead SRC-sponsored SUPREME research center
Plus, there's the news from organisations such as: Aehr Test Systems, Aixtron, Alpha and Omega Semiconductor, ams Osram, AXT, BluGlass, Bridgelux, Coherent, Cree, Diodes Inc, EPC, Gallium Semiconductor, GaN Systems, GeneSiC, Infineon, imec, k-Space, Kyocera, Lumentum, MACOM, MICLEDI, Microchip, Navitas, NUBURU, OMMIC, Onsemi, Oxford Instruments, Pilot Photonics, POET, Qorvo, Skyworks, Transphorm, Trumpf, Veeco, Vector Photonics, VisIC, Wolfspeed, and much more.
See company profiles from Aixtron, EV Group, Goodfellow, k-Space, LayTec, Oxford Instruments, and Veeco.
If your company is a supplier of equipment, materials, or services for the manufacture of compound semiconductor wafers and devices, and you are involved in marketing those products, then please see Semiconductor Today's 2021 Media Kit.
Semiconductor Today is freely available to all. To learn more and to subscribe, visit: Subscribe for free.