News: Microelectronics
31 January 2023
Navitas' GeneSiC MOSFETs used in KATEK's 4.6kW Steca solar inverters
Gallium nitride (GaN) power IC and silicon carbide (SiC) technology firm Navitas Semiconductor of Torrance, CA, USA says that the coolcept fleX family of Steca solar inverters made by KATEK GROUP of Memmingen, Germany has adopted its new GeneSiC power semiconductors for improved efficiency, size, weight and cost.
Installed solar power capacity is expected to exceed that of natural gas in 2026, and of coal by 2027, becoming the largest in the world, a 3x increase in installed capacity from 2022–2027. The global levelized cost of electricity from solar is now 40% lower than coal and natural gas. Navitas notes that silicon carbide is rapidly replacing silicon chips in high-power, high-voltage applications such as renewable energy, energy storage and micro-grids, electric vehicles (EVs) and industrial applications.
GeneSiC 'trench-assisted planar-gate' SiC MOSFET technology is said to deliver no-compromise, high-temperature, high-speed performance, resulting in up to 25°C lower case temperature, and up to 3x longer life than alternative SiC products. With what is claimed to be the highest published 100%-tested avalanche capability, 30% longer short-circuit withstand time, and stable threshold voltage for easy paralleling, GeneSiC MOSFETs are suitable for high-power, fast-time-to-market applications.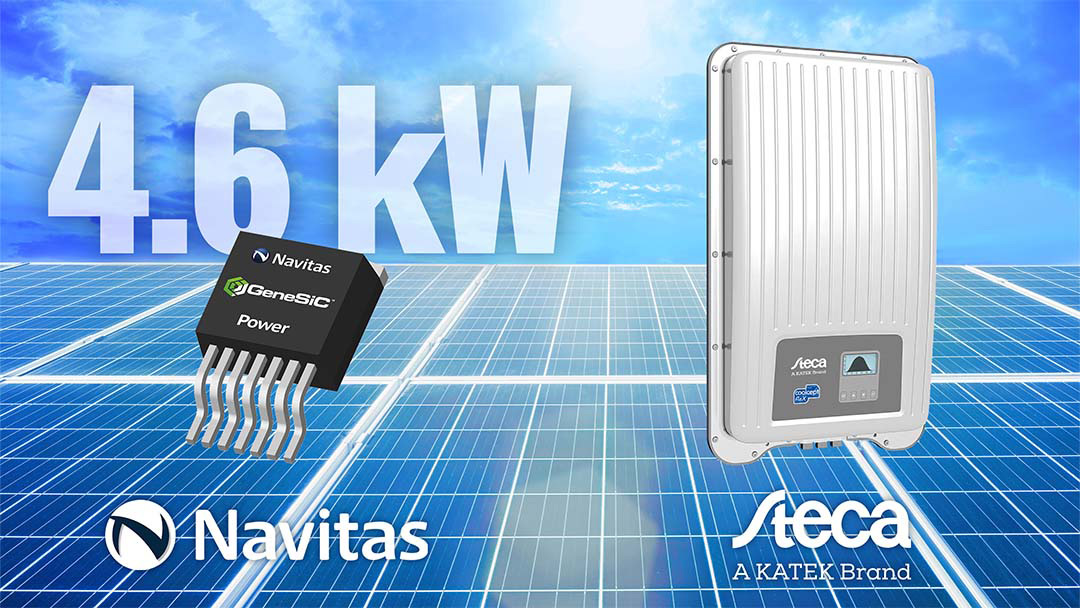 Steca — a KATEK brand — develops and produces high-end power electronics for grid inverters and energy storage as well as control technology for photovoltaic systems and fuel-cell systems. The Steca coolcept fleX model solar inverter converts DC power from a string of solar panels into 4.6kW AC power for use in the home, returning to the grid, or being stored locally for later use — to smooth demand and/or support power during an outage.
"Next-generation GeneSiC technology has enabled a major step in system performance without compromising our high engineering standards, especially regarding EMI," says Dr Peter Grabs, KATEK's director of Innovation, Research and Development. "Navitas' excellent quality — with zero failures — and consistent, short-lead-time delivery are critical success factors as we expand production into new markets."
Each 4.6kW Steca coolcept flex inverter uses 16x GeneSiC G3R75MT12J SiC MOSFETs. The 1200V, 75mΩ-rated devices are used in a two-level converter, with bi-directional boost converters and an H4-topology for AC voltage output. Increased switching frequency shrinks the size and weight of passive components, which optimizes the KATEK unit in size and weight compared with legacy silicon-based inverters.
"Navitas and KATEK are aligned in the mission to 'Electrify Our World' and accelerate the transition from 80% fossil-fuel sources of electricity and uses, to 80% renewable sources and electrical uses," notes Dr Ranbir Singh, Navitas executive VP for the GeneSiC business line. "Both companies also share a focus on sustainability, in line with the UN's Sustainable Development Goals," he adds.
Navitas acquires GeneSiC, accelerating entry into EV, solar and energy storage markets by 2-3 years
Tags: GeneSiC
Visit: www.navitassemi.com