News: LEDs
4 January 2023
Nichia and Infineon launch first fully integrated micro-LED light engine for HD adaptive driving beams
Three years ago Nichia Corp of Anan City, Tokushima, Japan and Infineon Technologies AG of Munich, Germany announced the joint development of a high-definition (HD) light engine with more than 16,000 micro-LEDs for headlight applications. Now, both firms are launching what is said to be the industry's first fully integrated micro-LED light engine for HD adaptive driving beam applications. The micro-LED matrix solution will be seen in a German premium vehicle in 2023.
"The new 16,384-pixel μPLS micro-Pixelated Light Solution is our latest addition to Nichia's portfolio of high-class automotive lighting solutions. It combines high-definition resolution with industry's highest light output," says Yusuke Yamazaki, head of sales and marketing Automotive, Nichia Europe GmbH. "This solution enables a new automotive lighting experience by providing four-times wider field-of-view with significantly higher light output than any other current micro-mirror-based HD matrix-light solution. For this reason, the advanced HD light can warn drivers of hazards by highlighting people or objects on or by the side of the road. It can also project markings on the road to guide the driver through a construction site or intersection. In addition, functions such as the glare-free high beam or bending light work more precisely and smoothly compared to current adaptive driving beam solutions. This takes the driver's road safety and driving comfort to a new level," he adds.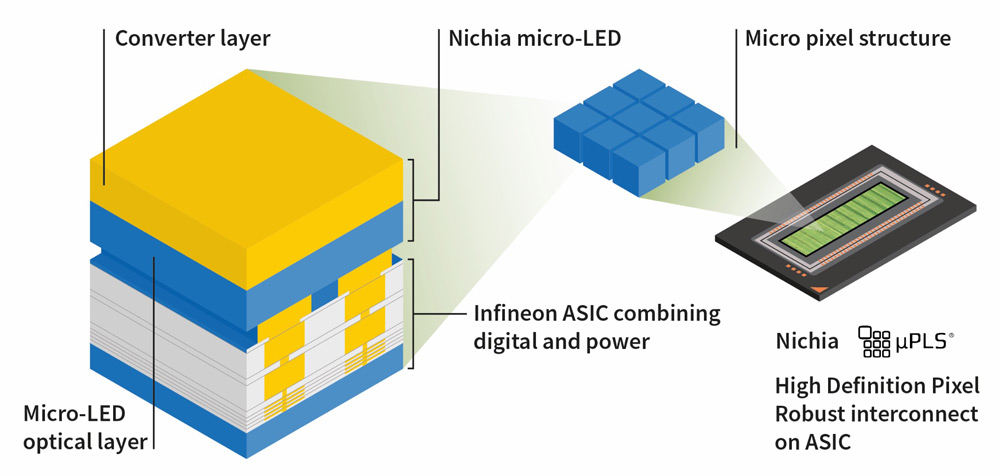 Picture: The new 16,384-pixel μPLS micro-Pixelated Light Solution from Nichia and Infineon.
"The μPLS is industry's first fully integrated matrix LED driver capable of driving 16,384 LEDs, combining all required micro-LED driver circuitry with extensive diagnostics and high-speed video and control interfaces," says Andreas Doll, Infineon's senior VP & general manager of the Body Power business unit of Infineon's Automotive Division. "Our innovative μPLS is much more energy efficient than current HD matrix lighting solutions, contributing to saving global CO2 emissions and extending the range of electric driven vehicles. Furthermore, we enable the vision of our customers to deploy fully digital light on the road, saving them overall system cost at a very small form factor at the size of a single semiconductor chip. "
The new HD light engine uses Nichia's micro-LED technology and an integrated LED driver IC from Infineon that can drive all 16,384 micro-LEDs individually using pulse-width modulation (PWM) control. Additionally, the driver IC monitors each micro-LED separately and provides on-chip temperature monitoring, allowing for optimal thermal control. Integrated video interfaces enable high-speed transmission of the video signal from the light pattern generator unit. Unlike current HD matrix solutions, Infineon's driver IC only activates the LEDs that are actually needed for a light pattern. This dramatically increases the energy efficiency of the μPLS light engine at much smaller form factor compared with micro-mirror-based HD matrix solutions in the market, it is claimed.
This allows for smaller and slimmer headlamp designs in the future. In addition, the new HD light engine enables adjustments that can be digitally programmed at the factory or activated by the vehicle manufacturer or driver on demand. For example, the different requirements of left- and right-handed drivers can be considered, significantly increasing user-friendliness. With all these features, the new HD light significantly reduces design and production complexity for vehicle manufacturers, it is reckoned.
Visit: www.nichia.com
Visit: www.infineon.com