News: Markets
17 January 2023
Mini-LEDs to challenge OLEDs in high-end display market
With $14bn of investment in mini-LEDs between 2019 and 2021, mini-LED backlight units seem to be on a huge upswing. Neglected for some time by the high-end display market – which is mainly dominated by organic light-emitting diodes (OLEDs) – liquid-crystal displays (LCDs) are back in force with a new technology building block designed to compete with the contrast ratio and image quality provided by OLEDs. By integrating mini-LEDs into the backlight unit, a greater number of dimming zones is created, offering finer backlighting control, thus better managing contrast and halo. With this prospect of enhanced performance, LCD manufacturers aim to get a foot in the door of the high-end display market, further facilitated by greater existing manufacturing capacity and lower investment requirements compared with OLEDs.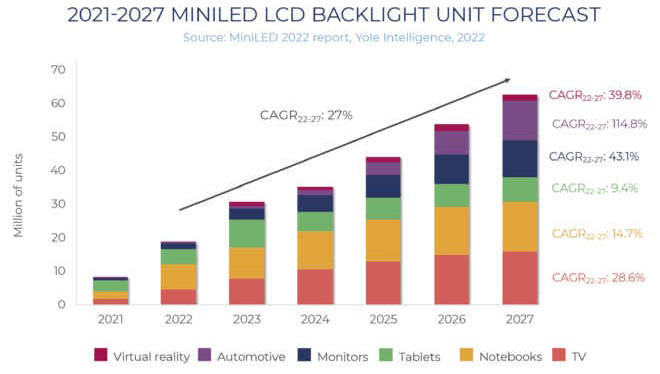 However, despite the significant technological leap that mini-LEDs bring to LCDs, display makers are struggling to position themselves on a technology that still requires the consideration of multiple criteria in order to make the most of a mini-LED backlight unit.
Yole Intelligence, Yole SystemPlus, PISÉO and DXOMARK have hence combined their expertise to provide several reports targeting display system designers, system architects, and marketing teams. Through analyses of a selection of four representative displays, the companies highlight the technology options adopted by mini-LED backlight unit designers and identify the impact on product performance and the supply chain. For each display, two reports based on teardown analyses are available:
a technology, process and cost report powered by Yole SystemPlus that shows the choices in material, backlight unit structure and driver architecture, as well as the associated estimated costs;
a performance report powered by PISÉO and consumer electronics quality assessment firm DXOMARK combining an in-depth optical stack teardown and user-based visual performance analysis.
Yole Group and its partners studied the following displays and provide input on key issues:
TCL Mini-LED X9 85" TV backlight unit: considered a pioneer in mini-LED backlighting technology, the Chinese manufacturer TCL is promoting its third generation of mini-LED TVs with an OD-zero solution to reduce the thickness of the backlight unit and the screen. It is interesting to see how they do this and whether their experience in the domain will allow them to further extend their technological leadership, says Yole.
Mini-LED backlight unit in Samsung's Neo QLED TV: first to market with LEDs, then with quantum dots, Samsung is eager to take the reins of the high-end TV market and knock LG and its OLED product range off the top of the leaderboard. Yole says that it is worth taking a look at this unique all-in-one plate construction and its impact on the TV assembly. From a broader point of view, will Samsung manage to close the performance gap with OLED?
Mini-LED backlight unit in Samsung's Odyssey Neo G9 49'' Monitor: in a market that OLEDs struggle to enter, it is interesting to focus on Samsung's technology choices to implement mini-LEDs in what is said to be the first curved mini-LED PC monitor and to compare these choices with the Samsung TV.
Mini-LED backlight unit in the Apple iPad Pro 12.9": as a leader in the consumer market, all eyes are on Apple's choices to figure out the market and technology trends. In addition, the successful integration of a mini-LED backlight unit in 12.9" displays could accelerate the adoption of the technology by the automotive display market.
A technology, process and cost report of the Skyworth Q72 TV Mini-LED with a Chip-on-Glass BSI is also available. Skyworth is the first manufacturer to integrate very large chip-on-glass technology for the BSI.
Tags: mini-LEDs