News: Microelectronics
25 July 2023
ROHM receives Vitesco's 2022 Supplier of the Year Award in 'Partnering' category
Vitesco Technologies of Regensburg, Germany (which develops and manufactures drive technologies and electrification solutions for electro-mobility) has honored Japan-based ROHM Semiconductor with its 2022 Supplier of the Year Award in the category 'Partnering' for the company's particularly outstanding performance. Overall, Vitesco has honored the exemplary performance of six of its approximately 17,000 suppliers worldwide.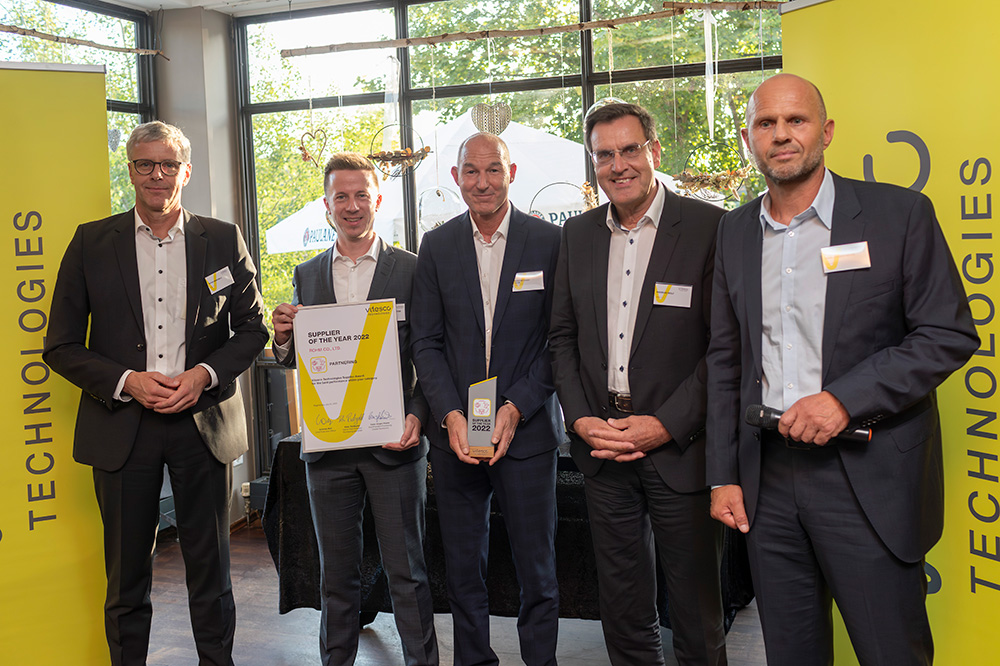 Picture: ROHM's automotive sales director Heiko Metzger (middle) and global key account manager Sebastian Rodemeyer (second from left) receive the 2022 Supplier of the Year Award from Peter Reidegeld (left), head of purchasing & supplier quality management at Vitesco, Vitesco's CEO Andreas Wolf (second from right) and Hans-Jürgen Hauck (right), head of purchasing & supplier quality management of Vitesco's Electrification Solutions Division.
Vitesco's CEO Andreas Wolf and Peter Reidegeld, head of purchasing & supplier quality management, presented the awards to the representatives of the international suppliers in a ceremony at the Sorat Hotel in Regensburg. "The success and growth of Vitesco Technologies – today and tomorrow – depend to a large extent on the support of our suppliers," commented Wolf.
"It reflects our efforts to continuously support our customers in achieving their business goals by providing excellent quality, a stable supply of robust and advanced products as well as good and reliable services," says ROHM Semiconductor Europe's president Wolfram Harnack.
Vitesco and ROHM entered a strategic development partnership in 2020, and in June they signed a long-term silicon carbide (SiC) supply partnership worth over $1bn until 2030.
Vitesco's inverters with integrated ROHM SiC chips will be adopted by two major customers – to be applied inside electric vehicle powertrains. Vitesco will start supplying a first series project as early as 2024.
ROHM and Vitesco form $1bn SiC power semiconductor supply partnership for 2024–2030
Tags: Rohm
Visit: www.vitesco-technologies.com