News: LEDs
13 June 2023
ams OSRAM adds 640nm Red to OSLON Optimal horticultural LED Series
ams OSRAM GmbH of Premstätten, Austria and Munich, Germany has extended its OSLON Optimal family of horticultural lighting LEDs with a new 640nm Red LED, which enables indoor farmers to produce faster and healthier plant growth.
Providing broader coverage of the red portion of the spectrum, the new 640nm Red LED (which can be ordered now in production volumes, using part number GR CSSRML.24) joins the 660nm Hyper Red and 730nm Far Red in the OSLON Optimal family, which also includes a 450nm Deep Blue LED and a horti white LED.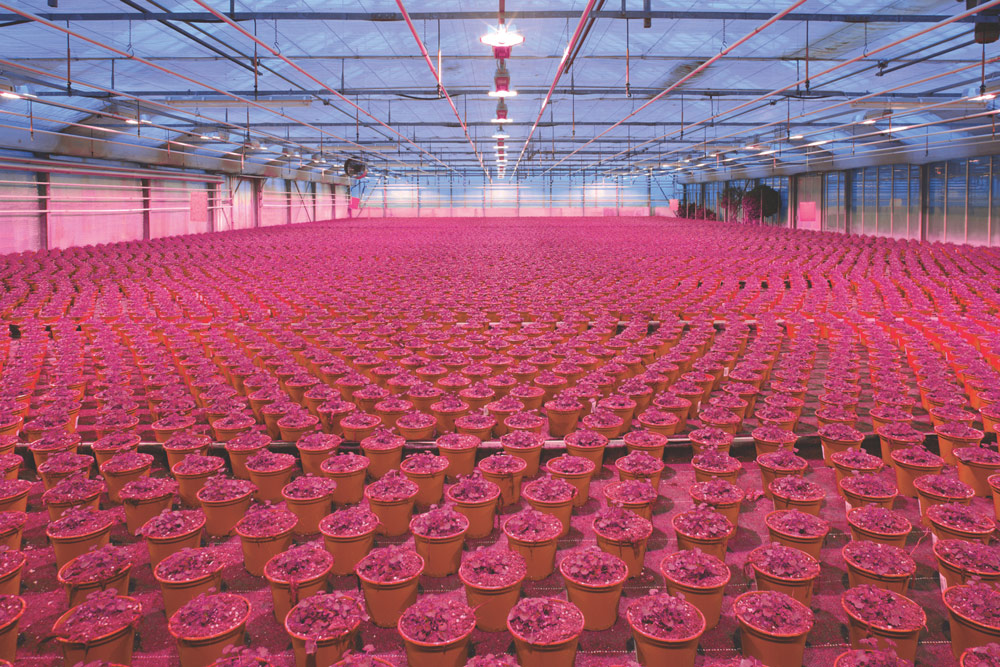 Picture: Horticultural growth application for the OSLON Optimal Red LED. Image: ams OSRAM.
It has been common practice in horticulture to illuminate crops with a mix of 660nm, 450nm and 730nm, or 660nm and white LEDs for plants that require full-spectrum light. Initial research conducted by Wageningen University on behalf of ams OSRAM shows that a double red peak (640nm and 660nm) in combination with horti white increases the dried biomass level in indoor growing environments.
In addition, the use of the OSLON Optimal Red helps to prevent photo bleaching in some plant varieties. Experience shows that it can also prevent the incidence of fungal and bacterial infection in leafy greens such as basil.
The firm reckons that the new OSLON Optimal Red product can play an important role in raising energy efficiency and reducing the cost of electric power in all horticultural lighting applications, including greenhouse top-lighting and inter-lighting, and vertical farming. Producing 3.53µmol/J, it achieves very high wall-plug efficiency of 66.3 %. The LED's radiant flux is 485mW, and photon flux is 2.58µmol/s. Peak wavelength is 640nm and the dominant wavelength is 630nm.
"The discovery of new recipes that include a double red peak of Hyper Red and Red is helping growers produce more biomass and maintain superior plant health," says marketing manager Thomas Grebner. "With the introduction of the OSLON Optimal Red LED, horticultural lighting equipment manufacturers can achieve very high levels of efficiency and reliability."
Robust ceramic package for high reliability
The OSLON Optimal LEDs are high-power ceramic packages based on a 1mm2 die and a standard 3030 footprint with a Lambertian emission profile. Based on the latest ams OSRAM 1mm2 chip technology, the OSLON Optimal portfolio of products provides very stable light output over a wide temperature range, as well as very low thermal resistance and long lifetime.
The new Red product is suitable for horticultural purposes as well as for use in general lighting applications such as architainment and signal lighting.
ams OSRAM launches OSLON Optimal LEDs for horticulture lighting
Tags: Osram
Visit: www.ams-osram.com