News: Microelectronics
22 June 2023
Finwave appoints Pierre-Yves Lesaicherre as CEO
Finwave Semiconductor Inc of Waltham, MA, USA says that Dr Pierre-Yves Lesaicherre has joined it as CEO. Described as a semiconductor industry veteran with decades of experience leading technology companies into accelerated growth and increased profitability, Lesaicherre will be instrumental in driving the adoption of Finwave's technology and bringing it to the broader market.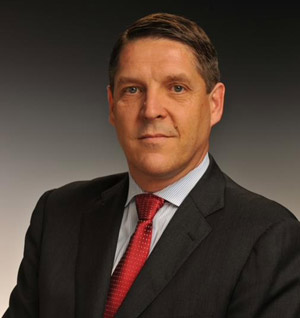 Picture: Finwave Semiconductor's new CEO Dr Pierre-Yves Lesaicherre.
Co-founder & former CEO Dr Bin Lu is now taking on the role of chief technology officer, maintaining his commitment to driving technology development and innovation within the company.
Founded in 2012 by researchers at Massachusetts Institute of Technology (MIT) as Cambridge Electronics before being rebranded in June 2022 as Finwave Semiconductor (with offices in San Diego, CA and the Bay Area), the early-stage technology company targets 5G communications with its 3DGaN technology, which features a 3D fin gallium nitride transistor (GaN FinFET) structure.
"With his extensive leadership experience in the semiconductor industry, profound expertise in technology, science and global business, and a remarkable track record of transforming businesses into resounding successes, Pierre-Yves is ideally positioned to guide the company forward as we continue to push the boundaries of GaN semiconductor technology," believes Lu. "I eagerly anticipate the positive impact he will undoubtedly make, as we strive to revolutionize energy-efficient 5G/6G communications, data centers, automotive power, the IoT and more."
Finwave says that its 3DGaN FinFET technology delivers advancements in linearity and power efficiency for 5G communications. Moreover, it claims that its pioneering enhancement-mode (E-mode) RF technology opens up possibilities for high-performance power amplifiers in mobile handsets. By capitalizing on high-volume 8" silicon CMOS manufacturing, Finwave says that its GaN-on-Si platform enables substantial cost reductions compared with traditional 6" GaN-on-SiC and GaAs technologies, while embracing the scalability principles akin to 'Moore's Law' for GaN.
"Finwave has introduced a new era of innovation and progress and is on the cusp of bringing the true potential of GaN to some of today's most important enabling markets – including 5G, AI and the IoT," says Lesaicherre. "The company's technology has already demonstrated its ability to deliver extremely high performance in higher-frequency applications."
Before joining Finwave, Lesaicherre was president, CEO and a director of Nanometrics Inc, a provider of advanced process control metrology and software analytics. He was also CEO of Lumileds, an integrated manufacturer of LED components and automotive lighting lamps, from 2012 to 2017. Lesaicherre previously held senior executive positions at NXP and Philips Semiconductors, and served as chairman of the board of Silvaco Group Inc, a supplier of TCAD, EDA software and design IP. Lesaicherre currently serves on the board of InterDigital, a technology company that develops and licenses mobile and video technologies that are at the core of devices, networks and services worldwide.
Lesaicherre holds an MBA with a focus on International Business and Strategy from INSEAD, and has an M.S. degree and a Ph.D. degree in Material Science from the Grenoble Institute of Technology (Grenoble INP). He is a board leadership fellow, governance fellow and director certified for NACD (National Association of Corporate Directors) and an active member of NACD and SVDX (Silicon Valley Director's Exchange).
Finwave joins American Semiconductor Innovation Coalition
Finwave joins MITRE Engenuity's Semiconductor Alliance
Finwave raises $12.2m in Series A round to bring 3DGaN to volume production
Tags: GaN-on-Si millimeter-wave
Visit: www.finwavesemi.com