News: Microelectronics
22 June 2023
Mitsubishi Electric to ship samples of NX-type full-SiC power semiconductor modules for industrial equipment
Tokyo-based Mitsubishi Electric Corp has begun shipping samples of its new NX-type full-SiC (silicon carbide) power semiconductor module for industrial equipment.
Mitsubishi Electric began releasing power semiconductor modules incorporating SiC chips in 2010. The new module features a low-loss second-generation SiC chip and an electrode structure optimized with laminated electrodes to achieve reduced internal inductance of 9nH, 47% lower than that of the existing module.
Reduced internal inductance suppresses voltage surges in order to protect equipment, allowing fast switching while also lowering switching loss and power loss.
The low-loss second-generation SiC chip incorporates junction field-effect transistor (JFET) doping technology (which increases device density by increasing impurity density in the JFET area). Compared with the existing module (the CM600DX-34T of the 1700V/600A NX-type silicon IGBT module T-series), this reduces power loss by about 72%, contributing to more efficient equipment. Reduced power loss helps to reduce heat generation, allowing the use of smaller and lighter-weight coolers.
With a voltage rating of 1700V and current rating of 600A (and dimensions of 62mm x 152mm x 17mm), the new FMF600DXE-34BN module is expected to contribute to the realization of more efficient, smaller and lighter-weight industrial equipment.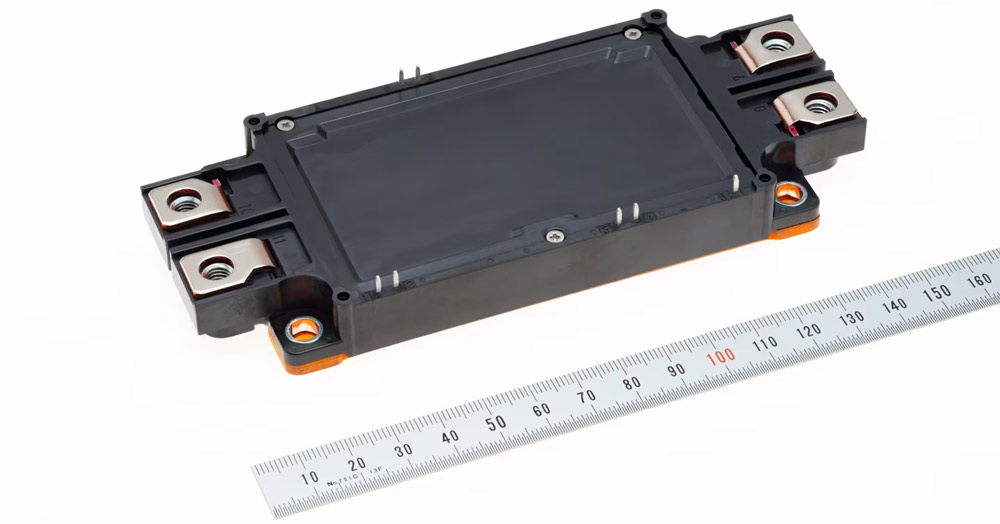 Picture: Mitsubishi Electric's NX-type full-SiC power semiconductor module for industrial equipment.
Also, the NX-type package compatibility allows the new module to easily replace the current version. Despite inclusion of the SiC chip, the external dimensions and pin configurations are compatible with the NX-type module, facilitating easy replacements that can help to speed up the design of new equipment.
Development of the new SiC module was partially supported by Japan's New Energy and Industrial Technology Development Organization (NEDO).
Mitsubishi Electric says that it will continue to expand its lineup of power semiconductor modules to further contribute to more efficient, smaller and lighter industrial equipment.
Mitsubishi Electric adds 400A, 1200V dual module to SiC power device lineup
Mitsubishi to launch second-generation full-SiC power modules for industrial use
Tags: SiC power modules Mitsubishi Electric