News: Microelectronics
19 June 2023
ROHM and Vitesco form $1bn SiC power semiconductor supply partnership for 2024–2030
Based on a development partnership since 2020 that optimized silicon carbide (SiC) chips for use in automotive inverters, a long-term supply partnership has been formed for Japan-based electronic parts maker ROHM Semiconductor to provide silicon carbide (SiC) power semiconductors worth more than $1bn during 2024–2030 to Vitesco Technologies of Regensburg, Germany (which develops and manufactures drive technologies and electrification solutions for electro-mobility).
Vitesco's inverters with integrated ROHM SiC chips will be adopted by two customers, to be applied inside electric vehicle power-trains. The firm will start supplying a first series project as early as 2024, ahead of the originally targeted timeline.
Due to its wide energy bandgap, SiC has reduced conversion losses compared to conventional silicon in power electronics. Especially at high voltage levels such as 800V, SiC inverters are more efficient than silicon models. Since 800V is the prerequisite for fast and thus convenient high-voltage charging, SiC devices are at the beginning of a worldwide boom, reckon the firms. Reduced conversion losses in the inverter are also significant for the overall efficiency of electric driving and thus for range. Competition for sufficient capacities in components made of silicon carbide is correspondingly fierce.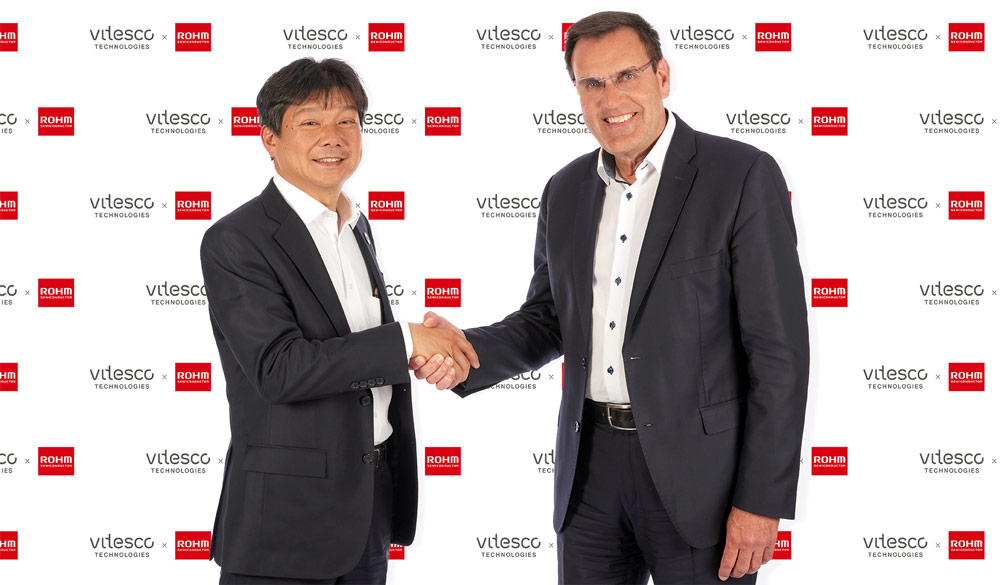 Picture: Dr Kazuhide Ino, ROHM board member, managing executive officer & CFO (left) and Vitesco Technologies' CEO Andreas Wolf (right).
"The supply partnership agreement with ROHM is an important building block for securing Vitesco Technologies' SiC capacities in the years ahead," commented Vitesco's CEO Andreas Wolf at the signing ceremony in Regensburg. "We have had very good experience in our development cooperation so far and are now looking forward not only to continuing it but also to intensifying it further," he adds.
"In the high-growth automotive market, SiC is a pathfinder for higher efficiency," noted Dr Kazuhide Ino, member of the board, managing executive officer & chief financial officer of ROHM Co Ltd. "With an expected higher market share of more than 30%, we are strongly positioned here and have gained a strategic partner in Vitesco Technologies for further market penetration."
onsemi signs 10-year, $1.9bn deal to supply SiC power devices for Vitesco's traction inverters and EV drives
Vitesco extends cooperation with Infineon from silicon to SiC
Tags: Rohm SiC Schottky barrier diodes SiC power MOSFET Power electronics
Visit: www.vitesco-technologies.com