14 June 2023
Latest issue of Semiconductor Today now available
For coverage of all the key business and technology developments in compound semiconductors and advanced silicon materials and devices over the last month, subscribe to Semiconductor Today magazine.
Published today and free of charge, Semiconductor Today's latest issue covers all that is new in gallium arsenide (GaAs), indium phosphide (InP), nitrides, silicon carbide (SiC), silicon germanium (SiGe) and other compound semiconductor materials. The magazine also covers the devices and applications that these materials enable.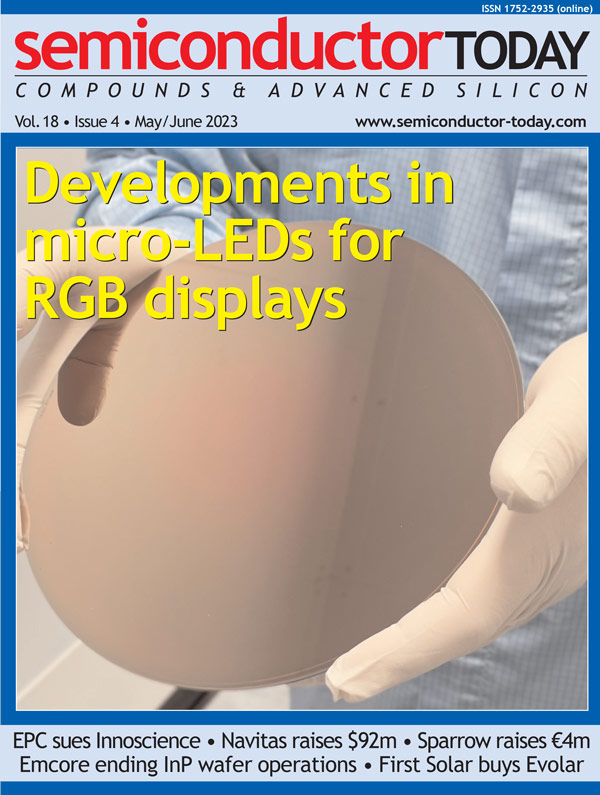 Click here or issue cover for direct access
Articles in this issue include:
Annealing InP quantum dot MBE structures for laser diodes
Re-assessing assumptions on internal quantum efficiency
Red InGaN LEDs for visible light communications
Thick single quantum well InGaN LEDs with high external quantum efficiency and low droop
QPT's modules enable GaN to operate at up to 20MHz without overheating or RF issues
Infineon launches EU projects for power electronics and AI
Progress towards complementary GaN on silicon
Plus, there's the news from organisations such as: Aehr Test Systems, Aixtron, AmpliTech, AXT, Ayar Labs, BAE Systems, BluGlass, Cambridge GaN Devices, Coherent, CompoundTek, CSA Catapult, CSconnected, Emcore, EPC, EVG, Foxconn, First Solar, GaN Systems, Infineon, Innoscience, IQE, Lumentum, Lumileds, Luminus, MACOM, Mitsubishi Electric, Mojo Vision, Navitas, Nexperia, NUBURU, NXP, Odyssey, Onsemi, POET, Porotech, Qorvo, Riber, ROHM, Seoul Semiconductor, SICC, Sivers, Skyworks, TanKeBlue, Transphorm, UMC, Veeco, Vishay, Wolfspeed, and much more.
See company profiles from Aixtron, EV Group, Goodfellow, k-Space, LayTec, Oxford Instruments, and Veeco.
If your company is a supplier of equipment, materials, or services for the manufacture of compound semiconductor wafers and devices, and you are involved in marketing those products, then please see Semiconductor Today's 2021 Media Kit.
Semiconductor Today is freely available to all. To learn more and to subscribe, visit: Subscribe for free.