News: Optoelectronics
6 March 2023
Alfalume samples 1.3μm high-power uncooled InAs/GaAs QD DFB lasers
In partnership with quantum dot (QD) diode laser manufacturer Innolume GmbH of Dortmund, Germany, Alfalume Inc of Santa Clara, CA, USA has announced sample availability of its O-band high-power indium arsenide/gallium arsenide (InAs/GaAs) quantum dot distributed feedback (DFB) lasers, which offer what is claimed to be best-in-class output power, wall-plug efficiency and temperature range as well as fundamentally better reliability of QD lasers compared with quantum well (QW) counterparts.
Aflalume's QD lasers are said to provide significant benefits for high-speed datacom transceivers, including record high power and conversion efficiency at temperatures above 85℃ without requiring thermoelectric coolers, optical-isolator-free operation, and lower cost due to significantly reduced component costs and better assembly yields.
"Our QD laser technology matches the operation temperature of photonics to the highest operating temperature of modern electronics," says Alfalume's CEO Alexey Kovsh. "There is no other technology today which can provide the power level of O-band DFB lasers above 200mW with power efficiency of 20% at 105°C with the ability to operate efficiently up to 150°C," he claims. "Our uncooled lasers are ideal for pluggable transceivers offering the highest efficiency at high temperatures."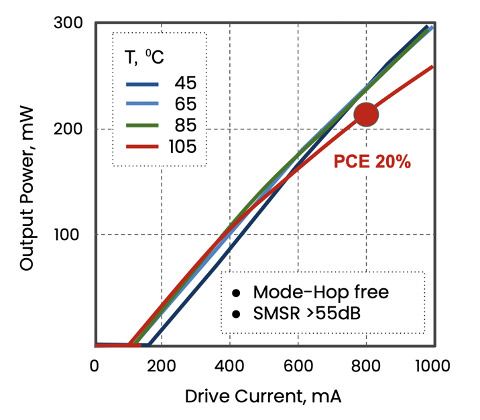 Picture: Dependence of laser output power on drive current.
The QD DFB lasers offer the following performance characteristics:
250mW @85℃, which can be split into four or eight channels for 800G and 1600G DR8 modules;
20% power conversion efficiency at 105℃;
insensitive to feedback: up to –15dB, enabling operation without an optical isolator;
high side-mode suppression ratio (SMSR): >55dB;
low relative intensity noise (RIN): below –155dB/Hz;
beam divergence of 35 x 7 degrees, allowing low-loss coupling with a low-cost cylindrical lens.
For 800G/1600G-DR8 modules, a single QD laser can be used for all eight channels, resulting in lower component counts, better assembly yield and lower-cost optical transceivers. QD lasers are suitable for both silicon photonics and all new electro-optic (EO) modulation technologies including thin-film lithium niobate (TFLN) and barium titanate (BTO)/silicon. In addition, QD lasers are suitable for remote laser modules for co-packaged optics (CPO) and light detection & ranging (LiDAR) applications.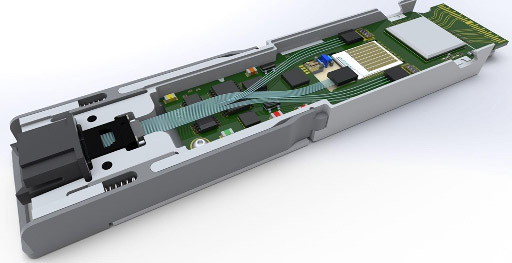 Picture: Reference optical transceiver design OSFP-800G-DR8 by Axalume Inc.

"The power of a single Innolume laser allows us to have a significant power margin for our DR8 lithium niobate modulators," comments Xinlun Cai, CEO of China-based Liobate Technologies Ltd. "This enables better manufacturing yield and lower-cost transceivers."
At the Optical Fiber Communication Conference (OFC 2023) in San Diego (5-9 March), Alfalume is exhibiting in booth #3250 and presenting at the following events:
5 March (13.00-15.30) —Workshop: 'Quantum Dots - The Resurrection?';
6 March (13.30-14.00) — Executive Forum/Lighting Startup Round;
7 March (12:30-13:30, meeting room 4) — Panel 'Hot Start-Ups at OFC 2023'.
Tags: InAs/GaAs QD
Visit: www.ofcconference.org
Visit: www.alfalume.com
Visit: www.innolume.com