30 March 2023
Latest issue of Semiconductor Today now available
For coverage of all the key business and technology developments in compound semiconductors and advanced silicon materials and devices over the last month, subscribe to Semiconductor Today magazine.
Published today and free of charge, Semiconductor Today's latest issue covers all that is new in gallium arsenide (GaAs), indium phosphide (InP), nitrides, silicon carbide (SiC), silicon germanium (SiGe) and other compound semiconductor materials. The magazine also covers the devices and applications that these materials enable.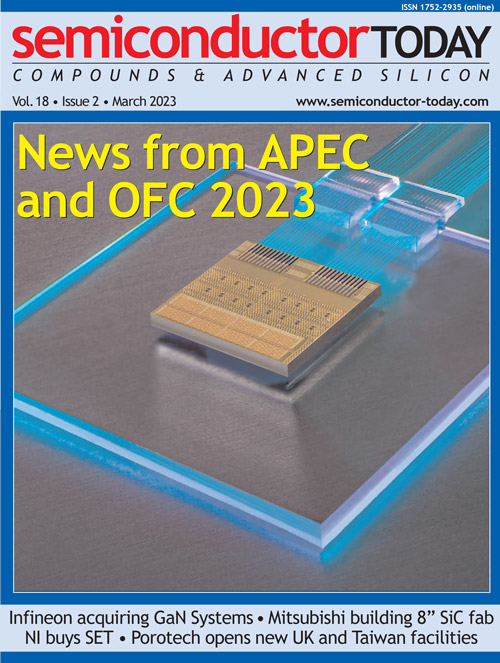 Click here or issue cover for direct access
Articles in this issue include:
Amorphous p-NiO/n-Ga2O3 crystal solar-blind detection
Enhancing interband cascades for longer wavelengths
Room-temperature continuous-wave UV-C laser diode
InGaN micro-LEDs for full-color passive-matrix displays
InGaAs QW HEMT for 6G communications
RF front-end market growing at 5.8% CAGR to $26.9bn in 2028
Plus, there's the news from organisations such as: 5N Plus, Aehr Test Systems, Aixtron, Alfalume, Amtech, Asahi Kasei, Avicena, Ayar Labs, BluGlass, Casela, CrayNano, Crystal IS, CSA Catapult, CSconnected, Gallium Semiconductor, GaN Systems, Guerrilla, Infineon, Infinera, IQE, Keysight, Lumentum, MACOM, Mitsubishi Electric, Murata, Navitas, NUBURU, OpenLight, Onsemi, Oxford Instruments, POET, Porotech, PRFI, Qorvo, ROHM, SemiQ, SET GmbH, Silanna, Sivers, Skyworks, STMicroelectronics, SweGaN, Tower Semiconductor, Transphorm, Veeco, Vector Photonics, Wolfspeed, and much more.
See company profiles from Aixtron, EV Group, Goodfellow, k-Space, LayTec, Oxford Instruments, and Veeco.
If your company is a supplier of equipment, materials, or services for the manufacture of compound semiconductor wafers and devices, and you are involved in marketing those products, then please see Semiconductor Today's 2021 Media Kit.
Semiconductor Today is freely available to all. To learn more and to subscribe, visit: Subscribe for free.