News: Microelectronics
6 March 2023
Transphorm and Weltrend partner to release integrated GaN system-in-package
Transphorm Inc of Goleta, near Santa Barbara, CA, USA — which designs and manufactures JEDEC- and AEC-Q101-qualified gallium nitride (GaN) field-effect transistors (FETs) for high-voltage power conversion — and fabless firm Weltrend Semiconductor Inc of Hsinchu Science Park, Taiwan, which specializes in the design, testing, application development and distribution of mixed-signal/digital ICs in power supplies, motor controls and image processing, have released their first GaN system-in-package (SiP).
The new WT7162RHUG24A SiP integrates Weltrend's WT7162RHSG08 multi-mode flyback PWM controller with Transphorm's 240mΩ, 650V SuperGaN FET.
Despite the addition of the PWM chip, the surface-mount device is available in a 24-pin 8x8 QFN package, allowing a low profile/small system footprint and reducing PCB size. With peak power efficiency of more than 93%, power density is 26W/in3.
As well as the targeted topology (flyback with QR mode/valley-switching multi-mode operation), other key specifications include: wide output voltage operation (USB-C PD 3.0 and PPS 3.3~21V); and a maximum frequency of 180kHz.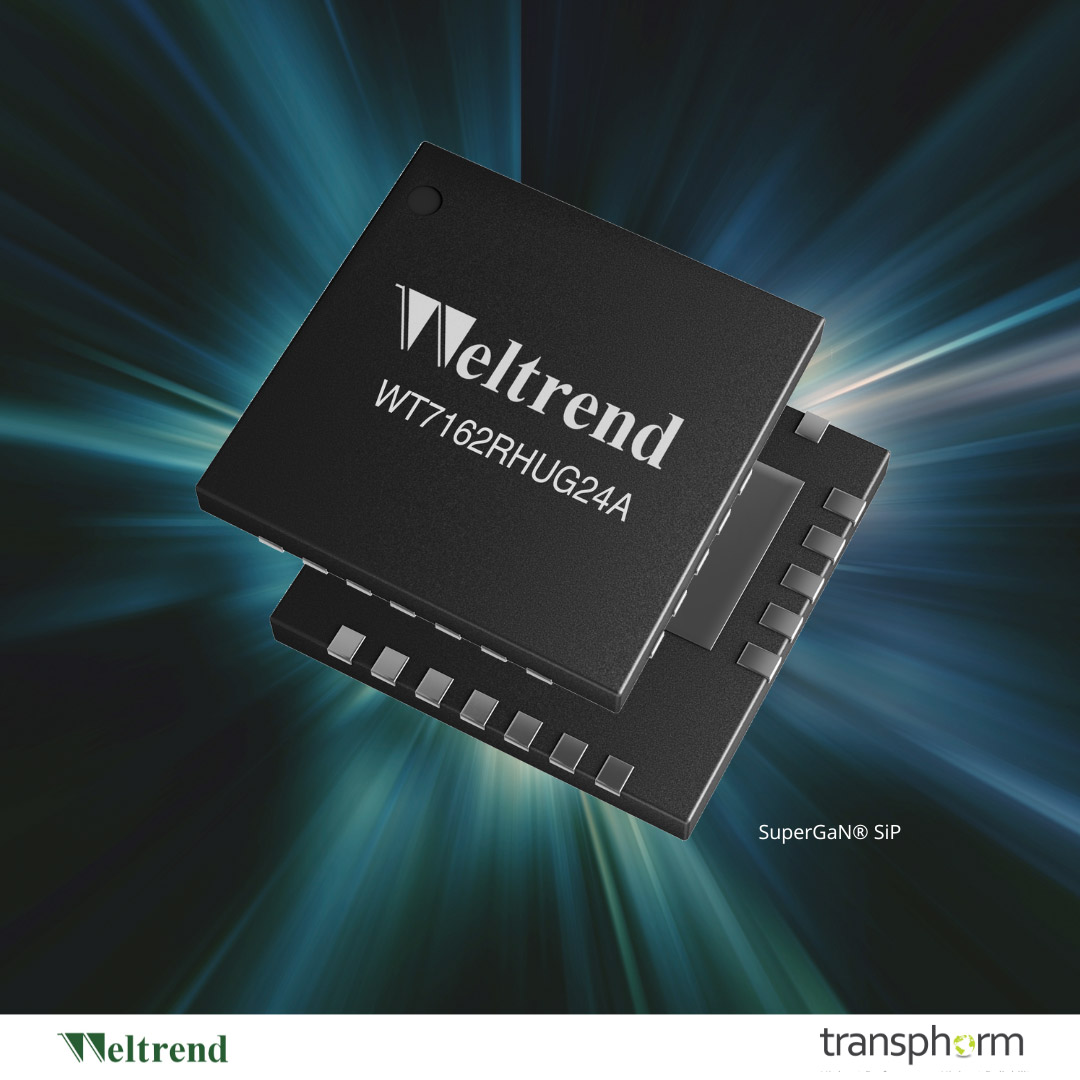 The WT7162RHUG24A SiP is optimized for use in high-performance, low-profile 45–100W USB-C PD power adapters for charging mobile/IoT devices such as smartphones, tablets, laptops, headphones, drones, speakers and cameras.
Transphorm is showcasing the Weltrend SiP for the first time in booth #853 at the 2023 Applied Power Electronics Conference (APEC), where the firms are also releasing details of the related WTDB_008 65W USB PD Power Adapter Evaluation Board.
"The WT7162RHUG24A is the industry's first publicly announced SiP using Transphorm GaN. It enables manufacturers to develop a less expensive system solution given fewer components are required and a smaller PCB can be used among other advantages. It also reduces system development time. Effectively, we're removing design barriers for adapter manufacturers," says Weltrend's president Tony Lin. "Notably, this product also allows Weltrend to move into a new market. It is the first-ever SiP for our PWM controllers, validating our commitment to supporting high-volume growth sectors. And, with the integration of the GaN FET, we've raised the level of performance output," he adds.
"The adapter fast charger market is a fast-growing segment for GaN adoption today," notes Transphorm's president & chief operating officer Primit Parikh. "We are gaining market share and continue to innovate, most recently with this GaN SiP, which allows for even easier use of our GaN devices," he adds. "Weltrend has delivered a leading power conversion platform which creates a simple-to-use solution for adapter/fast-charger customers that both companies can use to accelerate wins in this market."
Device samples of the new WT7162RHUG24A will be available in second-quarter 2023.
Transphorm GaN FET designed into HP's 65W USB-C PD/PPS power adapter
Tags: Transphorm GaN HEMT
Visit: www.apec-conf.org
Visit: www.transphormusa.com