News: Suppliers
8 May 2023
Aixtron's Q1 shipments roughly halved by delays in export licensing
For first-quarter 2023, deposition equipment maker Aixtron SE of Herzogenrath, near Aachen, Germany has reported revenue of €77.2m, down 58% on €183.2m last quarter and 13% on €88.6m a year ago. This was due mainly to delays in the issue of export licenses, pushing shipment of €70m worth of finished tools out of the quarter.
Of total revenue, 73% came from equipment sales, while 27% came from after-sales service & spare parts.
Of the equipment revenue, metal-organic chemical vapor deposition (MOCVD)/chemical vapor deposition (CVD) equipment for making gallium nitride (GaN)- and silicon carbide (SiC)-based power electronics devices comprised 64% (up from just 33% a year ago); MOCVD equipment for making optoelectronics devices (telecoms/datacoms and 3D sensing lasers for consumer electronics, solar, and wireless/RF communications) comprised 23% (down from 42%); and MOCVD equipment for making LEDs comprised 12% (down from 23%).
On a regional basis, 47% of revenue came from Asia (down from 67% a year ago), 28% from Europe (down from 22%) and 25% from the Americas (up from just11%).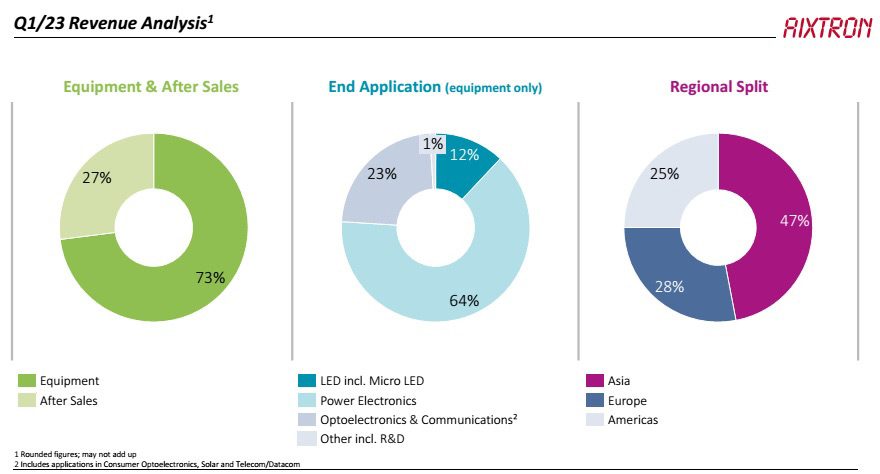 Gross margin was 40%, down from 45% last quarter and 41% a year ago.
Operating expenses were €27.6m, up on €21.7m a year ago, due mainly to higher R&D spending and personnel expenses. Staffing (full-time equivalent employees) has risen further, from 737 a year ago and 895 at the end of 2022 to 974 at the end of Q1/2023.
The operating result (earnings before interest and taxes) was €3.5m (EBIT margin of 5%), down from €57.1m (31% margin) last quarter and €14.2m (16% margin) a year ago.
Net profit was €3.5m (€0.03 per share), down from €50.3m (€0.44 per share) last quarter and €13.8m (€0.12 per share) a year ago, due mainly to the timing effects resulting in the shift of tool deliveries.
Operating cash flow was €5.8m (an improvement on –€0.1m last quarter). Capital expenditure (CapEx) was €3.9m. Free cash flow was hence just €1.9m (down on €22.4m a year ago, due mainly to the lower profit and a further increase in inventories).
Trade receivables have fallen from €119.7m at the end of 2022 to €62.5m at the end of March, due mainly to the collection of receivables from Q4/2022 shipments. Advanced payments received from customers at quarter-end were €160m (39% of order backlog), doubling year-on-year.
However, the strong cash inflows from receivables and down-payments were almost fully offset by the increase in inventories from €223.6m at the end of 2022 to €295m at end-March (roughly doubling year-on-year) — about 50–60% of order backlog — which is due mainly to preparation for the higher expected business volumes in the upcoming quarters plus the delayed issuance of export licenses.
"Our strategy to prepare our complete supply chain well in advance for further growth has proved highly effective over the last two years," comments chief financial officer Dr Christian Danninger. "We are very consciously managing our inventories to enable us to offer acceptable delivery times to our customers," he adds. "Our ability to ship is highly appreciated by our customers and has repeatedly enabled us to win against competitors."
During the quarter, cash and cash equivalents (including other financial assets) hence rose only slightly, from €325.2m to €327.5m. Of this, €237m was invested into funds following a very conservative diversification strategy. The equity ratio as of end-March was 72%.
About three-quarters of order intake for power electronics applications
Aixtron says that it has seen continued strong demand for equipment from all areas of the compound semiconductor industry, but particularly GaN- and SiC-based power electronics, which is seeing a further acceleration of growth. A number of large customers have chosen Aixtron to set up their high-volume manufacturing facilities for GaN and SiC, the firm adds. "This is yet another evidence for the success of our strategy and our development from a niche supplier to a reliable partner enabling industrial-scale production in the semiconductor industry," says CEO & president Dr Felix Grawert.
Due to the increased adoption of GaN in power electronics, order momentum continues to grow for GaN epi tools, comprising more than a third of equipment order intake in Q1. One reason is that customers are using GaN for new, additional applications, most recently with fast-growing volumes in the medium-voltage class as well as residential solar photovoltaics.
In addition, to create the required production capacities, several major customers are systematically establishing high-volume manufacturing facilities, relying on Aixtron as their core supplier.
One of these leading semiconductor manufacturers, Texas Instruments (TI), in April honored Aixtron with its 2022 Supplier Excellence Award, acknowledging close partnership in establishing its high-volume production capacity, as well as honouring the new G10-GaN MOCVD system, which it is already using. This system, which offers improved performance with much higher productivity, lower cost per wafer, and a completely new design with a considerably reduced cleanroom footprint, will be officially launched later this year.
Silicon carbide business also continues to see strong growth, driven by the ongoing expansion of electro-mobility. Also here, several of Aixtron's customers continue to build up their high-volume production capacities based on the firm's equipment. The new G10-SiC system (launched in Q3/2022) is proving to be very successful, also when integrated in already running operations at customer's sites, notes Aixtron. This is yet another proof point that this SiC tool will become the top-selling product in 2023, adds the firm. In addition, Aixtron continues to win further customers with this new product.
In addition, optoelectronics-related orders, particularly for lasers — whether for 3D sensing or optical datacoms — remains healthy. "In micro-LEDs, we see the research activities to develop next-generation displays based on micro-LEDs continuing worldwide with strong momentum," says Grawert.
Order intake was hence €139.9m (up 7% on €130.2m a year ago), of which about three-quarters was for GaN- and SiC-based power electronics applications.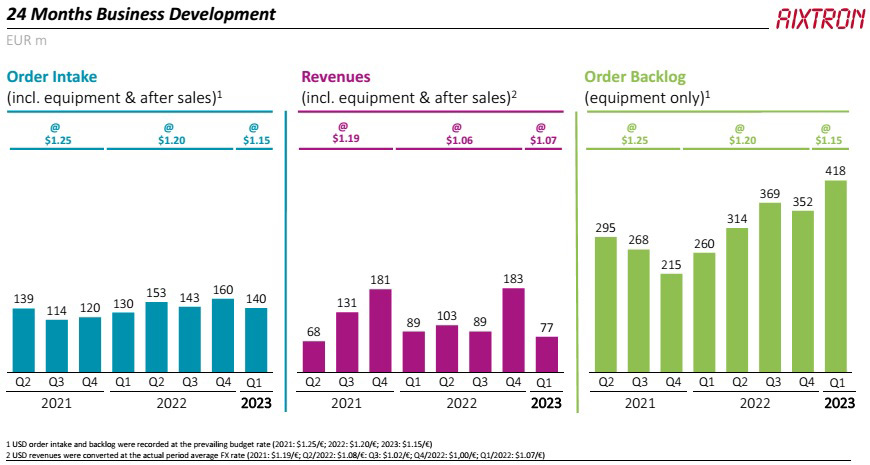 Equipment order backlog has accordingly risen further to €417.9m, up 19% on €351.8m at the end of Q3/2022 and up 60% on €260.4m a year ago.
"We have been asked by the authorities to add an additional layer of protection in our tools that ensures that they can only be used for the end-applications that export licenses are requested for," notes Grawert. "This additional mechanism has been implemented in Q1/2023 and, based on this, we expect to receive the outstanding licenses shortly. Hence, we are planning to ship the respective backlog of tools [$70m] in the course of the subsequent quarters."
Full-year 2023 growth guidance reaffirmed
Due to the continued strong demand and stable supply chains, for full-year 2023 Aixtron continues to expect over 9% year-on-year growth in order intake to €600-680m, based on the budgeted exchange rate of $1.15/€ (versus $1.20/€ in 2022).

Based on Q1's €77m of revenue, plus equipment order backlog (convertible into 2023 revenue) of about €370m as of end-March, joined by a forecasted €50–110m in new order intake that should be convertible into revenue during 2023, plus a forecasted €80m in after-sales revenue, Aixtron also continues to expect double-digit growth in full-year revenue to €580–640m in 2023 (including the shift of some units assembled in 2022 and shipped in 2023). The firm also expects full-year gross margin of about 45% and EBIT margin of 25–27% for 2023.
Aixtron receives TI's 2022 Supplier Excellence Award
Aixtron maintains annual revenue and earnings growth despite shipment push-outs and delays to export licenses
ams OSRAM qualifies Aixtron's G5+ C and G10-AsP systems on 200mm wafers for micro-LEDs
Aixtron launching G10-AsP system at Photonic West
Aixtron shipment pushouts in Q3 to lead to record revenue in Q4
Aixtron launches G10-SiC 200mm CVD system
Aixtron's Q2 revenue up 51% year-on-year, driven by demand from SiC and GaN power electronics
Tags: Aixtron
Visit: www.aixtron.com