News: Microelectronics
10 May 2023
Infineon and Foxconn partnering on silicon carbide for EVs
Infineon Technologies AG and Taiwan-based Hon Hai Technology Group (Foxconn), the world's largest electronics manufacturing services (EMS) provider, aim to establish a long-term partnership in the field of electric vehicles (EV) to jointly develop advanced electro-mobility with efficient and intelligent features. The Memorandum of Understanding (MoU) focuses on silicon carbide (SiC) development, leveraging Infineon's automotive SiC innovations and Foxconn's expertise in automotive systems.
"With the rapid growth of the EV market and the associated need for more range and performance, the development of electro-mobility must continue to advance and innovate," says Peter Schiefer, president of the Infineon Automotive Division.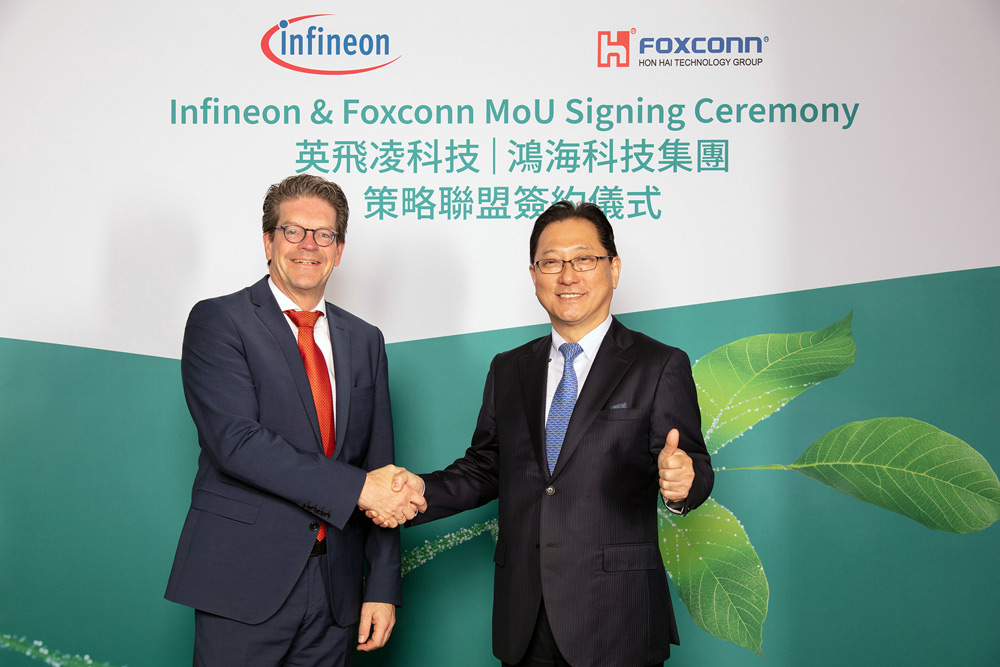 Picture: From left to right: Peter Schiefer (president of Infineon Automotive Division) and Jun Seki (Foxconn's chief strategy officer for EVs).
"This collaboration will result in optimized architecture, product performance, cost competitiveness and high system integration to provide customers with the most competitive automotive solutions," believes Jun Seki, Foxconn's chief strategy officer for EVs.
According to the MoU, the two firms will collaborate on the implementation of SiC technology in automotive high-power applications like traction inverters, onboard chargers, and DC-DC converters. Both parties intend to jointly develop EV solutions with outstanding performance and efficiency based on Infineon's automotive system understanding, technical support and SiC product offerings combined with Foxconn's electronics design and manufacturing expertise and the capability of system-level integration.
In addition, the two companies plan to establish a system application center in Taiwan to further expand the scope of their cooperation. This center will focus on optimizing vehicle applications, including smart cabin applications, advanced driver assistance systems (ADAS) and autonomous driving applications. It will also address electro-mobility applications such as battery management systems and traction inverters. The collaboration spans a wide range of Infineon's automotive products, including sensors, microcontrollers, power semiconductors, high-performance memories for specific applications, human-machine interface and security solutions. The system application center is expected to be established within 2023.
Tags: Infineon
Visit: www.infineon.com
Visit: www.foxconn.com