News: Microelectronics
11 May 2023
Mitsubishi Electric to ship samples of 3.3kV SBD-embedded SiC MOSFET module
After already releasing four full-SiC modules and two 3.3kV high-voltage dual-type LV100 modules, Tokyo-based Mitsubishi Electric Corp says that on 31 May it will begin shipping samples of a new Schottky barrier diode (SBD)-embedded silicon carbide (SiC) metal-oxide-semiconductor field-effect transistor (MOSFET) module, featuring dual-type 3.3kV withstand voltage and 6.0kVrms isolation voltage (dielectric strength).
Measuring 100mm x 140mm x 40mm, the new module FMF800DC-66BEW is expected to support superior power output, efficiency and reliability in inverter systems for large industrial equipment such as railways and electric power systems.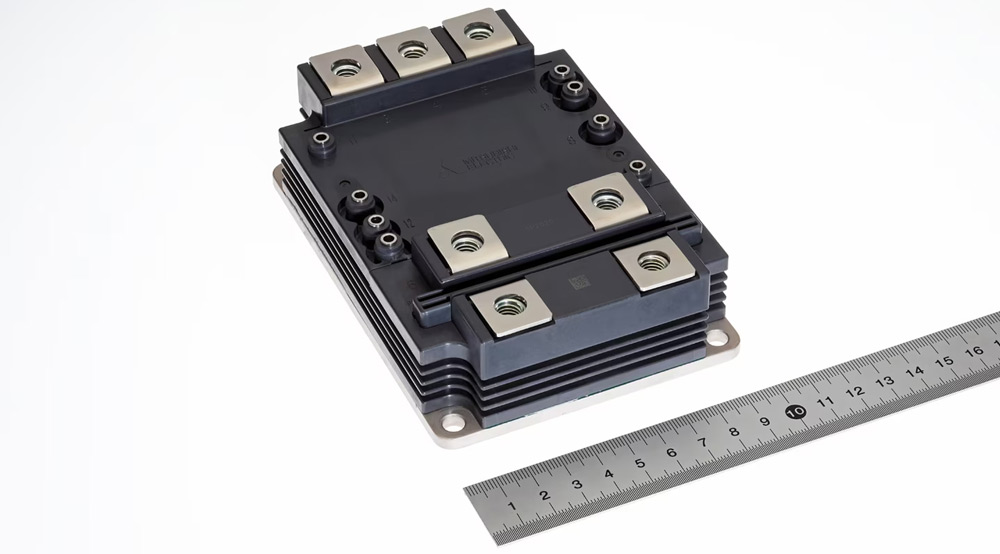 Picture: Mitsubishi Electric's new 3.3kV SBD-embedded SiC MOSFET module.
The SBD-embedded SiC-MOSFET and optimized package structure are said to reduce switching loss by 91% compared with the firm's existing silicon power module and by 66% compared with the existing SiC power module, reducing inverter power loss and contributing to higher output and efficiency.
The SBD-embedded SiC-MOSFET and optimized current capacity are also said to improve inverter reliability.
The optimized terminal layout enables parallel connection and supports various inverter configurations and capacities depending on the number of parallel connections. Also, a package structure with DC and AC main terminals in opposite poles helps to simplify circuit design.
The new module FMF800DC-66BEW is being exhibited at major trade shows, including at the Power, Control and Intelligent Motion (PCIM) Europe 2023 event in Nuremberg, Germany (9–11 May).
Mitsubishi Electric adds 400A, 1200V dual module to SiC power device lineup
Mitsubishi to launch second-generation full-SiC power modules for industrial use
Tags: SiC power modules Mitsubishi Electric