News: Microelectronics
25 May 2023
Navitas' GeneSiC MOSFETs adopted for Exide's industrial high-frequency chargers
Gallium nitride (GaN) power IC and silicon carbide (SiC) technology firm Navitas Semiconductor of Torrance, CA, USA says that its GeneSiC power semiconductors have been adopted by France-based Exide Technologies in order to ensure reliability, safety, ease-of-use and optimal charging in its high-frequency fast chargers for industrial material handling equipment.
As a provider of sustainable battery storage solutions for the industrial and automotive markets, Exide's range of lead-acid and lithium-ion solutions serve applications including traction batteries and charging solutions for material handling equipment and robotics, maximizing fleet uptime with minimized total cost of ownership.
As a wide-bandgap power semiconductor material, silicon carbide is rapidly replacing silicon chips in high-power, high-voltage applications such as renewable energy, energy storage and micro-grids, electric vehicles (EVs) and industrial applications. GeneSiC 'trench-assisted planar-gate' SiC MOSFET technology delivers high-efficiency, high-speed performance, resulting in up to 25°C lower case temperature, and up to three times longer life than alternative SiC products, Navitas claims. With the highest-published 100%-tested avalanche capability, 30% longer short-circuit withstand time, and stable threshold voltage for easy paralleling, GeneSiC MOSFETs are suitable for high-power, fast-time-to-market applications, the firm adds.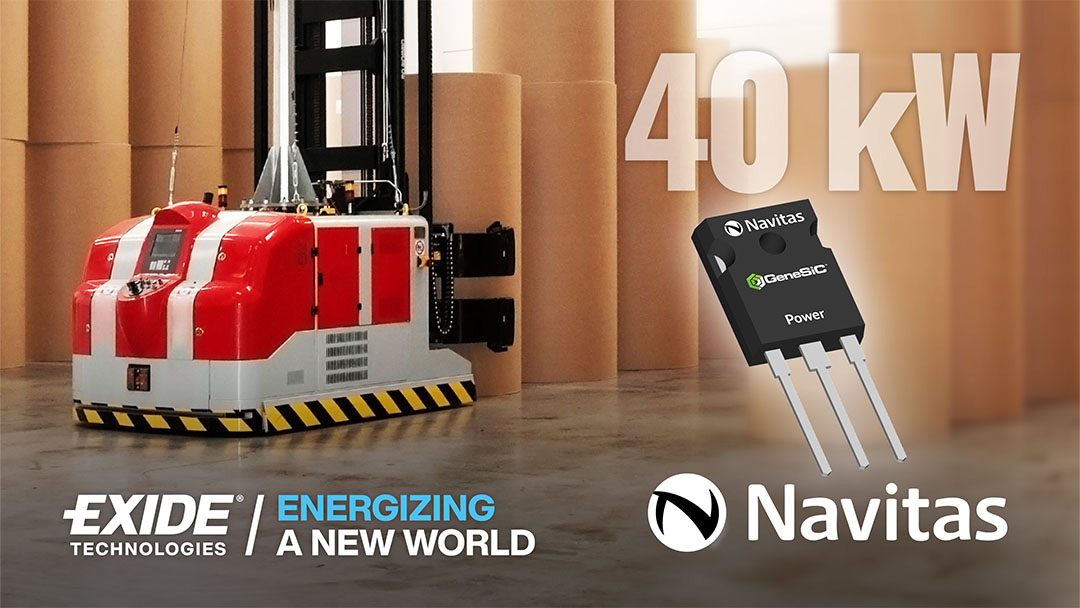 Exide's high-frequency chargers convert 220V AC power to a battery-level voltage between 24V and 80V for lead-acid- and lithium-ion-powered industrial vehicles. The 7kW module uses GeneSiC G3R60MT07D (750V) MOSFETs and GD10MPS12A (1200V) MPS Schottky diodes, with a frequency-optimized architecture. The same platform can be upgraded to 10kW, with four modules in parallel to provide 40kW of reliable fast-charging power.
"Exide Technologies delivers complete, carefully controlled fast charging with close system monitoring for critical material handling equipment, running 24/7," says Dr Dominik Margraf, director product management Motion at Exide Technologies. "Navitas' GeneSiC technology is easy-to-use, with excellent support, increased system efficiency, and cooler operation," he comments.
Navitas' GeneSiC MOSFETs used in KATEK's 4.6kW Steca solar inverters
Navitas acquires GeneSiC, accelerating entry into EV, solar and energy storage markets by 2-3 years
Tags: Power electronics
Visit: www.navitassemi.com