News: Microelectronics
17 May 2023
Penn State and onsemi sign MOU for $8m collaboration on silicon carbide growth
Power semiconductor IC supplier onsemi of Phoenix, AZ, USA has signed a memorandum of understanding (MOU) for an $8m strategic collaboration that includes the establishment of the onsemi Silicon Carbide Crystal Center (SiC3) at Penn State University's Materials Research Institute (MRI). onsemi will fund SiC3 with $800,000 per year over the next 10 years.
In addition to conducting SiC research at SiC3, Penn State and onsemi aim to raise awareness about the increasing demand for tech jobs in the semiconductor industry as part of their efforts to enhance the USA's share of global semiconductor manufacturing. They will also partner on workforce development initiatives such as internship and cooperative programs and include SiC and wide-bandgap crystal studies in Penn State's curriculum. The relationship with Penn State is part of onsemi's commitment to promoting STEAM (Science, Technology, Engineering, Arts and Mathematics) education, ranging from helping K-12 students in underserved communities to university collaborations that support the development of the workforce.
"onsemi is a proven innovator, delivering a comprehensive portfolio of intelligent power and sensing technologies to enable and accelerate sustainable solutions across multiple markets," comments Lora Weiss, Penn State senior VP of research. "At the same time, as per the National Science Foundation's research expenditure rankings, Penn State is ranked first in materials science and second in materials engineering. We have world-class nanofab and characterization facilities that support research on thin films, silicon carbide and other materials used in semiconductors and other technologies. These complementary capabilities between onsemi and Penn State will have a strong impact on research and development, economic growth, and workforce development," she believes.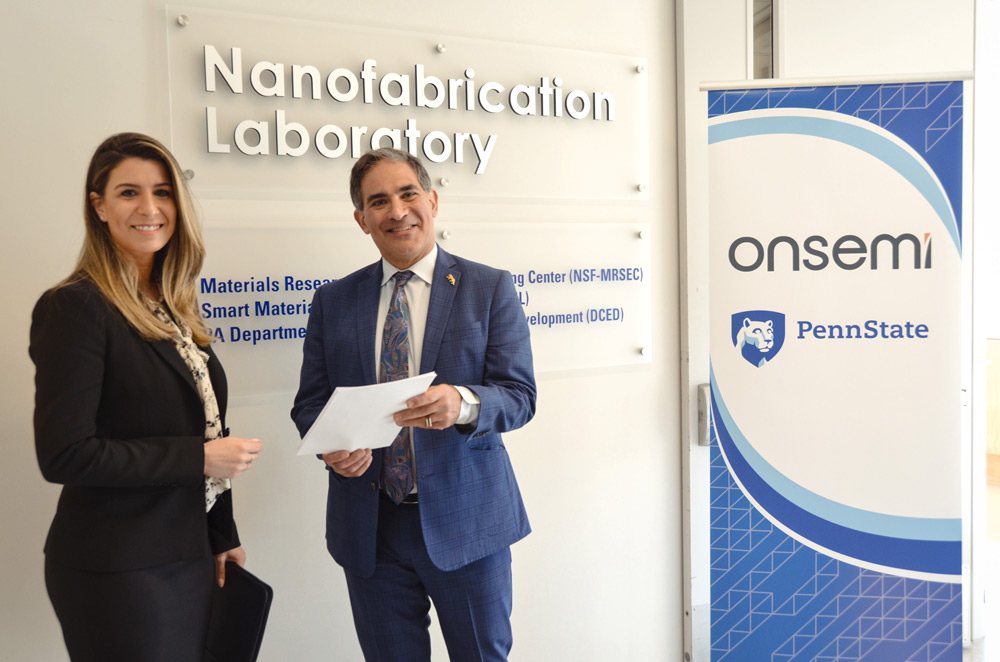 Picture: Catherine Côté, VP & chief of staff to onsemi's CEO, and Penn State executive VP & provost Justin Schwartz, after signing the MOU.
"Penn State is uniquely positioned to rapidly establish a silicon carbide crystal growth research program," comments Pavel Freundlich, chief technology officer of onsemi's Power Solutions Group. "The university offers a wide breadth of capability based on its current materials research, wafer processing capabilities in its nanofab facility, and a comprehensive, world-class suite of metrology instrumentation," he adds.
"Over the next decade, this collaboration will enable Penn State to become the nation's leading resource for semiconductor crystal science and workforce development," believes Justin Schwartz, Penn State executive VP & provost. "This would not be possible without the relationship-building efforts of Priya Baboo, senior director of corporate and industry engagement, and the technical expertise of Joshua Robinson, professor of materials science and engineering, and their counterparts at onsemi," he adds.
"Penn State's expansion of its curriculum to offer specialty courses in SiC and wide-bandgap technology will play a key role in meeting onsemi's strategic workforce development goals and help to meet American semiconductor workforce goals as outlined in the recently signed CHIPS and Science Act," concludes Scott Allen, vice president, University Relations, at onsemi.
onsemi 1200V EliteSiC M3S devices enhance efficiency of EV and energy infrastructure applications
Tags: SiC
Visit: www.mri.psu.edu
Visit: www.onsemi.com