News: LEDs
18 May 2023
Porotech unveils first monolithic full-color micro-LED displays
Porotech (a spin off from the Cambridge Centre for Gallium Nitride at the UK's University of Cambridge that has developed porous GaN material) has announced what it says is the first single-panel, full-color micro-display suitable for augmented reality (AR) applications.
The micro-display is based on Porotech's Dynamic Pixel Tuning (DPT) technology, where DPT micro-LED pixels can emit any visible color when driven with a specific current density. Porotech is unveiling the 0.26-inch monolithic full-color micro-display, along with an AR development platform, during SID Display Week 2023 in Los Angeles (21-26 May).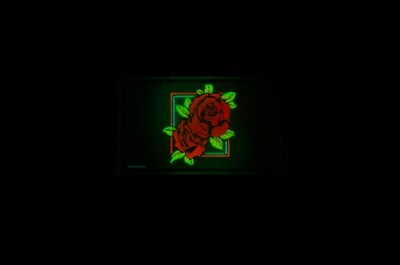 Picture: The first single-panel, full-color micro-display suitable for AR applications, based on Porotech's Dynamic Pixel Tuning technology.
Having already demonstrated how a DPT pixel can create a full range of visible colors, Porotech is now unveiling the new active-matrix 0.26-inch micro-LED display offering 1280x720 resolution, which utilizes a proprietary driving method developed by Porotech that rapidly displays red, green and blue light to enable a full-color RGB display and richly saturated colors.
Removing key manufacturing barriers
Based on existing backplane technology, the 3.5µm micro-LEDs are fabricated on a 4.5µm pixel pitch. Porotech says that its micro-LEDs emitter size can be larger while keeping the resolution because subpixels are no longer required. With DPT technology, full color native micro-LED displays can now be unlocked with a single LED epitaxial growth and a one-step wafer-to-wafer bonding to the CMOS backplane. This removes complex and low-yield manufacturing barriers inherent with alternative approaches, the firm adds.
The future of displays
Micro-LEDs are claimed to represent the leading viable solution for the future of displays in AR glasses, offering benefits such as improved brightness, energy efficiency, contrast ratio, longer device lifetimes, reduced display size, along with greater pixel densities and resolutions. Many AR developers have been searching and waiting for a single-panel full-color solution with high pixel density and minimum form factor.
"This new single-panel full-color micro-display marks a significant milestone for Porotech and the entire micro-LED industry, as only DPT pixels can meet the specification, performance, reliability and cost required for AR glasses," reckons Porotech founder & CEO Tongtong Zhu. "Also, Porotech's DPT technology opens the market for additional display applications using micro-LEDs beyond AR/VR including smart watches, smart phones, tablets, flat-panel TVs to large panel displays for commercial outdoor signage," he adds. "We welcome potential partners and customers to co-develop and design monolithic full color micro-display panels, projectors and light engines for next-generation AR glasses or any other display applications that can leverage Porotech's DPT technology."
Porotech unveils first 'all-in-one' full-color micro-LED display
Porotech wins Innovation Zone Award - Best Prototype Category at Display Week
Porotech demonstrating tunable-colour DynamicPixelTuning technology
Tags: The Cambridge Centre for Gallium Nitride
Visit: www.porotech.co.uk