News: Suppliers
15 November 2023
Aixtron's Q3 revenue and earnings up significantly year-on-year
For third-quarter 2023, deposition equipment maker Aixtron SE of Herzogenrath, near Aachen, Germany has reported revenue of €165m, down 4.9% on €173.5m last quarter but up 86% on €88.9m a year ago.
For the first nine months of the year, revenue grew 49% year-on-year from €279.9m in 2022 to €415.7m in 2023 (with 84% coming from equipment sales and 16% from after-sales service & spare parts).
SiC and GaN drive revenue
Metal-organic chemical vapor deposition (MOCVD)/chemical vapor deposition (CVD) systems for making efficient gallium nitride (GaN)- and silicon carbide (SiC)-based power electronics devices comprised 82% of equipment revenue in the first nine months of 2023 (€286.4m, up from just 37% in the first nine months of 2022, with SiC growing strongly). "The comparative figures from 2022 underline how strongly the demand in this area has picked up," notes Aixtron.
MOCVD systems for making optoelectronics devices (telecoms/datacoms and 3D sensing lasers for consumer electronics, solar, and wireless/RF communications) comprised 11% of equipment revenue in the first nine months of 2023 (down year-on-year from 36%). MOCVD systems for making LEDs comprised just 6% (down from 25%).
On a regional basis for the first nine months of 2023, 44% of revenue came from Asia (down year-on-year from 66%), 33% from Europe (up from 16%) and 23% from the Americas (up from 17%).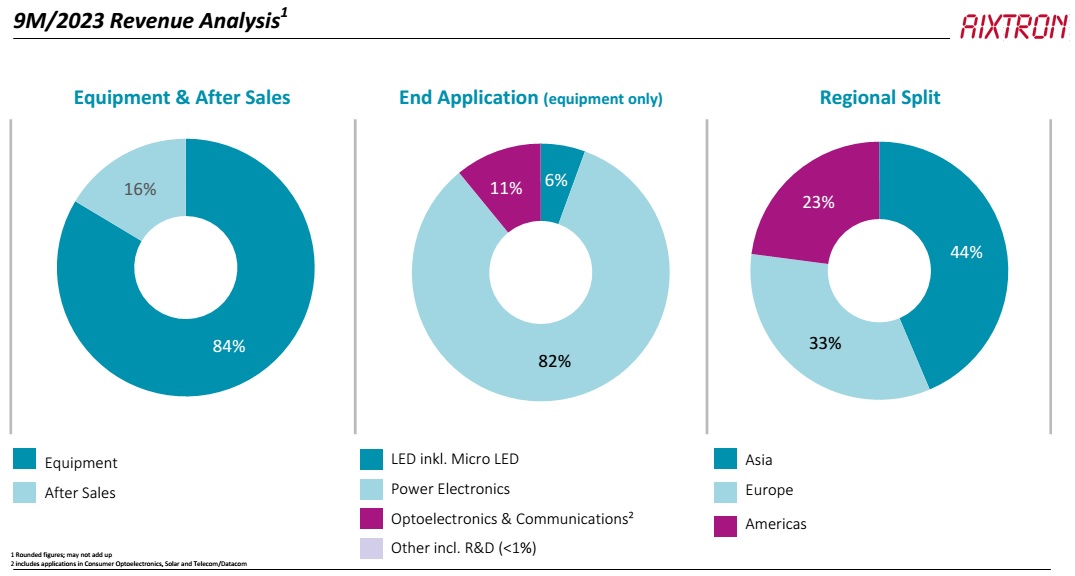 Operating profit doubles year-on-year
Due to the improved product mix, gross margin was 46% in Q3/2023, up from 42% in Q2/2023 and 44% a year ago. For the first nine months of the year, gross margin rose from 40% in 2022 to 43% in 2023.
With a strong focus on R&D, quarterly operating expenses have risen further, from €23.1m in Q3/2022 and €28.9m in Q2/2023 to €30.9m in Q3/2023. OpEx for the first nine months of the year were consequently up by 34% from €65.4m for 2022 to €87.4m in 2023, due mostly to R&D costs rising by 44% from €41.4m to €59.8m.
Quarterly operating profit (earnings before interest and taxes) has improved from €16.2m (18% margin) in Q3/2022 and €44.6m (26% margin) in Q2/2023 to €45.3m (EBIT margin of 27%) in Q3/2023. This drove EBIT for the first nine months of the year to almost double, from €47.6m (17% margin) in 2022 to €93.4m (22% margin) in 2023.
Inventories increased prior to expected rise in volume
Free cash flow for the first nine months of the year has gone from €20.4m in 2022 to –€82.3m in 2023, but this was driven primarily by an increase in inventories from €223.6m to €380.5m in preparation for the correspondingly high business volume expected in the following quarters. Most recently, quarterly free cash flow has improved from –€82m in Q2/2023 to –€2.2m in Q3/2023.
Including the increase in inventories and the dividend of €34.8m paid in May, cash and cash equivalents (including other current financial assets) hence fell during the first nine months of 2023 from €325.2m then €210.4m at the end of Q2/2023 to €209.9m. However, underlining the firm's financial strength, the equity ratio has risen further, from 73% to 76%. Reflecting Aixtron's strongly growing core business, full-time-equivalent staffing has grown by 26% year-on-year, from 842 to 1057.
New G10-GaN completes G10 product generation
A key factor in Q3/2023's strong performance was that in September Aixtron completed its G10 product portfolio by adding to the G10-SiC system (for SiC-based power electronics) and the G10-AsP system (for micro-LED and laser devices) with the launch of the G10-GaN, a compact cluster system that can be equipped with up to three process modules, giving record capacity of 15x200mm wafers. The system offers much improved material uniformities, extended uptime, reduced cleanroom footprint and a cost reduction of more than 25% per wafer compared with previous products and all competitors, it is reckoned. In Q3/2023, Aixtron received orders for the G10-GaN from many existing customers as well as new customers. The firm expects the G10-GaN to generate more than 50% of its total GaN revenues in 2024.
Order intake to resume growth in Q4/2023
Order intake for the first nine months of year grew by a further 2% year-on-year, from €425.6m in 2022 to €436.2m in 2023. This is despite Q3/2023's €118.5m being down on €177.8m in Q2/2023 and down 17% on €142.8m in Q3/2022. Equipment order backlog correspondingly fell during Q3/2023 from €412.5m to €368m, but this is roughly level with €369.4m a year ago.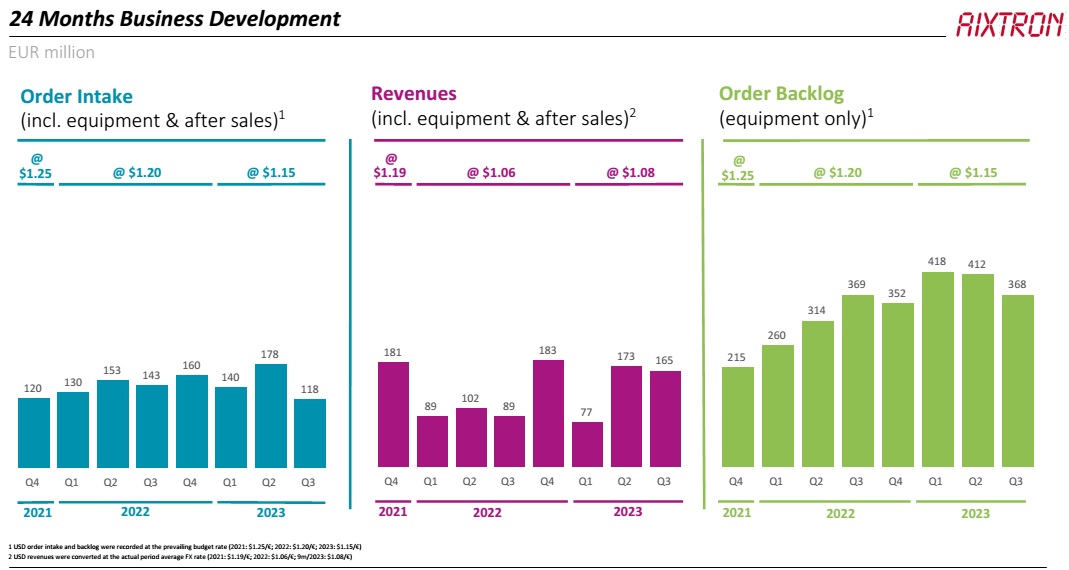 However, as demand for efficient power electronics in particular remains strong, Aixtron expects a correspondingly higher order intake in fourth-quarter 2023.
Increased full-year growth guidance confirmed
Due to the unabated strong demand, the executive board expects the strong growth – especially for efficient power electronics – to continue for the remainder of 2023. Accordingly, Aixtron says that it is fully on track to achieve its recently raised guidance for full-year 2023.
Order intake is expected to be €620–700m (raised in late July from prior guidance of €600–680m), which would be up about 11% on 2022's €585.9m (based on the budgeted exchange rate of $1.15/€ for 2023, versus $1.20/€ in 2022).

Based on revenue in the first nine months of 2023 of €415.7m, plus equipment order backlog (convertible into 2023 revenue) of €160–220m as of end-September, joined by a forecasted €25m in after-sales revenue, the forecast for full-year revenue is €600–660m (raised from the prior guidance of €580–640m), which would be up about 36% on 2022's €463.2m.
Aixtron continues to expect gross margin of about 45% and EBIT margin of 25–27%.
"Our technology enables the leading global megatrends of electrification and digitalization as well as renewable energies," notes chief financial officer Dr Christian Danninger. "In all these areas, wide-bandgap materials such as SiC and GaN will become the mainstream technology and, with our products, we are playing a decisive role in supporting and enabling the roll-out of these energy-efficient solutions."
New Innovation Center on schedule
Aixtron is investing up to €100m to build a new Innovation Center at its headquarters in Herzogenrath, expanding its R&D capacity. The construction work will start soon and on time, as the planning phase has been completed, all necessary permits have been granted, and contracts have been assigned.
Aixtron launches G10-GaN MOCVD platform for power and RF devices
Silicon carbide and gallium nitride power electronics applications grow to 83% of Aixtron's first-half revenue
Aixtron investing up to €100m to build new innovation center
Aixtron's Q1 shipments roughly halved by delays in export licensing
Aixtron maintains annual revenue and earnings growth despite shipment push-outs and delays to export licenses
Aixtron launching G10-AsP system at Photonic West
Aixtron shipment pushouts in Q3 to lead to record revenue in Q4
Aixtron launches G10-SiC 200mm CVD system
Tags: Aixtron
Visit: www.aixtron.com