News: Optoelectronics
7 September 2023
ams OSRAM providing sub-assembled RGB laser diodes to TriLite
A technology collaboration has been announced in which ams OSRAM GmbH of Premstätten, Austria and Munich, Germany will provide sub-assembled RGB laser diodes to 'light up' the Trixel 3 laser beam scanner (LBS) of TriLite of Vienna, Austria.
Claimed to be the world's smallest projection display, the Trixel 3 LBS provides compactness and light weight, as a bright and accurate display. It has ultra-low power consumption (<320mW) for all-day use, and full color support (>200% over sRGB) for excellent image quality. Trixel 3 enables augmented reality (AR) solutions for smart glasses and a wide range of consumer applications.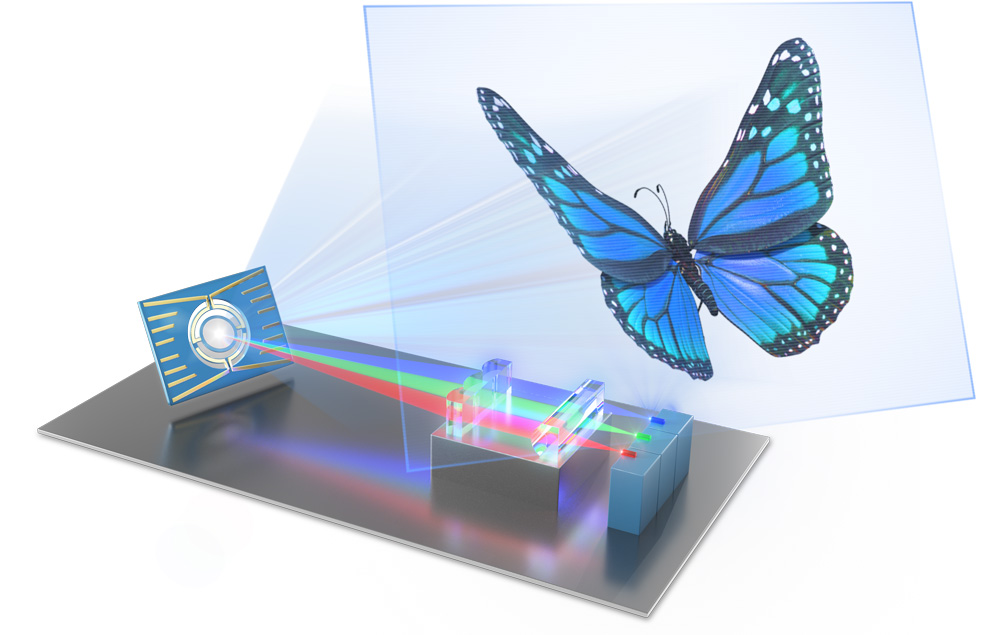 "Our ecosystem strategy focusses on partnering with world leaders to ensure top quality and reliable mass manufacturing," says TriLite' CEO Dr Peter Weigand. "We chose ams OSRAM as one of our technology partners due to its laser light sources' class-leading power and efficiency, which perfectly align with the brightness, contrast and high-performance requirements of our Trixel 3 LBS projector," he adds.
"Trixel 3's compact design paves the way for widespread adoption of 'always-on' consumer AR glasses," comments Dr Jörg Strauss, senior VP & general manager of the Visualization & Sensing business line at ams OSRAM. "ams OSRAM's laser diodes offer the key specifications essential for achieving the small form factor of Trixel 3."
TriLite says that it designs for seamless mass manufacturing, incorporating customized standard components and utilizing high-volume production equipment. The result is an ultra-compact optical display engine with a brightness of 15 lumens, ensuring readability even in direct sunlight. Its low system latency allows AR images to blend naturally with the wearer's surroundings and movements, providing immersive AR. Furthermore, Trixel 3 is fully compatible with state-of-the-art waveguides without requiring any relay optics, effectively saving space and reducing weight.
The ultra-compact and lightweight Trixel 3 laser beam scanner (LBS) optical display engine combines a single 2D MEMS mirror, all optical components, and the unique Trajectory Control Module (TCM) that shifts light module complexity from hardware to the software domain. The LBS module weighs less than 1.5g and has a volume of less than 1cm3.
Joining TriLite's expanding ecosystem of manufacturing partners, ams OSRAM's expertise and laser diodes — paired with high-volume manufacturing capabilities — further strengthen TriLite's vision for the future of AR smart glasses, the firm reckons.
Tags: Osram
Visit: www.trilite-tech.com
Visit: www.ams-osram.com