News: Photovoltaics
22 September 2023
First Solar breaks ground on $1.1bn 3.5GW Louisiana factory
Cadmium telluride (CdTe) thin-film photovoltaic (PV) module maker First Solar Inc of Tempe, AZ, USA has broken ground its fifth fully vertically integrated factory in the USA. Sited in Iberia Parish, Louisiana (as announced on 10 August), the ceremony was attended by the Governor of Louisiana John Bel Edwards and other dignitaries from the state.
Believed to be the largest capital investment in the area's history, the manufacturing facility represents an investment of about $1.1bn in expanding the USA's capacity to produce photovoltaic solar panels. Expected to start commercial shipments by first-half 2026, it is forecasted to grow First Solar's nameplate manufacturing capacity by 3.5GW to about 14GW in the USA and 25GW globally in 2026.
When completed, the fully vertically integrated manufacturing facility will cover over 2 million square feet and is designed to transform a sheet of glass into a ready-to-ship Series 7 module in about 4.5 hours, producing over one dozen new solar panels every minute.
First Solar's investment is expected to create over 700 new direct manufacturing jobs in Louisiana. Already believed to be the largest employer in America's solar manufacturing sector, with more than 2500 staff across the country, the firm expects to have over 4000 direct employees in the USA by 2026.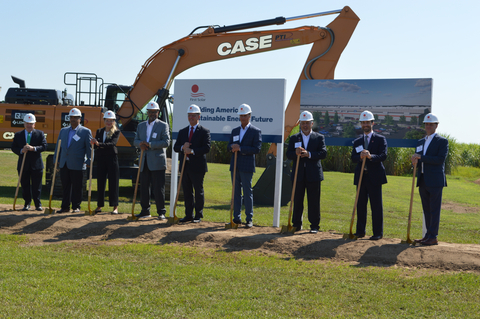 Picture: First Solar has broken ground on its manufacturing facility in Iberia Parish, Louisiana, its fifth fully vertically integrated factory in the USA: (from left to right) Louisiana Economic Development's secretary John Pierson; First Solar's chief manufacturing officer Kuntal Kumar Verma; First Solar's chief people & communications officer Caroline Stockdale; Iberia Parish president M. Larry Richard; Governor of Louisiana John Bel Edwards; Mark Widmar; First Solar's CEO John Bel Edwards; First Solar's chief commercial officer Georges Antoun; First Solar's general counsel & secretary Jason Dymbort; and First Solar's chief supply chain officer Mike Koralewski.
"We are creating enduring value for the US by building a robust solar manufacturing base and the value chains that enable it," says First Solar's CEO Mark Widmar. "This delivers jobs and economic value today, and establishes the foundations needed for the country to enter the next decade with a secure supply of solar energy technology."
Since the start of this decade, First Solar has embarked on a $4.1bn manufacturing expansion strategy that has seen it grow from about 6GW of global nameplate capacity in 2020 to 13GW operational today, with about 12GW of nameplate capacity expected to come online in the USA and India between second-half 2023 and 2026. In addition to the Louisiana facility, First Solar commissioned its third Ohio factory earlier this year and is expected to complete its new facility in Alabama and the expansion of its existing Ohio footprint in 2024. The firm also expects its new facility in India to begin commercial production in fourth-quarter 2023. Additionally, it is investing up to $370m in a dedicated R&D innovation center in Perrysburg, Ohio, which is expected to be completed in 2024.
Rudolph Libbe Inc will serve as the general contractor for the project and has already engaged with Lafayette-headquartered LEMOINE to assist with early site work. The new facility is expected to create 500 construction jobs in Louisiana over the next 18 months.
First Solar selects Louisiana for its fifth US manufacturing facility
First Solar selects Alabama for fourth US manufacturing facility
First Solar investing $270m in R&D innovation center in Perrysburg, Ohio
Tags: First Solar CdTe
Visit: www.firstsolar.com