News: LEDs
20 January 2020
Osram launches new generation of Oslon Square Hyper Red LEDs for horticulture lighting
Osram Opto Semiconductors GmbH of Regensburg, Germany claims that its new generation of Oslon Square Hyper Red is the most efficient LED for horticulture lighting to date
As the world population grows, metropolitan areas are attracting more and more people. So, in places where farmland is limited and delivery must be quick, horticulture lighting offers a major advantage. With the help of lighting technology, it is possible to provide the exact light composition that various plants need for ideal growth or to develop certain characteristics. Due to tailor-made lighting solutions, plants can be grown in a very space-saving manner and with considerably higher yields. For greenhouse owners, energy footprint is essential to production. The new generation of Oslon Square Hyper Red is claimed to contribute to improving efficiency more effectively than comparable products currently available on the market.
During dark season, many people experience the effects of not getting enough light, feeling more tired and exhausted as the days get shorter. Similarly, when plants don't get enough light, their photosynthesis does not work sufficiently. Plants predominantly need red (640-700nm) and blue light (400-490nm) for their growth. For example, red light promotes the production of biomass in plants.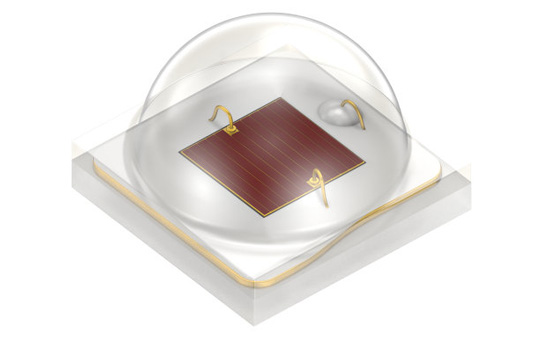 Picture: Osram's new generation of Oslon Square Hyper Red.
The new generation of the Oslon Square Hyper Red with a wavelength of 660nm is the flagship product in Osram Opto Semiconductors' comprehensive horticulture portfolio. In addition to the efficiency values, greenhouse operators benefit from a radiant flux of 1.030mW at 73% WPE (wall-plug efficiency) and a photon flux of 5.7µmol/s at an efficacy of 4.0µmol/J at a drive current of 700mA. For applications with higher efficacy requirements, the LED provides 78% at a drive current of 350mA and 80% at 250mA with an efficiency of 4.6µmol/J. Besides the best-in-class efficiency, benefits include a long lifetime of over 100,000 hours even at high temperatures. The surface-mountable component has a ceramic package that is completed by a robust silicone lens.
"The significantly improved efficiency values help our customers save energy," says product manager Yong Sheng Chew. "Thanks to the proven compact footprint of 3.0mm x 3.0mm, greenhouse owners can easily bring existing lighting systems up to date with the latest LED technology."
Osram showcases Oslon Square Hyper Red high-power LED with larger chip and improved radiant flux for horticulture lighting
Visit: www.osram-os.com