News: Microelectronics
10 June 2020
Nexperia launches 650V GaN FETs in TO-247 and copper-clip SMD packaging for automotive, 5G and data-center applications;
Nexperia BV of Nijmegen, Netherlands (which manufactures discrete and MOSFET components and analog & logic ICs) has launched a new range of gallium nitride (GaN) field-effect transistor (FET) devices featuring next-generation high-voltage GaN high-electron-mobility transistor (HEMT) H2 technology in both TO-247 and the company's proprietary CCPAK surface-mount packaging.
Devices are said to achieve superior switching figures of merit (FOMs) and on-state performance with improved stability, and simplify application designs due to their cascode configuration, which eliminates the need for complicated drivers and controls.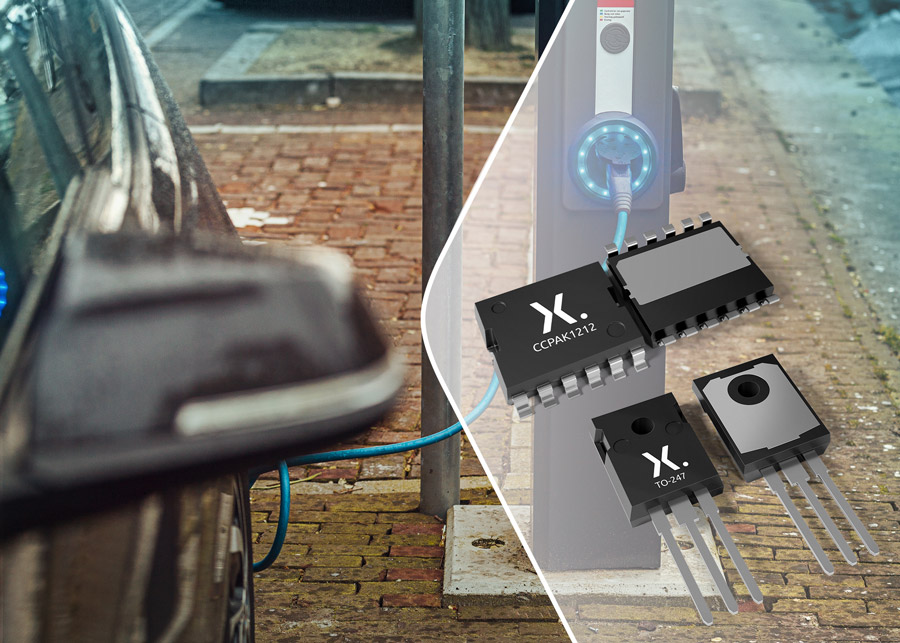 The new GaN technology employs through-epi vias, reducing defects and shrinking die size by about 24%. The on-resistance (RDS(on)) is also reduced to just 41mΩ (maximum 35mΩ typical at 25°C) with the initial release in traditional TO-247 packaging, with high threshold voltage and low diode forward voltage. The reduction will further increase to 39mΩ (maximum 33mΩ typical at 25°C) with CCPAK surface-mount versions.
Because the parts are configured as cascode devices, they are also simple to drive using standard silicon MOSFET drivers. Both versions meet the demands of AEC-Q101 for automotive applications.
"Customers need a highly efficient, cost-effective solution for high-power conversion at 650V and around the 30-40mΩ RDS(on), where applications include on-board chargers, DC/DC converters and traction inverters in electric vehicles, and industrial power supplies in the 1.5-5kW range for titanium-grade rack mounted telecoms, 5G and data centers," says GaN strategic marketing director Dilder Chowdhury. "Nexperia continues to invest in the development and expansion of its range of products using next-generation GaN processes, initially releasing traditional TO-247 versions and bare-die format for power module makers, followed by our high-performance surface-mount CCPAK packages."
CCPAK surface-mount packaging adopts Nexperia's proven copper-clip package technology to replace internal bond wires. This is said to reduce parasitic losses, optimize electrical and thermal performance, and improve reliability. CCPAK GaN FETs are available in top- or bottom-cooled configurations, making them versatile and helping to further improving heat dissipation.
The 650V GAN041-650WSB in TO-247 packaging and the GAN039-650NBB in CCPAK packaging are sampling now.
Nexperia partners with Ricardo to produce technology demonstrator for GaN-based EV inverter
Nexperia enters GaN FET market
Cree licenses GaN power device patents to Nexperia
Tags: GaN-on-Si Power electronics
Visit: www.nexperia.com